Boss IR-200 Amp and IR Cabinet Pedal
Description
How'd you like to transform your pedalboard into a self-contained DI solution? With the BOSS IR-200 you can — no amplifier or speaker cabinet required. The IR-200 is a pedal-sized amp simulator with top-shelf guitar and bass amplifier models covering the full gamut of genres. This flexible stompbox also includes an impulse response loader with a sizeable cache of built-in high-resolution IRs, plus room for 128 user IRs, allowing you to infuse your pedalboard with true-to-life miked-cab sound. You can run up to two IRs simultaneously in either mono or stereo, while a range of onboard EQs give you detailed sound shaping. You also get built-in ambient effects to combat dry-sounding performance spaces, along with an effects loop for integrating the rest of your pedalboard. The IR-200 employs state-of-the-art DSP, with 32-bit AD/DA, 32-bit floating-point processing, and a 96kHz sampling rate. A built-in USB audio interface and comprehensive external control support round out the IR-200's robust features. For live playing, studio recording, and practice applications, the BOSS IR-200 takes the concept of direct sound to a new level.
A full guitar rig — no amp or cab needed
When you plug the BOSS IR-200 directly into a PA, recording setup, or headphones, it sounds like a full-blown amp-and-cab rig. This cutting-edge guitar pedal offers eight hyper-realistic guitar amplifier simulations, along with three earthshaking bass amp sims, that cover a full range of genres and playing styles. Tweaking the sound of your virtual amp is as simple on this pedal as it is on a real-world unit, thanks to easy-to-use top-panel Gain, Level, Bass, Middle, and Treble knobs. The IR-200's impulse response loader includes 144 BOSS IRs and 10 Celestion Digital IRs, plus it includes 128 user IR slots with support for mono and stereo WAV files, up to 32-bit floating point/96kHz resolution and 200–500ms in length. To top it off, this stompbox allows you to run up to two IRs at once, in either mono or stereo. The guitarists appreciate how easy it is to load impulse responses into the IR-200 using BOSS's dedicated software.
Chock-full of stage- and studio-ready features
The BOSS IR-200 contains a bevy of player-friendly features. It allows for comprehensive sonic sculpting, with two EQs in each memory location plus two global EQs, all with selectable parametric or graphic operation. With the IR-200, you'll sound amazing in any space or venue, thanks to onboard Room, Studio, and Hall ambience effects. On top of that, integrating the rest of your pedalboard and studio effects is a breeze with this stompbox's effects loop, which includes a mono send and mono/stereo return, with selectable pre-cab or post-EQ positioning for added flexibility. A versatile USB audio interface is also included, enabling recording and playback using your Mac, Windows PC, or iOS device. Deep external control support via footswitches, an expression pedal, or TRS MIDI is also on tap, priming the IR-200 for complex stage and studio setups.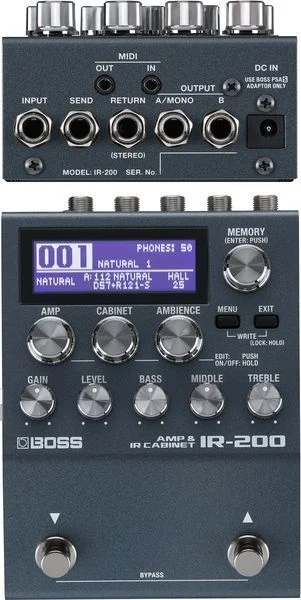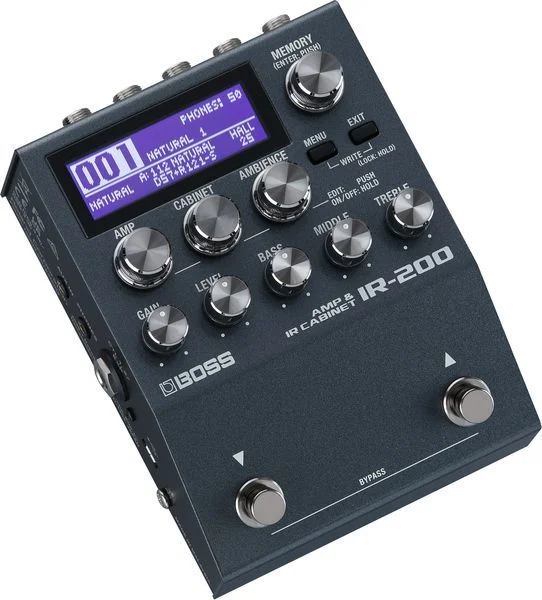 Next-level processing for next-level sound
Many amplifier and cabinet simulators sound good, but the BOSS IR-200 sounds great. This pedal-based unit comes loaded with 32-bit AD/DA conversion, with 32-bit floating-point processing and a 96kHz sampling rate, to ensure crystal-clear, studio-quality sound. Beyond that, the IR-200 employs Roland's Adaptive Focus method, which vastly improves the signal-to-noise ratio of its AD/DA, along with class-leading, 24-bit/96kHz impulse response reproduction, courtesy of dual custom processors.
BOSS IR-200 Pedal Features:
Full-featured amp simulator and impulse loader in a convenient pedal-sized enclosure
32-bit AD/DA conversion, with 32-bit floating-point processing and a 96kHz sampling rate
Employs Roland's Adaptive Focus method, which vastly improves the signal-to-noise ratio of the AD/DA
Dual custom processors supply class-leading, 24-bit/96kHz impulse response reproduction
8 hyper-realistic guitar amplifier simulations, along with 8 earthshaking bass amp sims
Easy-to-use top-panel Gain, Level, Bass, Middle, and Treble knobs for dialing in your amplifier models
Factory loaded with 144 BOSS IRs and 10 Celestion Digital IRs
128 user IR slots accommodate mono/stereo WAV files, up to 32-bit/96kHz and 200–500ms in length
Allows you to run up to two IRs at once, in either mono or stereo
2 EQs in each memory location, plus 2 global EQs, all with selectable parametric or graphic operation
Room, Studio, and Hall ambience effects ensure you'll sound amazing in any space of venue
Effects loop with mono send and mono/stereo return and selectable pre-cab or post-EQ positioning
USB audio interface enables recording and playback using your Mac, Windows PC, or iOS device
Deep external control support via footswitches, an expression pedal, or TRS MIDI