Epiphone Dave Rude Flying V - Alpine White
Description
Modeled After Rude's One-off Custom V
This stylish V, fashioned after a Tom Petty concert t-shirt that Tesla guitarist Dave Rude picked up as a kid, is a dead ringer for the custom Epiphone he uses live. The neck, the visuals, the pickups — it's now available to players everywhere in the Epiphone Dave Rude Flying. Most striking is this guitar's all-white tuxedo finish — complete with a UV-cured white maple fingerboard, white Speed Knobs, and white switch tip — accented by a full-body red pearloid pickguard with matching jack plate and truss rod cover. The classic tonewood recipe is alive and intact in the Dave Rude Flying V, which features a resonant mahogany body and boundless-access set mahogany neck. ProBucker Alnico II pickups issue sparkling PAF-style cleans and classic-era crunch from neck and bridge positions. Up top, a set of Grover Rotomatic tuners yield rock-solid intonation. A stoptail and Tune-o-matic round out this beautiful Dave Rude signature.


Inspired visuals
Longtime Epiphone artist and now-permanent Tesla guitarist Dave Rude pitched what would become his signature guitar, then just a twinkling in his eye, to Epiphone R&D in a midnight moment of inspiration. The red-on-white visuals are based on a classic Tom Petty and the Heartbreakers logo featuring a "V" guitar piercing a heart. A special one-off based on this design was delivered to Rude in concert, and the two have been inseparable since. The Epiphone Dave Rude Flying V is virtually identical to Dave's custom V, with slight visual tweaks and standard features to reach a wider audience.
A genuine V, through and through
Aesthetics aside, the Epiphone Dave Rude signature is classic V through and through. Fans of this iconic design will love the rich midrange character and sustain gotten from its mahogany body. The set mahogany neck feels great in the hands, thanks to its comfortable "C" shape, with cutaways on both sides for unfettered fret access. It comes topped with a UV-cured, white-finished hard maple fingerboard for Rude's signature looks and increased note definition. The symmetrical headstock makes a perfect platform for a set of Grover Rotomatic tuners. A stop tailpiece and Tune-o-matic bridge complete the package.
ProBucker pickups deliver PAF-era clean and crunch tones
Bridge and neck ProBucker humbuckers equip the Epiphone Dave Rude Flying V for sweet cleans and decidedly classic lead and crunch tones. These pickups are made using Alnico II magnets — the same found in sought-after vintage PAF humbuckers — for rich, warm tone with crystalline highs and a tight bottom. And with two volume knobs, a master tone, and a toggle switch, you'll be able to dial in a diverse range of tone and attack as you hone your own style.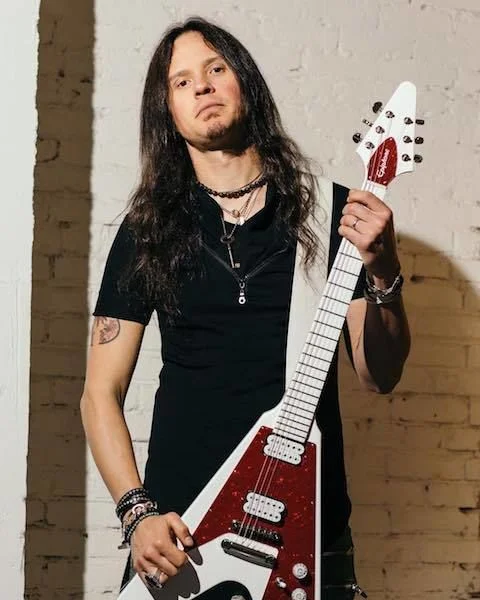 Epiphone Dave Rude Flying V Electric Guitar Features:
Virtually identical to Dave Rude's one-off custom Epiphone
Alpine White from head to toe
Red pearloid pickguard with matching accents
Resonant mahogany body packs sustain and midrange punch
Set mahogany "C" neck with dual cutaways for boundless fret access
Hard maple fingerboard in a UV-cured white finish
ProBucker Alnico II pickups deliver sweet cleans to classic crunch
Grover Rotomatic tuners yield rock-solid tuning
Stop tailpiece with Tune-o-matic bridge