Epiphone Emily Wolfe Sheraton Stealth Semi-Hollow in Black Aged Gloss
Description
Blues-rocker Emily Wolfe's Snarling Signature Guitar
Austin-based singer, songwriter, and axe-slinger Emily Wolfe has captured the attention of guitarists with her ferocious brand of modern blues-rock music. A tone chaser through and through, Emily's signature sound is aggressive, fuzz laden, and dripping in reverb and delay — echoing guitar trailblazers such as Josh Homme and Jack White, mixed with the Texas-sized swagger of Stevie Ray Vaughan. Her guitar of choice? Emily is all about semi-hollowbodies, from her beloved Gibson ES-335 to her constant touring companion, the Epiphone Sheraton. The Epiphone Emily Wolfe Sheraton Stealth is her stunning spin on the latter. Decked out in a sumptuous black aged gloss finish, it's outfitted with a set of scorching-hot Epiphone Alnico Classic PRO humbuckers and premium appointments, including a '60s SlimTaper "C" profile neck, electrifying lightning bolt fingerboard inlays, and Trini Lopez-style diamond F-holes. Chock-full of attitude, the Emily Wolfe Sheraton Stealth is a hot-rodded mayhem-inducing instrument fit for the boldest guitar players!


Classic Sheraton shape with diamond F-holes
Crafted from layered maple, the Emily Wolfe Sheraton Stealth has a comfortable feel. It yields a natural bell-like sound, with notes springing to life and gently decaying into a sonorous sustain. A '60s SlimTaper "C" profile neck invites you to explore the expanse of its Indian Laurel fingerboard, whether you're banging out country chords down low or climbing up to the higher frets for nimble lead work. The neck terminates in a '60s Kalamazoo-style compact headstock, decorated with a mother-of-pearl tree of life inlay on the front and Emily's yellow wolf icon stalking on the back.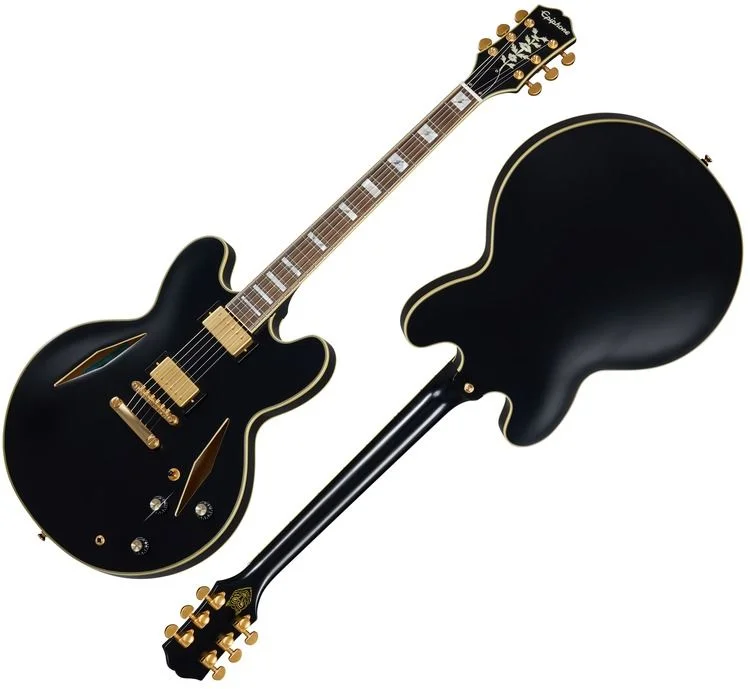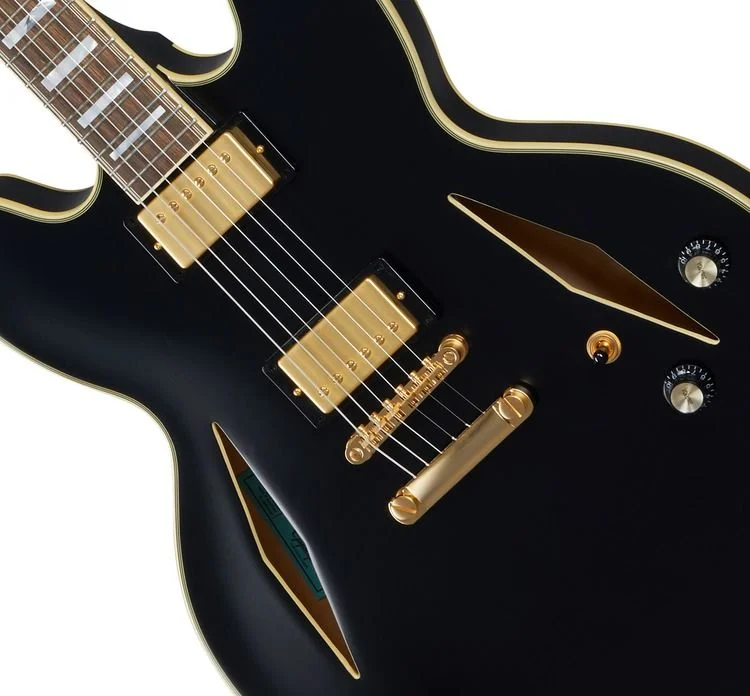 Vintage-flavored alnico humbuckers with modern bite
When designing the Sheraton Stealth, Emily Wolfe and Epiphone scrutinized every detail, auditioning numerous pickup combinations to find just the right voice to amplify her signature blues-rock sonic brew. Eventually, they landed on Epiphone's Alnico Classic PRO Buckers. Featuring Alnico V magnets, the Alnico Classic PRO Buckers lean vintage but exhibit a modern bite and healthy midrange punch. They especially excel at feeding dirt boxes and driving the front end of tube amps. Combined with premium CTS pots, including individual pickup volume controls and a single tone knob, this hellacious pair of Wolfe p'ups guarantee a tone that can't be tamed!
Premium lightly aged gold hardware package
The Emily Wolfe Sheraton Stealth rounds out its high-performance specs with a lightly aged gold hardware package, featuring Grover Rotomatic tuners, black top hat knobs with gold inserts, and a rock-solid LockTone Tune-o-matic bridge and a LockTone Stop Bar tailpiece. Additionally, it's equipped with a Graph Tech nut that puts the kibosh on string binding, ensuring a crisp sound and clean intonation — even when you're chugging hard or performing howling bends.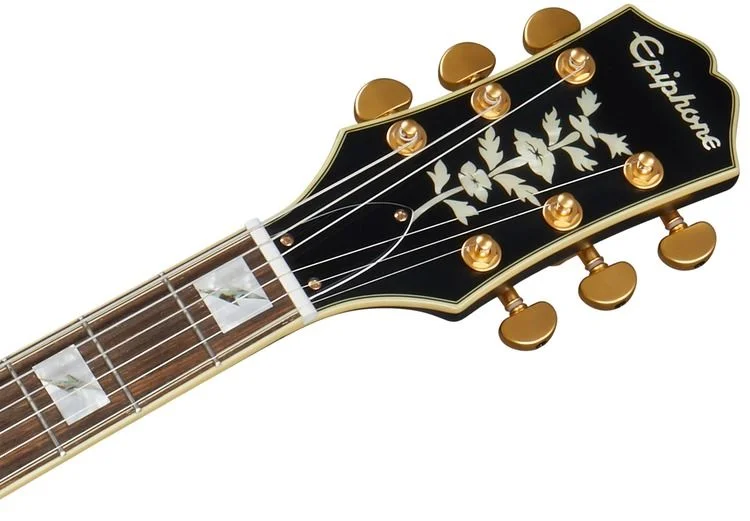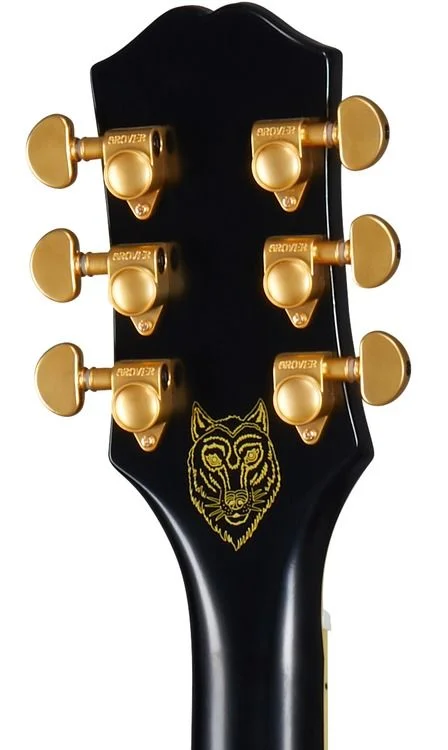 Epiphone Emily Wolfe Sheraton Stealth Semi-Hollowbody Electric Guitar Features:
Austin-based blues-rocker Emily Wolfe's signature guitar
Comfortable semi-hollowbody shape crafted from layered maple with diamond F-holes
'60s SlimTaper "C" profile neck invites full-range playing
Compact '60s Kalamazoo-style headstock with mother-of-pearl tree of life inlay
2 Epiphone Alnico Classic PRO humbuckers are vintage-voiced with a modern edge
Snappy Indian Laurel fingerboard with mother-of-pearl block and abalone lightning bolt inlays
Premium CTS pots in a 2 Volume/1 Tone configuration
Rock-solid Tune-o-matic bridge and LockTone Stop Bar tailpiece
Premium Grover Rotomatic tuners and Graph Tech Nut