Epiphone Explorer "Inspired By Gibson" in Ebony
Description
When it was originally released in 1958, the Explorer offered a radical, futuristic style — one that the world wasn't quite ready for. But by the 1970s, every hard-rocking guitarist wanted one. The Epiphone Explorer boasts the same angular styling as its predecessor, with the full-throttle tone to match. This solidbody electric guitar packs amazing sustain and punch, thanks to its mahogany body. And that's before you even plug it in! But the real magic happens when you park it in front of a British-style stack — its rafter-shaking, arena-ready tones are guaranteed to impress. The Explorer's comfortable SlimTaper neck and easy-playing Indian laurel fingerboard yield effortless playability, while Grover Mini 18:1-ratio tuners and a LockTone Tune-o-matic bridge and stopbar tailpiece ensure maximum sustain. The Epiphone Explorer — it's ready to rock.
A classic Explorer through and through
The Epiphone Explorer is a classic Explorer through and through. Fans of this iconic design will love the rich midrange character and sustain gotten from its mahogany body. Its set mahogany neck feels great in your hand, thanks to its comfortable SlimTaper profile, with cutaways on both sides for unfettered fret access. It comes topped with an easy-playing Indian laurel fingerboard that's sure to inspire. Its "hockey-stick" headstock makes a perfect platform for a set of Grover Mini 18:1-ratio tuners. A LockTone Tune-o-matic bridge and stopbar tailpiece complete the package.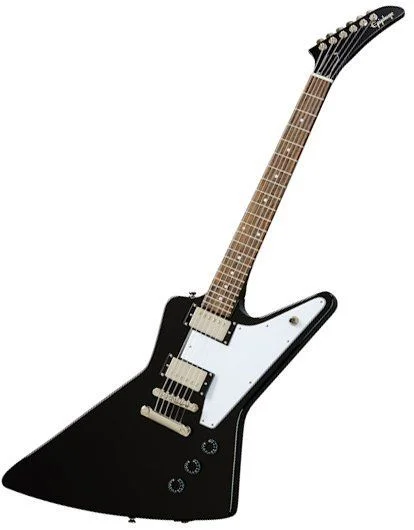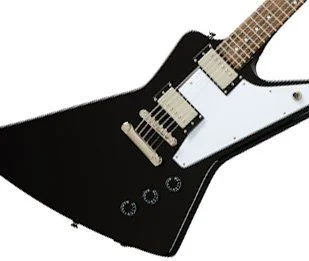 ProBucker pickups deliver PAF-era clean and crunch tones
Bridge and neck ProBucker humbuckers equip the Epiphone Explorer for sweet cleans and decidedly classic lead and crunch tones. These pickups are made using Alnico II magnets — the same found in sought-after vintage PAF humbuckers — for rich, warm tone with crystalline highs and a tight bottom. The guitarists here have discovered that with two volume knobs, a master tone, and a toggle switch, the Explorer enables you to dial in a diverse range of tone and attack as you hone your own style.
1958: a year of innovation
Like sleek, space-aged probes sent from a galaxy far, far away to test the tonal waters of planet earth, the Flying V and Explorer landed to reactions that ranged from total awe to out-and-out bafflement. While the Les Paul at least represented a post-modern interpretation of a recognizable blueprint, these two radical members of the Modernistic line were barely perceivable as guitars at all. Their bodies and necks were carved into super-angular shapes with no discernible bouts, wastes, or traditional cutaways of any sort. The Flying V was even verging on impossible to play sitting down — but who could sit for long while playing an instrument like this? These guitars were made for strutting, swaggering, wailing rock — it just seems no one quite realized it at the time. Even more than the groundbreaking Les Paul, the Flying V and Explorer were guitars aimed at a music that had yet to be born. In the late 1960s and '70s when heavy rock would rule stadium stages the world over, these bold guitars became the ultimate incarnations of the music.
Epiphone Explorer Features:
Solidbody electric guitar inspired by the 1958 classic

Resonant mahogany body packs sustain and midrange punch

Set mahogany SlimTaper neck with dual cutaways for boundless fret access

Easy-playing 22-fret Indian laurel fingerboard

ProBucker Alnico II pickups deliver sweet cleans to classic crunch

Grover Mini 18:1-ratio tuners yield rock-solid tuning

LockTone Tune-o-matic bridge and stopbar tailpiece ensure maximum sustain