Epiphone Extura Prophecy - Black Aged Gloss
Description
What do you get when you combine the elegance of an Explorer with the unimpeded fret access of a Futura? The answer is the Extura Prophecy. This Epiphone-exclusive design packs the high-performance features discerning guitarists demand, with state-of-the-art electronics, fleet-fingered playability, and top-shelf hardware. The Extura's resonant mahogany body boasts a radical angular design that's crowned by an eye-grabbing flame maple veneer. Multi-voice Fishman Fluence pickups make this solidbody electric guitar a tone chaser's dream come true, unleashing both vintage and modern humbucker sounds, along with hum-free single-coil textures. And it's the perfect tool for breaking speed records, thanks to its ergonomic, asymmetrical SlimTaper-shaped mahogany neck and its fast-playing 24-fret ebony fingerboard. Grover-locking Rotomatic tuners, a LockTone Tune-o-matic bridge, and a Graph Tech NuBone nut round out this axe's pro-level appointments. The Epiphone Extura Prophecy includes distinctive single-ply binding and a sharp-looking aged gloss finish.
Multi-voice Fluence humbuckers provide three distinct voices
History's most sought-after electric guitar tones will be yours when you pick up the Extura Prophecy, thanks to its multi-voice Fishman Fluence humbucking pickups. A simple push-pull of the guitar's volume and tone pots is all it takes to harness these active pickups' three unique, selectable voices. Revel in a warm PAF-like sound with vintage dynamics and output. Kick it into overdrive with a modern-sounding, high-octane humbucker tone. Unwind with hum-free single-coil textures, highlighted by punchy mids and glassy, shimmering highs. Whatever sound you're aiming for, the Extura Prophecy will serve it up on a silver platter.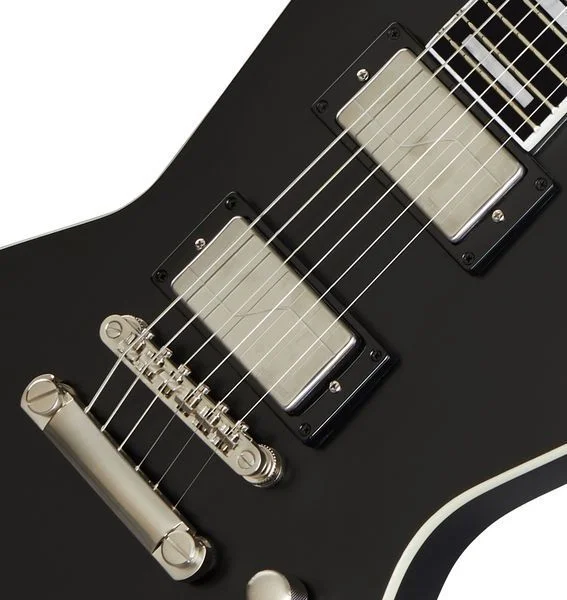 Asymmetrical SlimTaper neck provides maximum comfort and speed
Playability is one of the most important elements of a solidbody electric guitar, and the Epiphone Extura Prophecy doesn't disappoint. Its mahogany neck features an ergonomic, asymmetrical SlimTaper shape that begs you to wrap your hand around it. Its 12-inch-radius ebony fingerboard sports 24 jumbo frets, and it feels like greased lightning. A contoured heel makes accessing this guitar's higher frets effortless. This endlessly playable axe has what it takes to become your new number one, both onstage and in the studio.
High-end appointments make this a head-turning Extura
The guitarists here appreciate the Extura Prophecy's high-end appointments. Its Grover-locking Rotomatic tuners supply stable tuning and facilitate quick string changes. Epiphone's LockTone Tune-o-matic bridge and stopbar tailpiece provide super-efficient vibration transfer for optimal tone and near-endless sustain. You also get a Graph Tech NuBone nut for added sustain and clarity. An attention-grabbing flame maple veneer top, eye-catching single-ply binding, and a sharp-looking aged gloss finish complete the Extura Prophecy.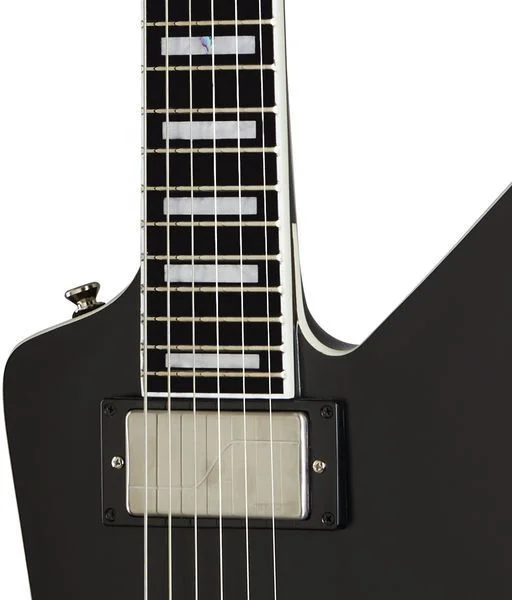 Epiphone Extura Prophecy Features:
Epiphone-exclusive design combines the elegance of an Explorer and the unimpeded fret access of a Futura
Angular-shaped mahogany body with eye-grabbing flame maple veneer top

Multi-voice Fluence humbuckers provide vintage and modern humbucker tones, plus hum-free single-coil textures

Mahogany neck with an ergonomic asymmetrical SlimTaper shape

Fast-playing 12-inch-radius ebony fingerboard with 24 jumbo frets

Grover-locking Rotomatic tuners supply rock-solid tuning stability and lightning-fast string changes

LockTone Tune-o-matic bridge and stopbar tailpiece provide optimal tone and near-endless sustain

Graph Tech NuBone nut adds sustain and clarity

Distinctive single-ply binding and a sharp-looking aged gloss finish