A Tribute to EVH's Iconic Frankenstrat
The EVH Striped Series Frankie is a tribute to (although not quite a re-creation of) Eddie Van Halen's iconic red, black, and white Frankenstrat guitar — complete with a worn-in relic'd finish. Built from a solid chunk of basswood, this solidbody electric guitar growls with the best of them, while exhibiting rock-solid mids that can cut through a manic rhythm section with ease. A direct-mount Wolfgang humbucker nails Eddie's classic tone, especially when you use it to push a British-voiced amp. Benefit from a comfortable quartersawn maple neck and fast-playing compound-radius fingerboard. Designed to his exact specifications and intentionally positioned against the body, the dive-bomb-only D-Tuna-equipped Floyd Rose lets you mimic Eddie's signature trem work with ease, along with giving you instant access to Drop D tuning. The Striped Series Frankie is teeming with classic Van Halen aesthetics, but most importantly, it provides killer tone and lightning-fast playability. This axe belongs in every Van Halen fan's guitar collection.
Eddie's Frankenstrat — a brief history
There are very few guitars out there that are as famous as Eddie Van Halen's favorite 6-string sidekick, lovingly known as "Frankenstein." This guitar was Eddie's attempt to combine the sound of a classic single-cut solidbody guitar with the physical attributes and tremolo bar functionality of a Fender Stratocaster. Eddie started with a Strat-style body, added a maple neck, crudely mounted bridge PAF humbucker, and eventually a Floyd Rose tremolo system (with a 1971 quarter as a bridge stop). Other unconventional modifications included a non-functioning neck pickup and a dummy selector switch jammed into the middle pickup position, a strip of double-sided masking tape for holding picks, large screw eyes in lieu of strap buttons, and a distinctive black and white (and later red, black, and white) paint job with bicycle reflectors.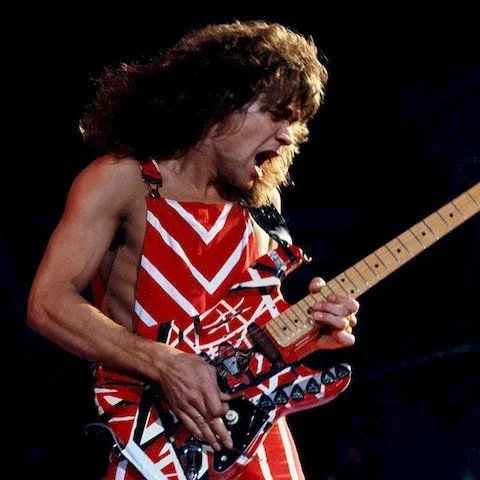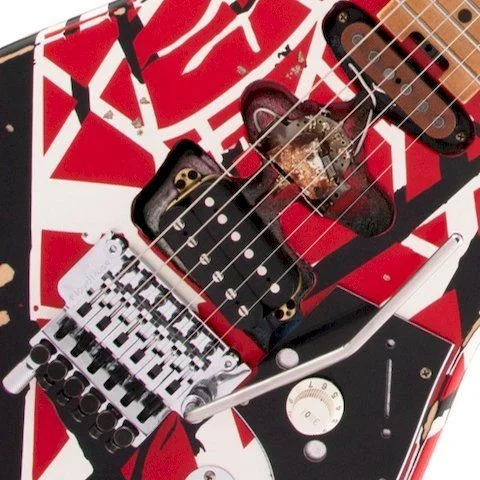 EVH Wolfgang humbucker nails Eddie's tone
The Striped Series Frankie comes loaded with an EVH Wolfgang humbucker. Superhuman chops aside, Eddie forged his unmistakable sound through incessant tinkering with guitar parts and pickups. To achieve his signature tone, Eddie paid particular attention to different pickup windings. Wolfgang humbuckers are the direct product of Eddie's tone chasing, and they nail his classic lead tone: stinging, singing highs, snarling mids, fat brown sound, and all. Thanks to this killer pickup, Frankie delivers Eddie Van Halen's classic tone — instantly.
Compound-radius fretboard makes chording and soloing effortless
The EVH Striped Series Frankie features a super-playable 12"–16" compound-radius fretboard. That means its fingerboard has a 12" radius down by the nut, which makes it easy to grab chords and strum rhythms. As you move up the fretboard where you're more likely to bend notes, the fretboard flattens out to a 16" radius, which allows you to more easily bend notes, effectively offering you extra fretboard space so you're less likely to run off the edge. Ultimately, the Striped Series Frankie's compound radius makes transitioning between rhythm and lead playing effortless.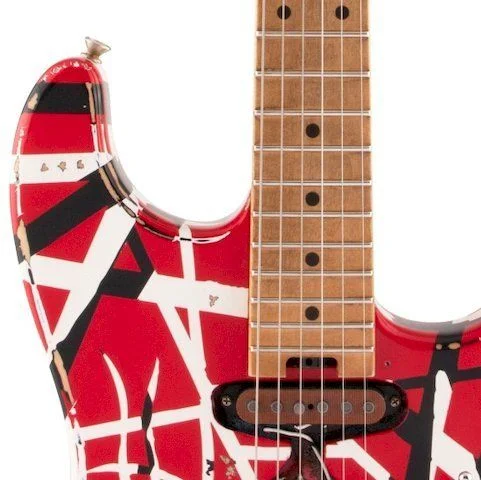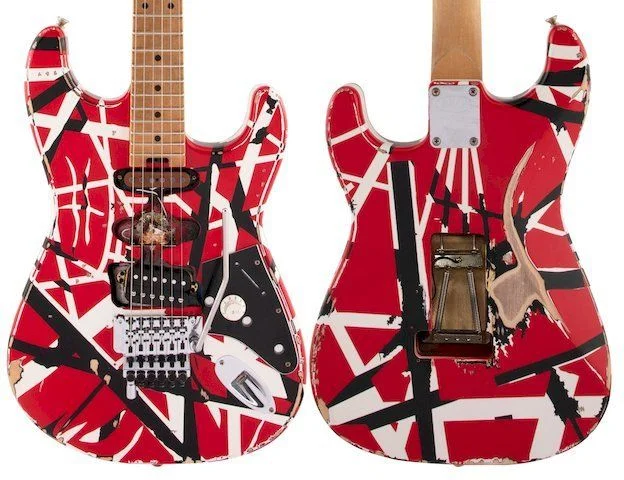 A spot-on cosmetic duplicate of Eddie's original
The Striped Series Frankie endeavors to be a spot-on cosmetic duplicate of Eddie's original, and it shows — DIY aesthetic and all. Routed for an HSS pickup configuration, Frankie includes a dummy single-coil neck pickup and 5-way blade selector switch wedged into the middle position. It also boasts a white skirted Strat-style single volume control knob (labeled TONE, just like the original), a custom black pickguard, and relic'd chrome finish. And to top it off, the Striped Series Frankie features the original's famed red, white, and black-striped paint job and a worn-in relic'd look. The Striped Series Frankie is as close to the real thing as you're going to find at this price!
EVH Striped Series Frankie Solidbody Electric Guitar Features:
Inspired by Eddie Van Halen's iconic Frankenstrat

A spot-on cosmetic duplicate of Eddie's original with worn-in relic'd finish

Basswood body delivers a warm, growling tone with rock-solid mids

Direct-mount bridge humbucker exhibits Eddie Van Halen's classic tone

Oil-finished, graphite-reinforced, quartersawn maple neck offers comfort, plus added snap and sustain

Fast-playing compound-radius fingerboard

EVH-branded Floyd Rose double-locking tremolo facilitates effortless dive-bombs

D-Tuna retunes the guitar to Drop D and back with a flick of your finger

EVH-branded neck plate and standard strap buttons