Fender 75th Anniversary Commemorative Stratocaster in 2 Color Bourbon Burst
Description
Honors Leo Fender's Bold, Revolutionary Strat
The limited-edition 75th Anniversary Commemorative Stratocaster pays homage to Leo Fender's bold, revolutionary solidbody electric guitar. This superb axe includes a comfortably contoured, musical-sounding ash body, and its satin-finished Deep "C"-shaped neck, 9.5-inch-radius fingerboard, and sculpted neck heel ensure playability that's second to none. The Commemorative Strat churns out classic tones that range from bell-like and jangly to bluesy and biting, thanks to a trio of Fat '60s single-coil pickups, while an RWRP middle pickup and modern 5-way switch wiring unlock a myriad of tonal options. You'll benefit from top-of-the-line hardware, including super-stable locking tuners and a 2-point tremolo with a cold-rolled steel tone block. This exquisite Stratocaster is also embellished with a 75th anniversary ingot rear headstock inlay and an engraved anniversary neck plate. A light-catching gloss urethane finish and head-turning gold hardware round out this highly collectible, limited-edition Strat. Of course, the Fender 75th Anniversary Commemorative Stratocaster comes with a molded, plush-lined hardshell case and an exclusive certificate of authenticity.


Deep "C" neck facilitates near-effortless playability
The Deep "C" neck profile that you'll find on the 75th Anniversary Commemorative Stratocaster is a slight upgrade from the Fender American neck players have been in love with for years. By adding a touch more roundness to the back contour, the Deep "C" carve fills your hand perfectly while never inhibiting your technique. For added playing comfort, the back of the neck is finished in Fender's Super-Natural satin finish that feels fast and inviting. Your fingers will immediately notice how much control they have on the fingerboard's medium-jumbo frets.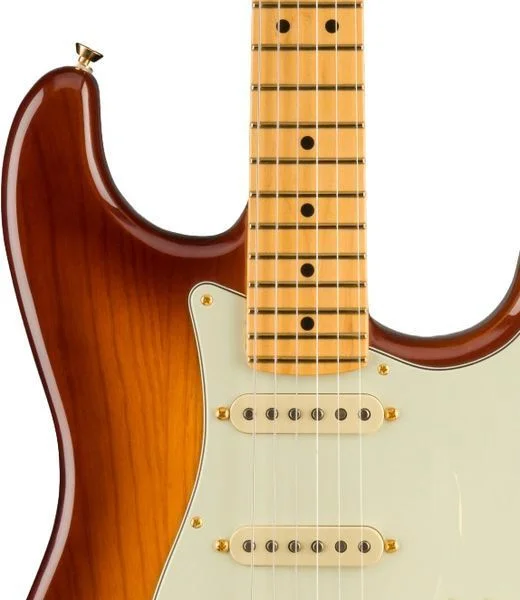 Classic Strat tone from Fat '60s Stratocaster single-coil pickups
No matter how well you play, your tone lives and dies by the pickups in your axe. The Fender 75th Anniversary Commemorative Stratocaster sports three Fat '60s single-coil pickups, which are known far and wide for their classic bell-like, jangly, smooth, and bluesy tone. These pickups deliver bright and clear cleans with the perfect amount of midrange bite. When you plug your Commemorative Strat into your favorite tube amplifier, you'll find everything from smooth mellow tones to outrageously aggressive leads, all within a casual twist of a volume knob. On top of that, you get a reverse wound/reverse polarity middle pickup with a modern 5-way blade pickup selector.
Synchronized Tremolo adds texture to chords and leads
Armed with a 2-point Synchronized Tremolo, the 75th Anniversary Commemorative Stratocaster moves from shimmery chords to distinct vibrato and beyond with a natural response that won't strain your hand. You can dive-bomb confidently thanks to a set of locking short-post tuning machines on one end and bent steel saddles on the other. What's more, this rock-solid trem's cold-rolled steel block boosts sustain, enhances tuning stability, and adds a touch of brightness to your tone. The Commemorative Strat also features a convenient pop-in tremolo arm — a feature that the guitarists wholeheartedly appreciate.
Fender 75th Anniversary Commemorative Stratocaster Features:
Limited-edition solidbody electric guitar with tried-and-true Strat design

Fat '60s Stratocaster single-coil pickups provide classic Strat tone

Reverse-wound/reverse-polarity middle pickup plus modern 5-way switch wiring

Ash body delivers a musical, ear-pleasing sound

Deep "C" neck profile with Super-Natural satin finish sits securely in your hand

Rolled fingerboard edges facilitate a smooth playing experience

Sculpted neck heel provides a comfortable feel and easy access to upper register

Super-stable locking short-post tuning machines with white pearloid buttons

2-point Synchronized Tremolo with cold-rolled steel tone block gives you expressive playing options and extra sustain

75th anniversary ingot rear headstock inlay and engraved anniversary neck plate

Light-catching gloss urethane finish and head-turning gold hardware

Includes a custom molded hardshell case and a certificate of authenticity