Fender 75th Anniversary Commemorative Telecaster in 2 Color Bourbon Burst
Description
Celebrates Leo Fender's Bold, Revolutionary Tele
The limited-edition 75th Anniversary Commemorative Telecaster celebrates Leo Fender's bold, revolutionary solidbody electric guitar. This exceptional instrument was built from a musical-sounding body of ash, and its satin-finished Deep "C"-shaped neck, 9.5-inch-radius fingerboard, and sculpted neck heel make for a euphoric playing experience. Crank up your favorite amp, and revel in an authoritative tone that commands attention, thanks to dual Twisted Tele pickups. Top-of-the-line hardware, including super-stable locking tuners and a top-load, string-through bridge with compensated saddles, designate the Commemorative Tele as a high-end instrument. To highlight its exclusivity, this gorgeous Telecaster is outfitted with a 75th anniversary ingot rear headstock inlay and an engraved neck plate. A light-catching gloss urethane finish and attention-grabbing gold hardware round out this highly collectible, limited-edition Tele. Of course, the Fender 75th Anniversary Commemorative Telecaster also includes a molded, plush-lined hardshell case and a special certificate of authenticity.
Deep "C" neck facilitates near-effortless playability
The Deep "C" neck profile that you'll find on the 75th Anniversary Commemorative Telecaster is a slight upgrade from the Fender American neck players have been in love with for years. By adding a touch more roundness to the back contour, the Deep "C" carve fills your hand perfectly while never inhibiting your technique. For added playing comfort, the back of the neck is finished in Fender's Super-Natural satin finish that feels fast and inviting. Your fingers will immediately notice how much control they have on the fingerboard's medium-jumbo frets.

Twisted Tele pickups dish out punchy single-coil tones
One thing that'll be clear from the first time you plug in is that the Fender 75th Anniversary Commemorative Telecaster packs more punch than a standard Tele. That's because this outstanding solidbody electric guitar comes loaded with a pair of Twisted Tele pickups. These unique pickups borrow the taller Alnico V magnets from Fender's Jazz Bass pickups, providing the added bobbin space for thicker gauge wire for a hotter, brighter, and punchier sound that's almost Strat-like. This is a welcome enhancement for many Tele players, including many of us Telecaster fanatics here.
Compensated brass saddles provide spot-on intonation
Many Tele aficionados consider vintage-style 3-brass-barrel-saddle bridges to be superior to modern 6-saddle designs. They argue that these old-school 3-saddle bridges contribute significantly to the Tele's unmistakable twang, and that they sustain like crazy. That said, trying to achieve proper intonation with a vintage-style bridge is an exercise in frustration — it's always a compromise. That's not the case with the 75th Anniversary Commemorative Telecaster, however. While this Tele's 3-saddle, top-load, string-through bridge exudes all of the tone, sustain, and visual appeal of a vintage design, its compensated brass saddles ensure near-flawless intonation all the way up and down its fretboard. You'll also appreciate how the Commemorative Telecaster's ashtray-style bridge leaves plenty of room for your picking hand — even while palm muting.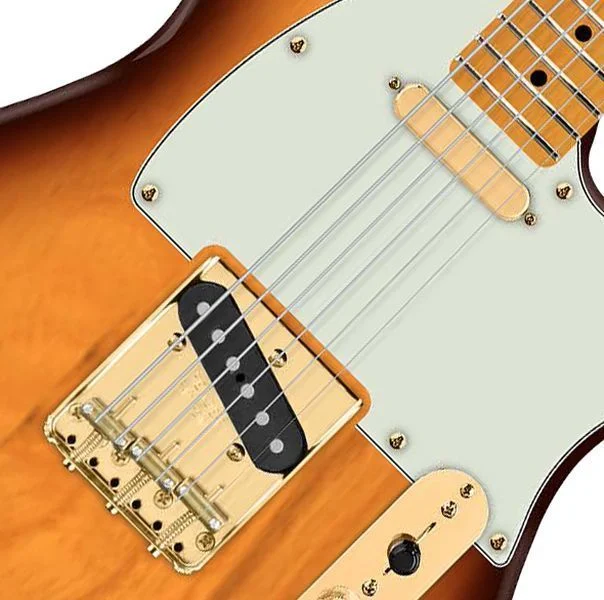 Fender 75th Anniversary Commemorative Telecaster Features:
Limited-edition solidbody electric guitar with tried-and-true Telecaster design
Dual Twisted Tele pickups speak with prominent Tele tone
Ash body delivers a musical, ear-pleasing sound
Deep "C" neck profile with Super-Natural satin finish sits securely in your hand
Rolled fingerboard edges facilitate a smooth playing experience
Sculpted neck heel provides a comfortable feel and easy access to upper register
Super-stable locking short-post tuning machines with white pearloid buttons
Top-load, string-through bridge with compensated "bullet" saddles offers near-flawless intonation
75th anniversary ingot rear headstock inlay and engraved anniversary neck plate
Light-catching gloss urethane finish and attention-grabbing gold hardware
Includes a custom molded hardshell case and a certificate of authenticity