Fender Acoustasonic Jazzmaster Acoustic electric in Natural
Description
Fender's Rebel Rocker Goes Hybrid
The Jazzmaster, George Fullerton and Leo Fender's unwitting surf and noise-rock icon, makes the perfect platform for Fender's third wave of Acoustasonic hybrid acoustic-electric instruments. Playing out on the weekends? The Acoustasonic Jazzmaster's bridge-position Acoustasonic Shawbucker magnetic pickup packs vine-ripened California cleans and the gnarliest garage rock tones this side of 1991, even without an amp in tow. But toggle positions and roll the Blend knob, and you'll unearth a slew of blissfully sweet acoustic voicings that are perfect for Sunday cafe gigs. The Acoustasonic Jazzmaster's audaciously offset spruce-on-mahogany SIRS body is built to resonate like an acoustic instrument without succumbing to the feedback issues of other stage acoustics. And yet, thanks to a Modern Deep "C" mahogany neck and thinline Jazzmaster body, this hybrid provides effortless electric-like playability up and down the fingerboard. The Acoustasonic Jazzmaster's bleeding-edge 3-pickup system — the Shawbucker humbucker plus a Fishman Matrix undersaddle system and a percussive body sensor pickup — will make you the envy of every Root, Costello, and Mascis in sight. Powering it all is a 20-hour rechargeable battery that supports simultaneous charge and play for nonstop music making wherever you play out.


Covers a range of acoustic and electric tones
How would you like to layer your acoustic rhythms with heavily processed electric tones? Or volley between sweet acoustic sweeps and tasty rock leads in the middle of a song? It's all possible with the Acoustasonic Jazzmaster. A 5-way switching system makes accessing these diverse tones a breeze. Each position features two distinct sound profiles (clean/crunch, short-scale/dreadnought), which can be continuously varied via the rear Blend knob. Whether you're running into a PA or an amp, the Acoustasonic Jazzmaster provides great tones to cover an insane range of musical styles.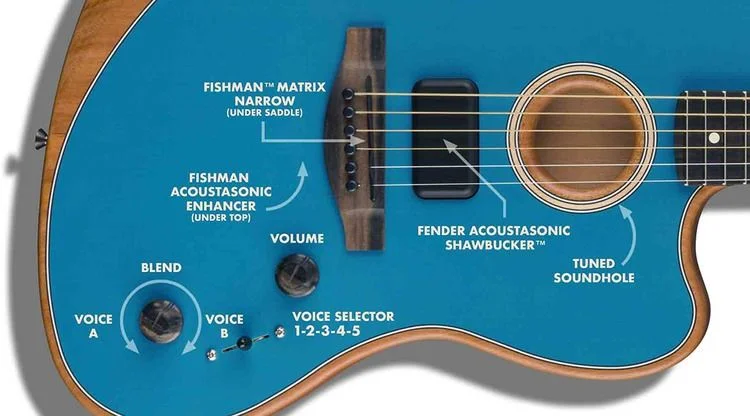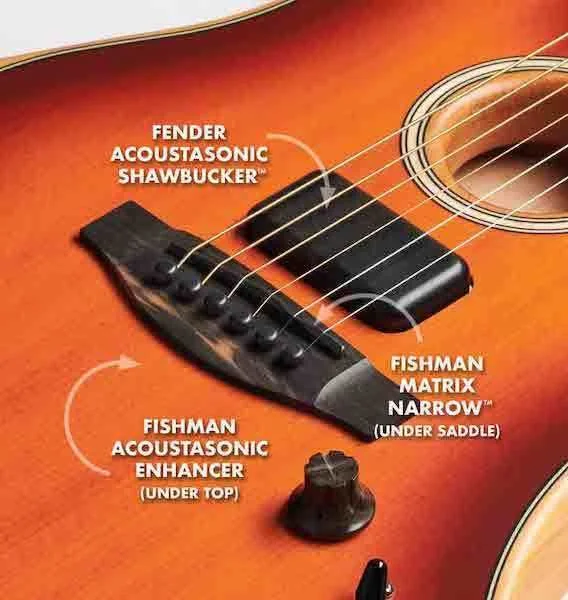 Acoustasonic Shawbucker bridge pickup
Fender Chief Engineer Tim Shaw holds claim to some of the most revered vintage pickup re-creations of our day. Among his more recognized Fender designs is the "Shawbucker" humbucking pickup: a love letter to Tim's more than 35 years of guitar industry service and a major propellent of Fender's HH and HSS electric guitars circa 2015 onward. For the Acoustasonic Jazzmaster's specially calibrated Acoustasonic Shawbucker pickup, Tim and Fender went back to the drawing board. "We realized we needed a higher-output pickup than normal because of the unique Acoustasonic body construction," says Tim. "The Acoustasonic Shawbucker has pole pieces that are factory preset from the back, and they're compensated for bronze strings." This calibration permits pure electric tones you'd never believe could come from an "acoustic" instrument. "When you plug-in and experiment with the Blend control," Tim continues, "You'll hear electric sounds that go from 'fat and clean' to 'right at home with a 4 x 12 cabinet.'" Plus, as with all Acoustasonic guitars, the Acoustasonic Jazzmaster's spanky, snarly electric tones are designed to sound great running into a traditional speaker cabinet or direct into a full-range PA.
Fishman Matrix undersaddle system
The Fishman Matrix is one of the world's best-selling acoustic pickups. In the Acoustasonic Jazzmaster, it's your ticket to a beautiful undersaddle acoustic tone with plenty of range to suit any manner of music. Onboard body modeling helps flesh out these tones in ways never before possible.
Body sensor acoustic pickup
Whether it's John Mayer acoustic slaps or a full-on Kaki King flamenco assault you're after, the Acoustasonic Jazzmaster's dedicated body-top pickup, accessible in position 3, adds a percussive element that's hard to top in traditional instruments. Guitarists have also found the body sensor to be useful for building percussion loops in a live setting.
10 blendable onboard voicings
Strumming, fingerpicking, and lead work all require different sounds and textures. The Acoustasonic Jazzmaster gives you access to 10 distinct acoustic and electric voicings via its traditional 5-way blade and continuously selectable A/B Blend control. Whether you're after a big, boisterous dreadnought to fill solo space or a reduced-size short-scale to sit in a mix, it's all at your fingertips with the Acoustasonic Jazzmaster from Fender. No pedals required. Electric tones can be seamlessly blended into positions 1 and 2 to add electric grit and sustain.
Position 1A: Explores the cleaner side of the the Acoustasonic Shawbucker humbucking pickup
Position 1B: Kicks up the gain for a full-bore Jazzmaster snarl, even without pedals
Position 2A: The pure tone of the Fishman Matrix undersaddle pickup interacting with the guitar's unique spruce-on-mahogany SIRS construction
Position 2B: Adds in the bite of the overdriven Shawbucker pickup
Position 3A: A hi-fi acoustic tone that's crisp, detailed, and 3D-like
Position 3B:Blends in the body sensor for more dynamic and percussive results
Position 4A: Access the woody tone of a large-bodied studio accompaniment strummer
Position 4B:Punch through a mix with the tightness and definition of a smaller-bodied acoustic
Position 5A: The spangly, full-bodied harmonic tone of a miked rosewood dreadnought acoustic
Position 5B: The folksier, earthier tone of a slope-shouldered American icon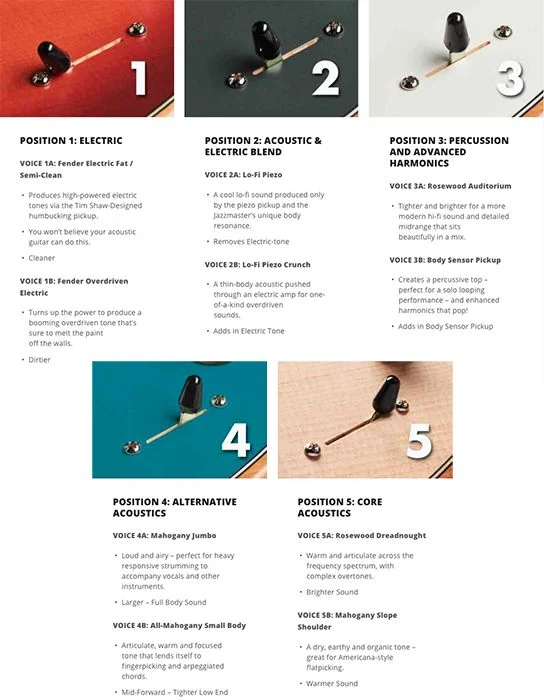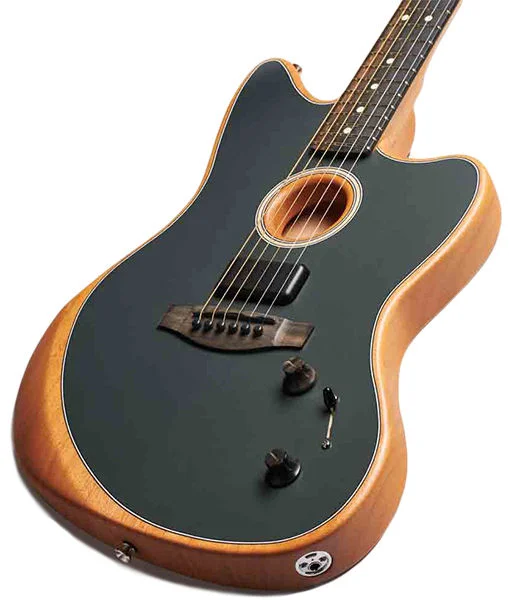 Iconic offset style
Fender has done a great job of retaining the style and playability of its acclaimed Jazzmaster design for an instrument as advanced as the Acoustasonic Jazzmaster. From the familiar offset-waist body to its great-playing, ebony-capped Modern Deep "C"-profile neck, everything about this guitar will make you feel right at home onstage or in the studio. Its action is a nice compromise between styles: it doesn't bottom out for strums, and it doesn't fret out for leads.
SIRS mahogany body
Unique to the Acoustasonic family of guitars is Fender's mini-soundhole mahogany body with SIRS resonance enhancement system. Paired with its transverse-braced solid Sitka spruce top, the Acoustasonic Jazzmaster resonates like no thinline guitar you've played before, with punchy bass and a sparkly top end that come across loud and clear through the onboard Fishman electronics.
Onboard rechargeable battery
The days of swapping out 9-volt batteries are over. The Acoustasonic Jazzmaster comes loaded with a 20-hour integrated battery, rechargeable over USB. This battery allows you to charge and play at the same time — so if you've got a portable battery backup, the Acoustasonic can give you days of uninterrupted play time.
Fender Acoustasonic Jazzmaster Hybrid Guitar Features:
Hybrid Jazzmaster with 10 blendable acoustic and electric voicings
Piezo and magnetic pickups supply an impressive range of rock, blues, country, folk, and pop tones
Body sensor pickup (P3) is perfect for loop building and percussive playing
Traditional 5-way selector with continuous Blend knob
SIRS mahogany body resonates like an acoustic instrument, but without the feedback issues
Solid Sitka spruce top adds acoustic sparkle and maturity
Ebony-capped Modern Deep "C" mahogany neck rivals the playability of your favorite electric
Tim Shaw-designed Acoustasonic Shawbucker magnetic bridge pickup supplies real-deal clean and dirty electric tones, with or without an amp and pedals
Fishman Matrix undersaddle piezo pickup system loaded with 6 acoustic images
20-hour USB rechargeable battery with simultaneous charge and play