Fender American Ultra Luxe Stratocaster - Plasma Red Burst with Maple Fingerboard
Description
Fender's Next-generation Stratocaster
When Fender released the American Ultra series, it undertook an impressive task — improving upon one of the most beloved guitars of all time. Guitar players will tell you that they more than succeeded. Now, with the American Ultra Luxe series, the company takes the Strat to the next level, with a unique Augmented "D" profile neck and exciting new variations on standard Fender themes. Indeed, the Fender American Ultra Luxe Stratocaster is a high-performance instrument for professional musicians and discerning amateurs alike. Equipped with a trio of Ultra Noiseless single-coil pickups with advanced switching options, this next-generation Strat is capable of classic single-coil sounds and beyond. Pick up this instant-classic guitar, plug into to your favorite amp or modeler, and be prepared for a profound sonic experience!


Ultra Noiseless Vintage Strat pickups
Fender's 5th-generation noiseless pickups, dubbed Ultra Noiseless, land you all the spanky, quacky Strat tones without any annoying hum. Seriously — plug it into a Plexi and crank it. The Ultra Noiseless Vintage Strat pickups remain full of character and light on noise. The American Ultra Luxe Stratocaster has a silky-smooth 5-way switch that gives you loads of tones to choose from. When you engage the volume knob's S-1 Switch, you can add neck-position tones to positions 1 and 2 — position 1 giving you bridge and neck pickups together, position 2 giving you all three pickups at once.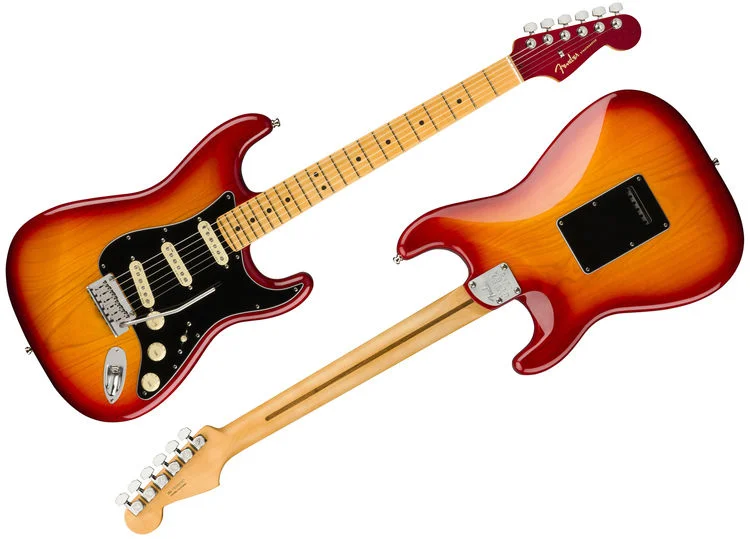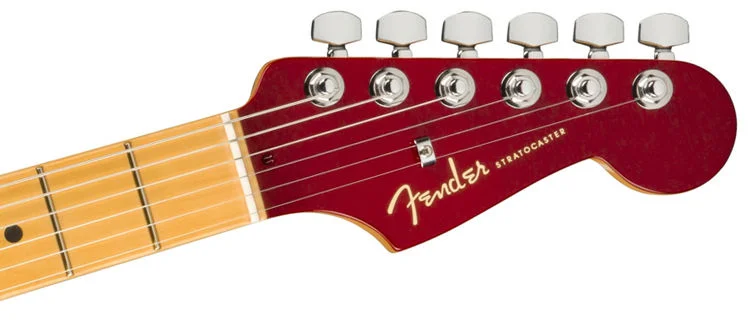 Made to be played
The headline says it all. This Strat is made to be played. Hard. The Ultra Satin neck has Fender's Augmented "D" profile that facilitates fast playing without feeling like you're playing a baseball bat. It has a compound radius fingerboard with 22 medium-jumbo stainless steel frets that make it just as easy to play chords near the nut as it is to melt faces at the higher frets. The fretboard also has rolled edges to give you hours of playing comfort. Soloing is easy, too, thanks to the tapered neck heel and the extra hand contour on the lower cutaway. To put it simply, the American Ultra Luxe Stratocaster has a neck with upgraded features that the demanding player cannot pass up.
Synchronized Tremolo adds texture to chords and leads
Armed with a 2-point Synchronized Tremolo, the American Ultra Luxe Stratocaster moves from shimmery chords to distinct vibrato and other textures with a natural response that won't strain your hand. You can dive-bomb confidently, thanks to a set of rock-solid locking short-post tuning machines on one end and steel saddles on the other. What's more, this trem's cold-rolled steel block boosts sustain, enhances tuning stability, and adds a touch of brightness to your tone. The American Ultra Luxe Stratocaster also features a convenient pop-in tremolo arm.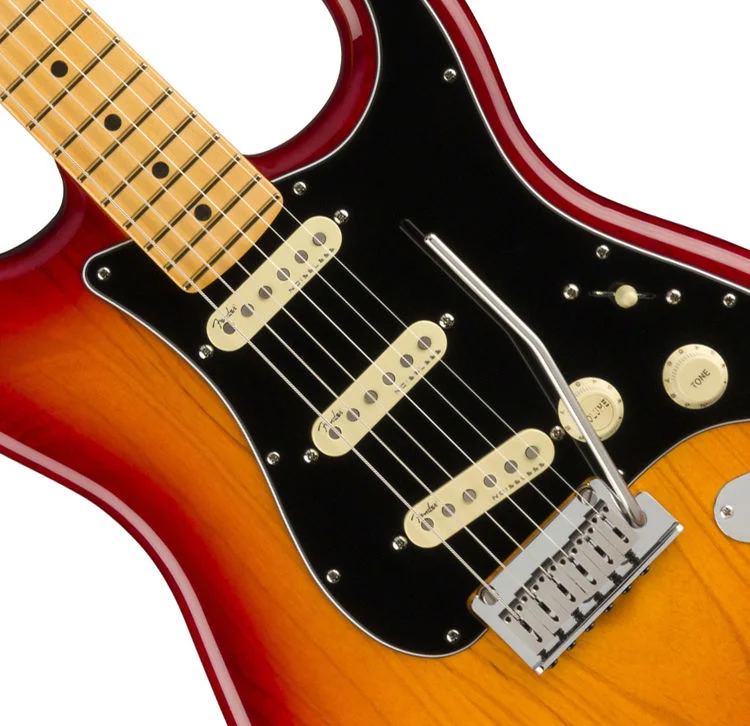 Fender American Ultra Luxe Stratocaster Electric Guitar Features:
Fender Ultra Noiseless pickups eliminate annoying hum
S-1 switch can add neck-position tones to positions 1 and 2
10–14-inch compound radius makes soloing easier than ever
Rounded fingerboard edges enable hours of playing comfort
Augmented "D" neck profile fills your hand without getting in the way
Stainless steel frets for exceptional feel and durability
Tip-less 2-point synchronized tremolo
Ultra Satin neck finish won't bind in your hand
Painted headstock logo adds a high-end touch