Fender American Ultra Luxe Stratocaster Floyd Rose HSS - Silverburst with Maple Fingerboard
Description
When Fender released the American Ultra series, the company undertook an impressive task: improving on one of the most beloved guitars of all time. Ask guitar players, and they'll tell you that they more than succeeded. Now, with the American Ultra Luxe series, Fender has taken the instrument to the next level, with a unique Augmented "D" profile neck and exciting new variations on standard Fender themes. The Fender American Ultra Luxe Stratocaster Floyd Rose HSS is aimed squarely at demanding players who require high-performance instruments that will keep up with technique-heavy playing styles. Outfitted with a Floyd Rose Original Tremolo, Ultra Noiseless Hot single-coils, and an Ultra Double Tap humbucking pickup with advanced wiring options, this next-generation Strat certainly fits the bill. Snag this instant-classic guitar, plug into to your favorite amp or modeler, and be prepared for a profound sonic experience!
Upgraded noiseless pickups with extra switching abilities
The American Ultra Luxe Stratocaster Floyd Rose HSS Stratocaster is loaded with two single-coil pickups and a Tim Shaw-designed Ultra Double Tap humbucker in the bridge. Fender's noiseless circuitry allows you to access all the patented Strat spank, but without the annoying hum. Trust us: plug this Strat into a Plexi and crank it, and you won't get any hum from the pickups. This American Ultra Luxe Strat also has a silky-smooth 5-way switch that unlocks tons of tonal options. When you press down on the volume pot, you'll find the S-1 switch and activate the Double Tap feature on the humbucker. Double Tap splits the humbucker into a single-coil without losing half of your volume like other coil-splitting designs.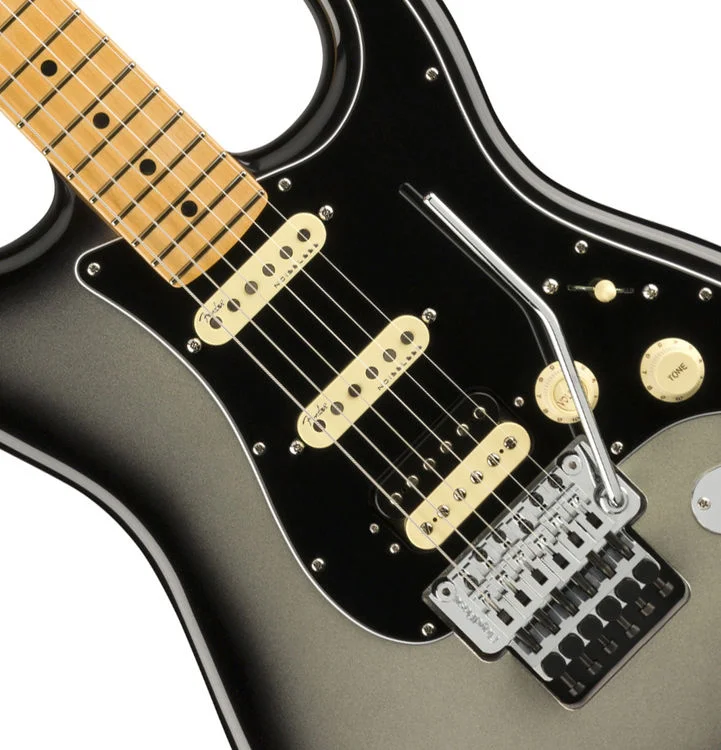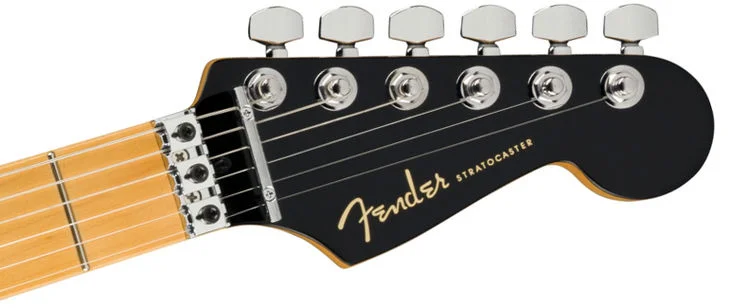 Made to be played
The headline says it all. The American Ultra Luxe Strat is made to be played. Hard. The Ultra Satin Neck has Fender's Augmented "D" profile that facilitates fast playing without feeling like you're playing a baseball bat. It has a compound-radius fingerboard with 22 medium-jumbo stainless steel frets that make it just as easy to play chords near the nut as it is to melt faces at the higher frets. The fretboard also has rolled edges, which will ensure hours of playing comfort. Soloing is easy, too, thanks to the tapered neck heel and the extra hand contour on the lower cutaway.
Dive-bomb away with a Floyd Rose Original tremolo system
If you're looking for a Strat that can take heavy vibrato abuse, the American Ultra Luxe Stratocaster Floyd Rose HSS Stratocaster is for you. Its Floyd Rose Original bridge and locking nut together net you the buttery-smooth bending action only a real Floyd can deliver, all with the peace of mind that comes from never having to worry about your strings pulling out of tune.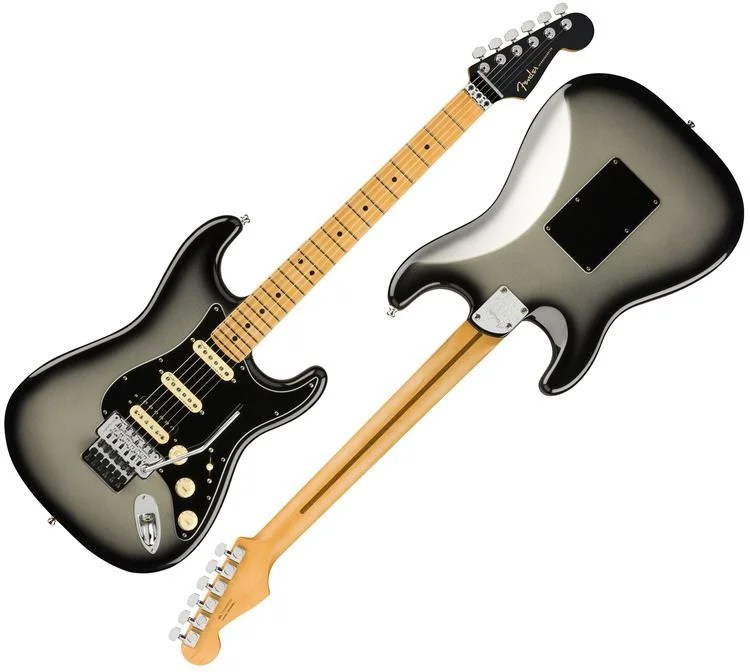 Fender Stratocaster: the world's go-to guitar
Musicians from all over the world have loved the Stratocaster since its introduction in 1954. The Stratocaster has been played by the most influential guitar players, ranging from Buddy Holly to high-gain shredders like Yngwie Malmsteen and virtuosic blues masters like Eric Clapton, among countless others. By relying on sturdy building techniques and unmatched playability, it's little wonder why the Stratocaster is so popular today. The Fender American Ultra Luxe Floyd Rose HSS Stratocaster seeks to build on the well-loved classic design with upgraded features and effortless playability to inspire the upcoming generation of guitar players.
Fender American Ultra Luxe Stratocaster Floyd Rose HSS Electric Guitar Features:
Fender Noiseless pickups eliminate annoying hum
S-1 switch activates Double Tap feature without any volume loss
1 Ultra Double Tap humbucker pumps out raw humbucker tones and well-defined single-coil sounds; 2 single-coil pickups
10–14-inch compound radius makes soloing easier than ever
Rounded fingerboard edges enable hours of playing comfort
Augmented "D" neck profile fills your hand without getting in the way
Stainless steel frets for exceptional feel and durability
2-point synchronized tremolo has no annoying plastic tip
Ultra Satin neck finish won't bind in your hand
Embossed Fender headstock logo adds a high-end touch