Fender Brad Paisley Road Worn Telecaster - Silver Sparkle
Description
The Long-awaited Brad Paisley Signature Telecaster
When it comes to iconic Tele players, Brad Paisley sits comfortably on top of that list. Yet it hasn't been until now that it's been his very own signature Fender Telecaster. The Fender Brad Paisley Road Worn Telecaster combines a spruce and Paulownia body with a custom-wound set of single-coil pickups to produce the to-die-for tones that have made Paisley a guitar legend. And the Road Worn Paisley Tele also boasts one of the most stage-ready, relic'd nitrocellulose finishes you're going to find. But these guitars are in limited supply, so grab one while you can.


An original take on a legendary guitar
The Brad Paisley Road Worn Telecaster is as unique as its namesake. You'll immediately notice its loud and clear acoustic voice emanating from the body's spruce/Paulownia/spruce tonewood sandwich. You'll also find that this pairing helps keep the guitar lightweight and resonant. The guitar's maple neck boasts a modern 9.5" fretboard radius to balance comfortable playing with being easy to bend on. And the guitar's triple-brass-saddle bridge further enhances this Telecaster's country-style personality.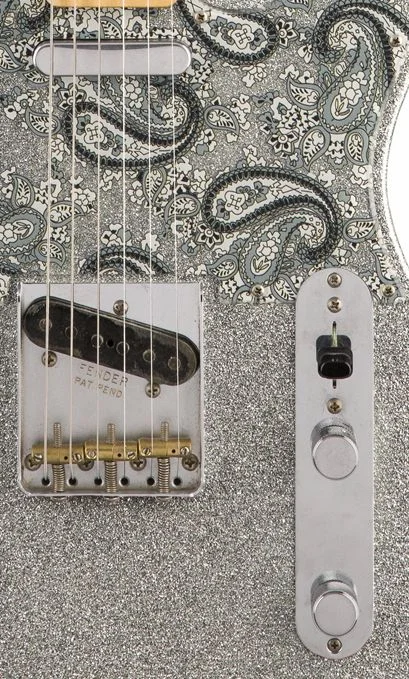 Combining modern and vintage voices
To nail the Brad Paisley guitar tone, you need a vintage-voiced bridge pickup that can dish out spank and twang with ease. That's why Fender loaded the Brad Paisley Road Worn Telecaster with a custom-wound Brad Paisley Spec Vintage-style Tele single-coil. Do you want Brad's tone? This is the pickup that'll get you there. Rounding out the pickup package is Fender's popular Twisted Tele neck single-coil pickup. The Twisted Tele is a higher-output design that rolls in a bit of the Strat character, offering a bell-like top end.
The Relic treatment delivers real-deal experience
Fender's Relic treatment creates instruments that look and feel like well-broken-in guitars. Without knowing better, you'd be hard-pressed to notice that this guitar comes right off the line like this. The Brad Paisley Road Worn Telecaster wears an aged nitrocellulose lacquer finish. Nitro finishes — standard back in the day — are significantly thinner than today's polyurethane finishes, allowing the guitar to "breathe." With nitro's ability to enhance the instrument's tonal qualities, the Brad Paisley Road Worn Telecaster has the look, sound, and feel of an aged classic.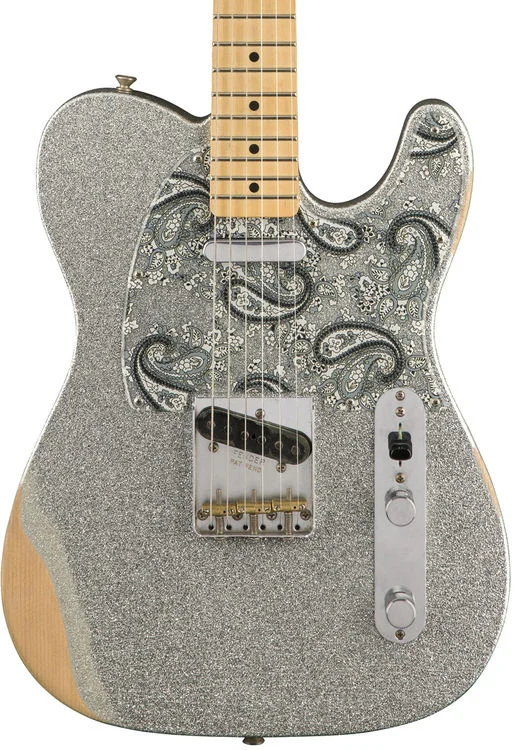 Fender Brad Paisley Road Worn Telecaster Features:
Brad Paisley signature Tele with unique tonewood construction
Spruce/Paulownia/spruce body is lightweight and resonant
Comfortable maple neck boasts a modern 9.5" fretboard radius
Nail Brad's tone with Fender's Brad Paisley Spec Vintage-style single-coil bridge pickup
Twisted Tele neck pickup adds some Stratocaster charm
Road worn nitrocellulose finish lets the wood breathe