Fender Jimmy Page Telecaster - White Blonde
Description
Whole Lotta Tele
On January 31, 1969, Led Zeppelin played New York's Fillmore East for the first time. Their debut album had just been released, and the Big Apple was abuzz with the promise of this hot new British group. But they were as yet untested before an American audience, so Fillmore impresario Bill Graham booked them as the opening act for Iron Butterfly. Their first set that evening killed, tearing up the house so thoroughly that Iron Butterfly refused to go on after them again. So Led Zeppelin headlined the 11:30 show — never again to be an opening act. Jimmy Page played his Tele that night — the one he famously used on the first album, and quite frequently thereafter — sending shock waves into the audience with every strike of his pick and violin bow. Now we are thrilled to present to you the Fender Jimmy Page Telecaster, a superb, American-crafted re-creation of this legendary instrument in all its glory.


Jimmy's trusty Telecaster
Although Jimmy Page is commonly associated with another classic single-cut solidbody electric guitar, it was a Telecaster that powered the Yardbirds' final years, Led Zeppelin's debut, and one of rock music's most iconic solos. Page did tons of London session work in the mid-'60s. (Fun fact: Jimmy played acoustic on the main title theme for Goldfinger, the third James Bond movie.) In 1966 he joined the Yardbirds, initially playing bass alongside his childhood friend Jeff Beck on lead guitar. When Jeff (who had replaced Eric Clapton in the Yardbirds) left the group shortly thereafter, Page assumed the lead guitar spot, playing a Telecaster (thought to be a '59) gifted him by Jeff.
In May of '66, Jimmy collaborated with Jeff on a single, "Beck's Bolero," contributing electric 12-string rhythm guitar. John Paul Jones played bass, and Keith Moon (of the Who) played drums on the session. They were all enthused by the results, and the concept for a new supergroup germinated — which eventually led to the formation of Led Zeppelin (the name was suggested by Keith). Fun fact: Zep was originally called the New Yardbirds!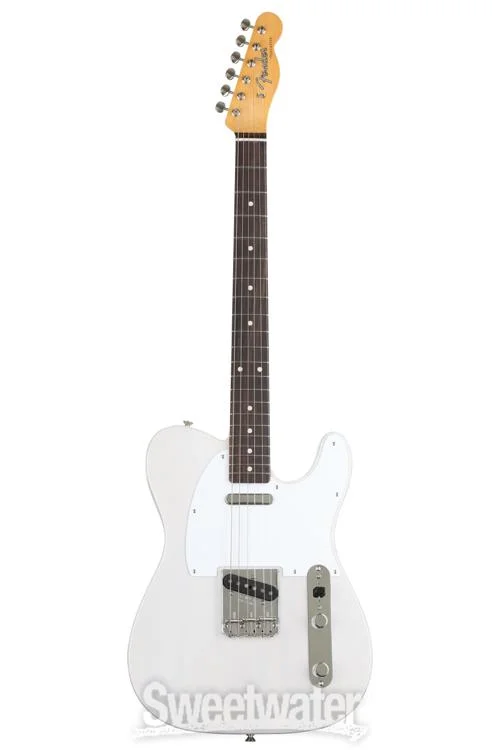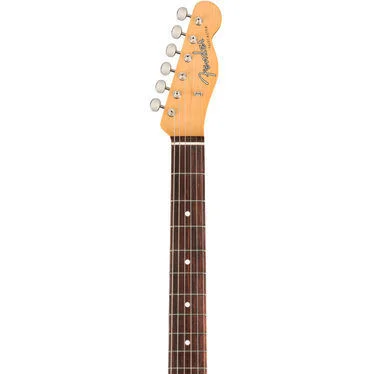 Classic Thin D neck with a vintage fingerboard radius
If you're a guitarist who prefers a thin '60s neck profile with a little more meat, the Jimmy Page Tele's Thin D shape is your cup of tea. In 1959, Fender started doing rosewood fingerboards on Telecasters, and that's what this one has, along with a comfortable vintage-spec 7.25" radius. Fingerboard designs have flattened out over the decades, the theory being that flatter radii are better for soloing in the high register. The fact remains that Mr. Page was a prodigious soloist on his Tele (after all, he played the epic "Stairway to Heaven" solo on it). And that's all we have to say about that.
Jimmy Page Custom '59 single-coil pickups
These Jimmy Page Custom '59 single-coils are designed to Jimmy's exact specifications to deliver the searing Tele bite and visceral crunch we all know and love from early Zeppelin records. And trust us: these pups pack a punch. After all, the originals had the power to cut through one of the heaviest rock rhythm sections of the '70s: John Paul Jones and John Bonham.
Ash body with a vintage nitro finish
The Jimmy Page Telecaster gets an extra dash of authenticity with its 2-piece ash body and nitrocellulose lacquer finish. Nitro finishes — standard back in the day — are significantly thinner than today's polyurethane finishes, allowing the guitar to "breathe" and age gracefully. Nitro finishes not only look amazing; they also enhance the instrument's tonal qualities. This guitar has the look and feel of a lovingly cared-for classic — one that will only improve in the decades to come.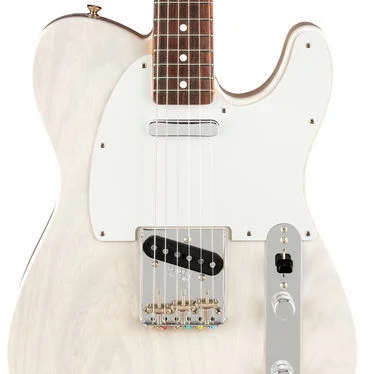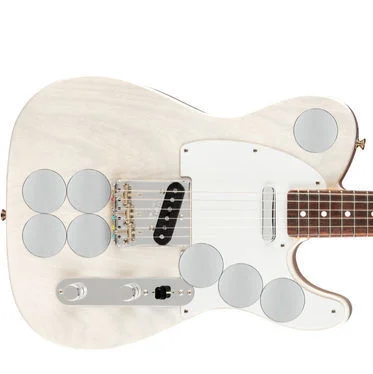 Round mirrors and other cool case candy
Inside the vintage tweed case, Fender included eight round mirrors (a tribute to the customization Jimmy Page later applied to his Tele), a black coiled cable, a vintage-style "stained glass" strap, and a custom Certificate of Authenticity. This case candy further cements this as a collector's must-have, along with being an incredibly cool Telecaster steeped in history.
Fender Jimmy Page Telecaster Features:
2-piece ash body, gloss nitrocellulose lacquer finish
Maple neck, Jimmy Page Custom Thin D profile, gloss nitro finish
Rosewood fingerboard, 7.25" radius, 21 vintage frets, dot inlays
Bridge pickup: Jimmy Page Custom '59 single-coil
Neck pickup: Jimmy Page Custom '59 single-coil
3-way pickup selector
Master volume and tone controls
3-saddle vintage-style string-through/top-load bridge
1.65" bone nut; 25.5" scale length
Pure Vintage Single Line Fender Deluxe tuners
Factory strings: Fender NPS 10–46, standard tuning
Single-action truss rod, neck heel access
Quality crafted in USA