Fender Tom Morello Signature Stratocaster - Black
Description
Tom Morello's Signature "Soul Power" Stratocaster
Built around an early-2000s Designer Series Stratocaster, Tom's "Soul Power" Strat was the primary guitar he used onstage and in the studio while playing with supergroup Audioslave. The foundation of the "Soul Power" Strat is a resonant and rich-sounding alder slab body balanced by a snappy combination of a maple neck and a rosewood fretboard. The electronics are modified to fit Tom's specs with Vintage Noiseless pickups in the neck and middle positions and a Seymour Duncan Hot Rail in the bridge position. Tom's "Soul Power" also comes with a distinctive hardware package, which includes an authentic Floyd Rose tremolo and a kill-switch toggle. Tom Morello has inspired generations of guitarists — counting many of us — and the "Soul Power" Strat is a stellar tribute to his distinctive style that is certain to inspire your playing.


Showstopping aesthetics
The "Soul Power" Strat features an alder slab body, which has a balanced, warm sound with a pronounced midrange that stands out in a mix. It sports the eye-catching binding featured on the Designer Series models and is accented by a chrome pickguard and Tom's "Soul Power" decal (included in the case). The "Soul Power" Strat's ultra-comfortable Modern C-shaped maple neck, capped with a 9.5"–14" compound-radius rosewood fingerboard, has a forceful yet musical snap — one of the hallmarks of Tom's signature sound.
Morello spec'd electronics
The Fender Designer Series Stratocasters came stocked with Vintage Noiseless pickups. Featuring Alnico II magnets and staggered, hand-beveled pole pieces, Vintage Noiseless pickups deliver the classic Fender single-coil tone without the hum and buzz for which early single-coil designs were known. However, Tom did a little hot rodding for the "Soul Power" Strat, dropping in a Seymour Duncan Hot Rail pickup at the bridge position. This blade-style pickup is packed with a fat tone and pumps out loads of sustain for a scorched-earth sound made for more aggressive styles of rock — including grunge, garage, and metal.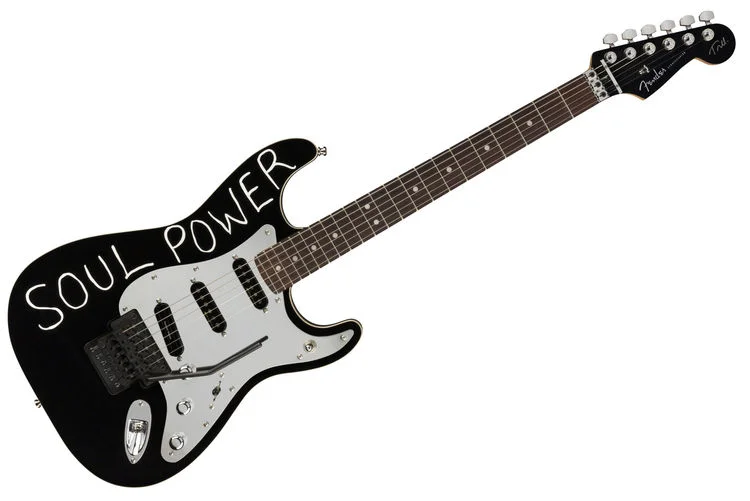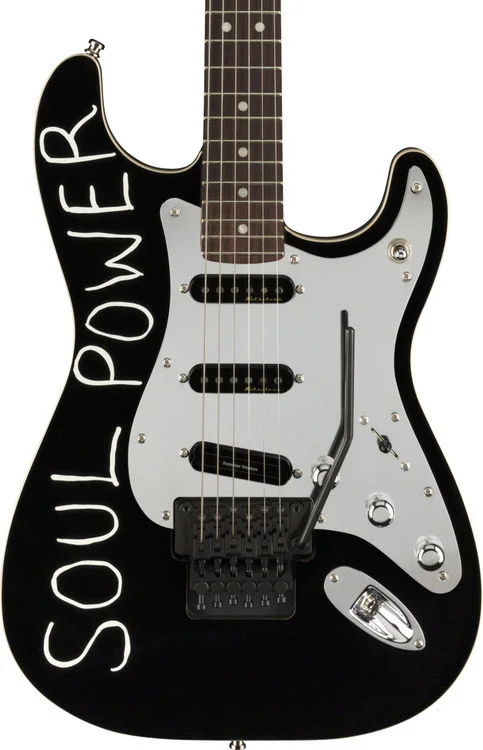 Custom hardware package
The "Soul Power" Strat's unique hardware package is all Tom! Far from stock, it's equipped with an authentic Floyd Rose FRT-O2000 double-locking tremolo system, so you can dig into the tremolo bar for deep dive-bombs and vibrant vibrato while keeping your tuning intact. Another Tom mod is the kill switch on the treble horn for glitched-out stutter effects that pay homage to the turntablists who inspired Tom's playing style.
Fender Tom Morello "Soul Power" Stratocaster Features:
Inspired by Tom Morello's Audioslave-era "Soul Power" Strat
Resonant and warm-toned alder body
Snappy combination of a maple neck and a rosewood fingerboard
Ultra-comfortable Modern "C" neck shape
Fender Vintage Noiseless pickups in the neck and middle positions
Seymour Duncan Hot Rail pickup in the bridge position
Authentic Floyd Rose FRT-O2000 double-locking tremolo system
Kill-switch toggle mod on the treble-side horn
Hardshell case included
Ships with a "Soul Power" decal in the case
Painted headcap with Tom's signature