Fender Tone Master Deluxe Reverb 1x12 inch 100W Combo Amp - Blonde
Description
Blonde Vibe & Visuals Come to the Featherlight Tone Master Deluxe Reverb
The Fender Tone Master Deluxe Reverb — here in textured Blonde vinyl with an Oxblood grille — is a stunning facsimile of a '60s-era all-tube Deluxe, built using the latest in Fender digital amplification and loaded with an ultralight Celestion neodymium-magnet speaker for a distinct rock 'n' roll voicing. Faithful modeling of the classic tube architecture gives the Tone Master all the headroom, output, and reactivity of the original at a massive weight savings. A solid pinewood cabinet further shaves off poundage. Inside you'll find a 12" Celestion Neo G12 Creamback speaker voiced to handle everything from Midwest indie pop to wide-open hard rock covers. Around back, a 5-way power attenuator transparently reduces wattage to let you achieve just the right tube-flavored cluck and breakup for any live and studio setting. You also get an XLR balanced output with your choice of flat-response or two onboard cab simulations for silent performance and recording.


Faithful digital modeling
Using the latest in Fender modeling technology, the Tone Master is able to capture the sound and performance of the seminal all-tube Deluxe Reverb. The harmonic sparkle. The chewy breakup. The highly reactive tone stack. Even digital models of the iconic spring reverb and tube tremolo. It's all here in the Tone Master Deluxe Reverb Blonde. And when it comes time to fill a stage, the Tone Master has output to spare — this 100-watt solid-state amp packs SPLs comparable to the 22-watt tube classic.
Onboard power attenuation
The Tone Master allows you to dial back wattage to 0.2 watts to achieve the desired level of breakup, even run full tilt, in the quietest rooms and venues.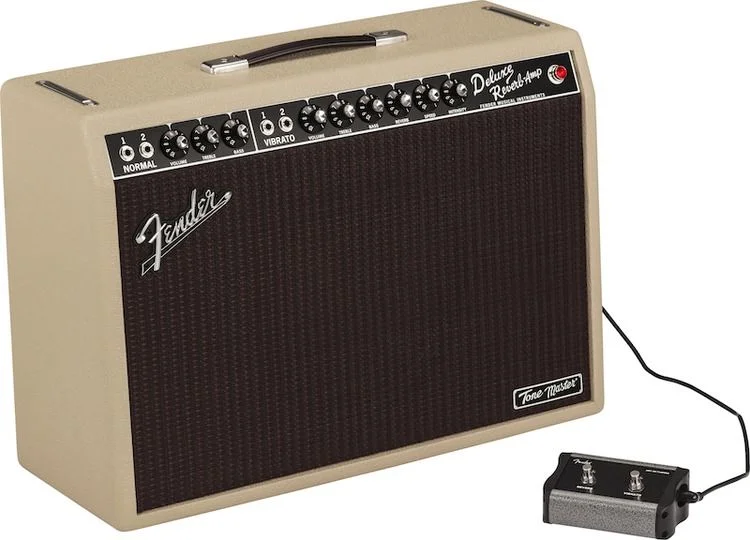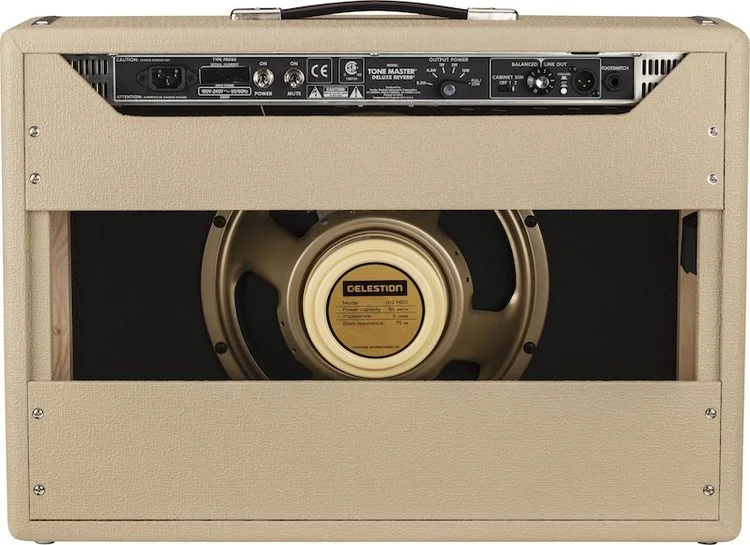 Celestion G12 Neo Creamback speaker
A hand-picked 12" Celestion G12 Neo Creamback speaker gives the Tone Master Deluxe Reverb Blonde a similar stage-filling punch and vocal-like midrange to the G12M Greenback, beloved by players from Eric Clapton to Eddie Van Halen, but with much higher handling. And thanks to its neodymium magnet, the Neo Creamback weighs in significantly lighter than its classic counterpart. This helps reduce weight for an easier carry from the car to the stage, with no loss in tone.
"No other speaker could sound as close to a G12M (Greenback) and offer this level of power handling capability." — Celestion
Lightweight pine cab
The Tone Master Deluxe Reverb Blonde features a solid pine cabinet for a lighter haul at no compromise to tone. Though looking at it, you'd never know: the textured Blonde vinyl and Oxblood grille cloth give this amp that undeniable Fender appeal.
Speaker-emulated XLR output
One of the Tone Master Blonde's more modern features is its XLR balanced output, which is useful for creating a silent stage or recording sets without a mic. Two onboard cab IRs (impulse responses) give you a direct feed out to a soundboard. Here you can choose between the familiar bite of a Shure SM57–miked speaker or the smooth punch of a Sennheiser MD421. Alternatively, a flat-response option provides seamless integration with your existing IRs. There's also a ground switch and level control for noise reduction and proper gain staging.

Fender Tone Master Deluxe Reverb Blonde 100-watt Guitar Combo Amplifier Features:
All the look, tone, and output of a Blonde 22W all-tube Deluxe
The latest in solid-state digital tone modeling
Massive weight savings — about half the weight of a traditional Deluxe Reverb
Familiar tone stack performance
5-way attenuator dials back power to 0.2 watts
12" Celestion G12 Neo Creamback speaker brings a distinctive rock 'n 'roll voicing to the Tone Master amp
Solid pinewood cabinet in Blonde textured vinyl with an Oxblood grille cloth
Balanced XLR out with output control, selectable cab IRs (SM57 or MD421), and ground lift
Includes a 2-button footswitch for reverb and tremolo switching and cover