Modeled After Early-year 1960 LP Standards
'59 Les Pauls may hog the collector's limelight, but to players in the know, the 1960 Les Paul Standard introduced some of the most enticing features these iconic solidbodies have ever presented. To commemorate this guitar's 60th anniversary, Gibson Custom has released three versions of the 1960 Les Paul Standard — in three distinct versions to accommodate for neck, finish, tuner, and knob variances. Each 60th Anniversary Les Paul Standard is rendered in stunning detail and comes outfitted with historic appointments and electronics. The non-weight-relieved solid mahogany body with hide-glued flame maple top delivers unsurpassed Les Paul richness and resonance. For the V1 edition, the body is hide glue–fit to a period-correct Medium "C" mahogany neck that's beautifully adorned with a 24-3/4"-scale Indian rosewood fingerboard and enhanced with Kluson Single Line/Single Ring tuners. Paired with Gibson's Custombucker Alnico III pickups, vintage CTS pots, and paper-in-oil caps, the Gibson 60th Anniversary 1960 Les Paul Standard V1 VOS is a recipe for unforgettable tone and performance.
Medium "C" mahogany neck
To revive the essence of the earliest 1960 Les Paul Standards, Gibson painstakingly re-created each element piece by piece. The full-weight mahogany body, 2-piece figured maple top, and solid rosewood fingerboard are only the beginning. The crown jewel in this piece is the Medium "C" neck profile — a carryover from the '59 that was still used in first-run 1960 LP Standards — which comfortably fills the hand and delivers an unforgettable playing experience. A hide glue neck joint delivers classic Les Paul sustain, and aged cellulose Trapezoid inlays supply classic Les Paul aesthetics.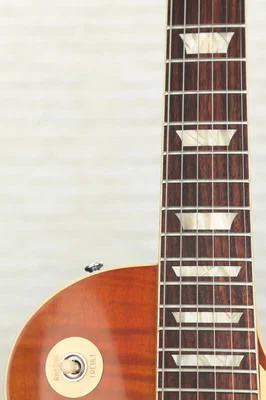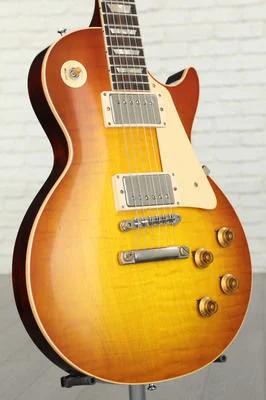 Heirloom Custombucker pickups
Beginning with vintage CTS potentiometers and paper-in-oil capacitors, every inch of the 60th Anniversary Les Paul Standard's internal signal path was designed to give you absolutely dead-on 1960 Les Paul tone. Of course, it's next to impossible to find genuine vintage PAFs (even for Gibson). Instead, the 60th Anniversary sports a pair of Custombucker Alnico III humbuckers — some of the most historically accurate Gibson PAF copies ever created. The 60th Anniversary's Amber Top Hat knobs provide a dynamic throw and an added dose of '59/late-'60 character.
Historic finish and tuners
Gibson analyzed the appointments and wear patterns on several vintage early-run 1960 Les Paul Standards to create the finish patterns for the 60th Anniversary V1. Its buttery stain and vintage nitro finish adhere to 1959 standards. That means a mellow finish tone and a more reserved color palette. Its Single Line/Single Ring Kluson tuners are carryovers from this 1959 as well, as represented here in these painstaking re-creations. If you're after an authentic vintage playing experience, the Gibson 60th Anniversary 1960 Les Paul Standard V1 VOS is spec'd to please even staunch 1960 enthusiasts.
Gibson Custom's Vintage Original Sheen finish option comes standard on Custom Shop Historic Reissue models. The VOS finish package includes lightly aged parts that imparts an authentic vintage patina. The nitrocellulose finished it buffed to a light matte appearance, giving a look and feel of a guitar that has been lovingly played and cared for over the years.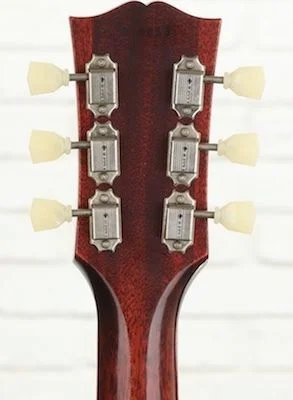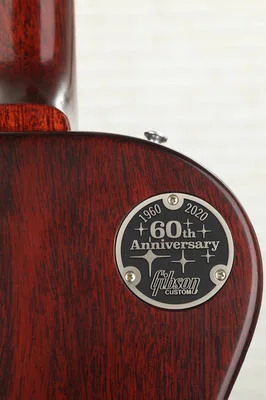 Gibson Custom 60th Anniversary 1960 Les Paul Standard V1 VOS Features:
Modeled after Les Paul Standards created in the first third of 1960
Highly collectible — includes a Gibson Certificate of Authenticity
Medium "C" mahogany neck delivers a '59-like handfeel
Single Line/Single Ring Kluson tuners are painstaking re-creations of the earliest 1960s models
Solid one-piece mahogany body (not weight relieved) sports a beautifully figured 2-piece flame maple top
Custombucker Alnico III pickups supply dead-on vintage PAF tone
Internally wired with historic CTS 500K pots and paper-in-oil caps
Hide glue construction supplies exceptional sustain and response
Thin VOS nitrocellulose lacquer finish