Gibson Les Paul Classic in Heritage Cherry Sunburst
Description
Strap on Gibson's Les Paul Classic, and you'll experience iconic tone and uncompromising playability. A time-tested combination of maple and mahogany serves up the tone that's fueled a million rock anthems, while Burstbucker pickups inject your playing with loads of midrange muscle and sizzling overtones. You also get coil tapping, phase reversal, and pure bypass options for an endless variety of tonal textures. As for playing comfort, the Les Paul
Classic
feels as amazing as it sounds, thanks to a SlimTaper neck and easy-playing rosewood fingerboard. The Les Paul Classic includes a self-lubricating Graph Tech nut, Tune-o-matic bridge, vintage-style Grover Rotomatic tuners, and gold top hat knobs.
Classic mahogany/maple body for signature Les Paul tone
Something magical happened when Gibson paired mahogany and maple for the Les Paul Classic. The mahogany back offers warmth and sustain that is beautifully translated through the humbucking pickups. The maple top brings more than aesthetics to the table, bringing a brighter edge to complement the mahogany. Together these two tonewoods have given us the recipe for tone that helped define rock 'n' roll over the years.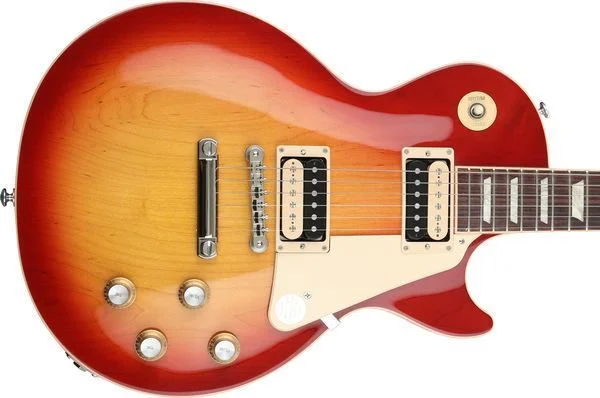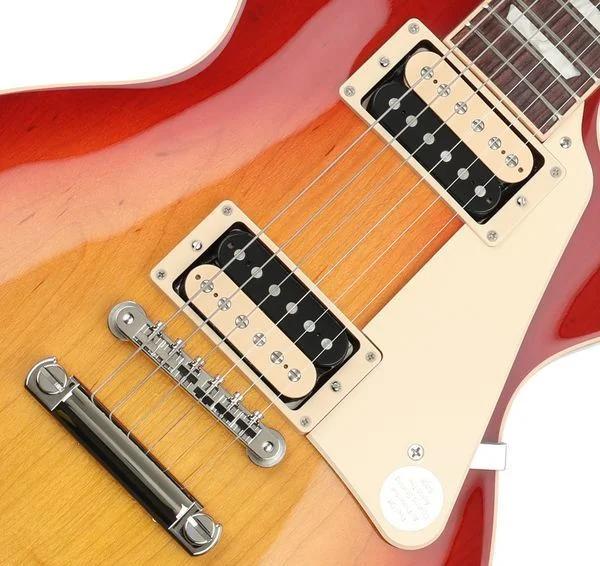 Weight-relieved body for comfort
Early Les Pauls are glorious, but they are often very heavy. Thankfully, Gibson has done something special with this Les Paul Classic. It features their 9-hole weight-relief design that retains the chime and resonance of vintage Les Pauls with a big reduction in weight. The Gibson Les Paul Classic's lighter weight allows you to enjoy yourself onstage for longer and to avoid the shoulder and back pain that can sometimes accompany those all-night gigs.
PAF humbucker tone with coil tapping
When it comes to capturing that classic Gibson tone, nothing beats the sound of Burstbucker pickups on the Les Paul Classic. You'll love the tight low end, complex midrange, and sweet highs you'll get out of these pickups — it's everything you expect when you pick up a Gibson! That's because Burstbucker pickups were designed to re-create the sound of original PAF humbuckers to perfection. So if you want the tried-and-true tone of a classic Gibson, then this is the guitar for you. And for more tonal flexibility than ever, the Les Paul Classic sports coil tapping, phase-reversal, and pure-bypass electronics, all at the touch of a push-pull knob.
Plek'd for precision playability
This Les Paul Classic feels fast and precise, thanks in large part to Plek processing. Typically reserved for top-dollar custom guitars, this process levels the frets with pinpoint precision, providing you with the most playable fretboard you're likely to own. Each note rings loud and clear, and the fret edges feel smooth as silk on the Les Paul Classic.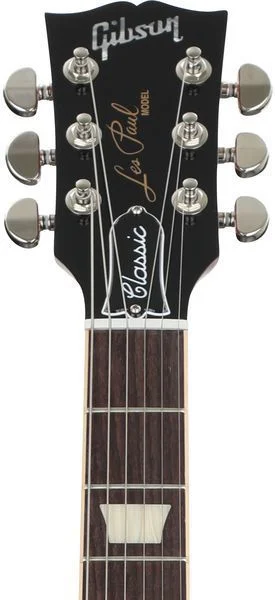 Gibson Les Paul Classic Solidbody Electric Guitar Features:
9-hole weight-relieved body reduces weight while maintaining sustain

Mahogany SlimTaper neck plays like a '60s favorite

Rosewood fingerboard delivers classic Les Paul sustain

Dual push-pull volume controls switch between single-coil and humbucking operation

Push-pull neck tone control engages pickup phase reversal

Push-pull bridge tone control activates pure bypass mode

Self-lubricating Graph Tech nut

Decked out with vintage-style Grover Rotomatic tuners and gold top hat knobs

ABR-1 Tune-o-matic bridge is lightweight and tonally matched to the guitar

Plek'd for precision playability