Gretsch G6119TG-62RW-LTD Limited Edition 62 Rosewood Tenny Hollowbody - Natural
Description
The Ultimate Rosewood "Tenny"
With its Tennessean roots deeply imbedded in American music history, the Gretsch G6119TG Limited Edition '62 Rosewood Tenny hollowbody may play like a modern electric guitar, but its sound and style are pure classic Gretsch. A solid performer both in the studio and onstage, the G6119TG is built from arched laminated rosewood, yielding a unique tone with highly resonant warmth and brilliance that sounds incredible when output through its premium TV Jones TV Classic humbucking pickups. You'll love the cushy playing comfort provided by this guitar's standard U-shaped maple neck and rosewood fingerboard. Elegant gold hardware and a genuine Bigsby vibrato tailpiece complete the setup, imbuing the Gretsch G6119TG Limited Edition '62 Rosewood Tenny hollowbody electric guitar with a distinctive vintage character you'll adore.


Arched rosewood body for a unique, personalized tone
There's a reason rosewood is so highly prized as a premium tonewood for acoustic guitars. Laminated rosewood — used for the top, back, and sides of the G6119TG Limited Edition '62 Rosewood Tenny — serves up an extended frequency range with a rich, resonant, and highly musical tonality. Rosewood's potent low end can serve up a throaty growl, while sparkling treble notes ring out with bell-like clarity. The Tenny's rosewood body provides a slight midrange scoop for a uniquely warm tone that's quite different from that of typical hollowbody jazz boxes made of maple, which can tend to sound bright and even a bit brittle. The Tenny's arched rosewood body, when combined with the pristine sound of its TV Jones TV Classic humbuckers, sounds great in any musical setting.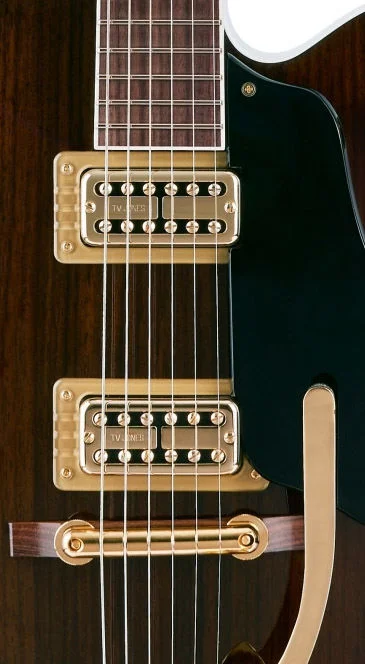 Pristine tone from TV Jones TV Classic humbuckers
The Gretsch G6119TG Limited Edition '62 Rosewood Tenny packs a wide-ranging voice, thanks to a pair of TV Jones TV Classic humbuckers. These handmade, relic-grade pickups deliver a broad range of tones with clear high end, glassy midrange, robust low end, and balanced harmonics. TV Jones's quest for the perfect pickup all started with a close look at the original Ray Butts PAF (Patent Applied For) Filter'Tron — a design known for its inimitable bite and sweet, never strident, high end. The TV Classic captures the mojo of this original pickup and perhaps even improves on Ray's time-honored design. The TV Classic neck pickup lands somewhere between a classic California single-coil and a mid-century humbucker in its voicing; the bridge position compensates with a slightly hotter output for greater sustain and breakup. Once you try one for yourself, it'll be no secret why the TV Classic is TV Jones's most popular design to date.
Unique control layout delivers exceptional sonic flexibility
It's easy to stereotype the Gretsch G6119TG Limited Edition '62 Rosewood Tenny until you play it — and realize you can pull off a lot of tonal tricks with it. With a volume control for each pickup, you can create your perfect balance between warmth, bite, and brilliance when both pickups are engaged. And thanks to the master volume control, you can take your tube amp from clean to growling without changing the balance between your pickups. Instead of the expected master tone control, the Tenny provides a 3-way tone switch, which — much to the delight of guitarists  — actually lets you zero in on the right tone much quicker. Of course, you'll get sweet tone from the neck and bridge pickups individually, but there's a lot of sonic territory to cover when you combine them.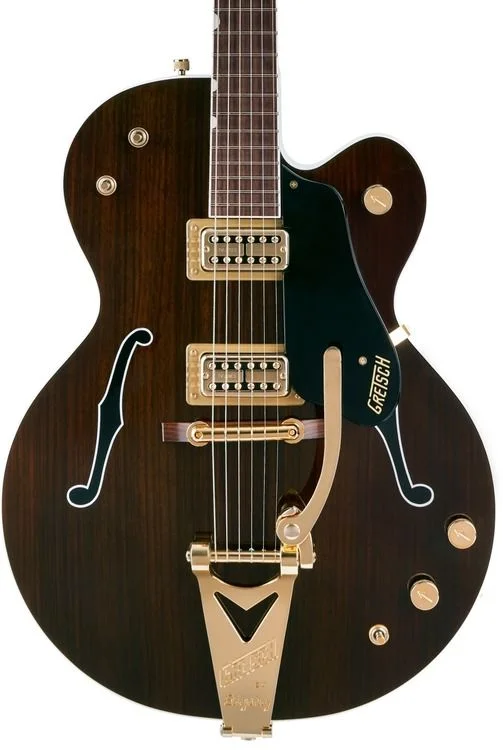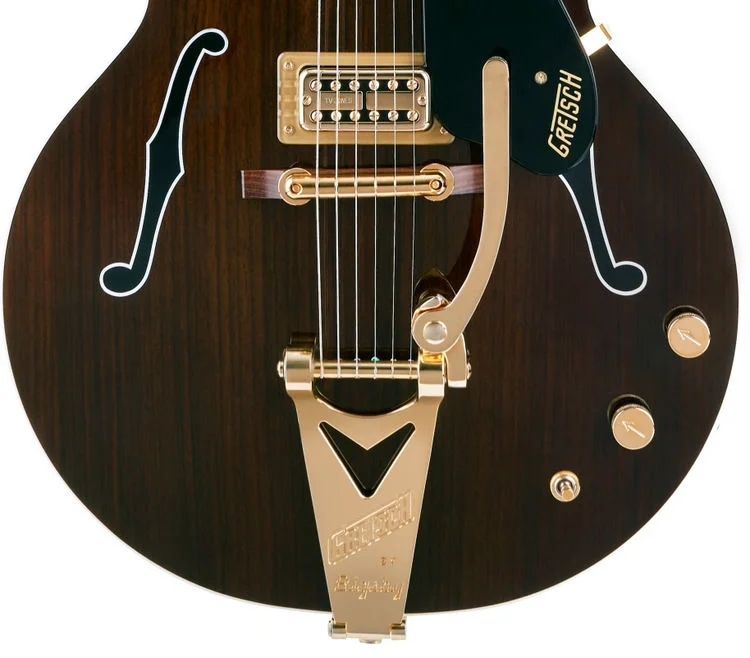 Genuine Bigsby tailpiece for smooth vibrato action
Nothing beats the character, expression, and vintage vibe that a real Bigsby-style vibrato tailpiece brings to a classic, vintage-inspired hollowbody like the Gretsch G6119TG Limited Edition '62 Rosewood Tenny. Based on the original design created by Paul A. Bigsby — one of the first vibrato units on the market — the Bigsby B6CG tailpiece requires next to no effort to use, making it particularly easy to pull off slow bends, subtle warbles, and other forms of sensory expression. The Bigsby B6CG produces an iconic sound that is, interestingly, hard to duplicate with other vibrato designs, making it a perfect match for the Gretsch G6119TG Limited Edition '62 Rosewood Tenny.
Gretsch G6119TG-62RW-LTD Limited Edition '62 Rosewood Tenny Hollowbody Electric Guitar Features:
Hollowbody laminated rosewood construction, white binding

Maple set neck, Standard U profile, rosewood stain

Rosewood fingerboard, 12-inch radius, 22 Vintage Small frets, MOP Neo-Classic Thumbnail inlays

2 TV Jones TV Classic humbucking pickups

Per-pickup, Master Volume controls

3-way Tone, Pickup Selection, and Standby switches

Bone nut; 24.6-inch scale length

Bridge Rocking Bar with pinned ebony base

Bigsby B6CG vibrato tailpiece

Gold hardware; G-Arrow knobs

Black Plexi pickguard with gold Gretsch Logo

Grover V98 Sta-Tite open-back tuners

Quality crafted in Japan

Hardshell case included