Channel Your Inner Rich Robinson with His Signature Gretsch
If you're a fan of the Black Crowes, you've heard and seen guitarist Rich Robinson's distinctive dark blue Gretsch. Now, you can own your very own version of his guitar with the Gretsch G6136T-RR Rich Robinson Signature Falcon. This hollowbody electric guitar sports undeniable Southern rock styling and has the ripping tone to match. The solid spruce top is loaded with a pair of TV Jones humbucking pickups and a genuine Bigsby B3 vibrato tailpiece. Other custom-spec'd appointments include an ebony fingerboard and bridge, 1959 trestle bracing, and a custom Magpie-adorned pickguard logo. For fans of Rich Robinson and his work with the Crowes, there's no finer guitar to take onstage and shake your money maker.
1959 trestle bracing increases sustain and fights feedback
Anyone familiar with Rich Robinson knows how much he love vintage instruments. And when it came time to design his signature model with Gretsch, he asked the company to revive its unique trestle bracing pattern. Trestle bracing consists of two U-shaped spruce braces that run parallel down the length of the guitar body from the neck joint to the bridge. These U-shaped structures support the top while connecting the top and back together. Trestles help the guitar sustain longer, without increasing the risk for feedback.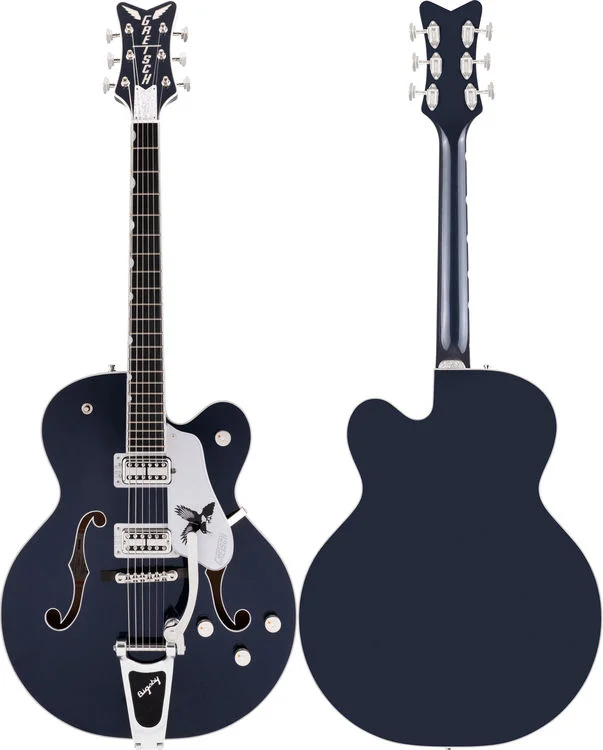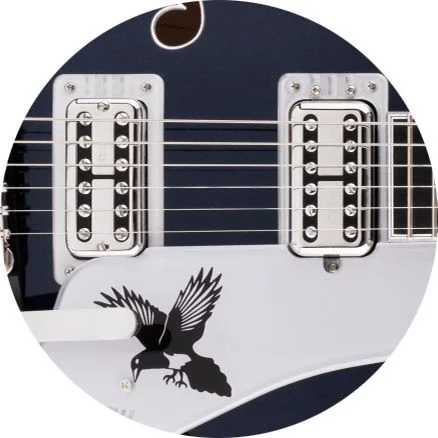 Filter'Tron pickups deliver a signature tone
To suit the tonal needs of the Black Crowes, the Gretsch G6136T-RR is loaded with a pair of TV Jones humbucking pickups. In the neck position, a Broad'Tron BT-65 pickup creates a hot signal with plenty of mids and well-defined highs. It's an excellent pickup for clean leads and distorted licks. The bridge pickup is a TV Jones Filter'Tron Classic humbucker. It delivers a tone similar to the PAF with the brightness and clarity that made Gretsch guitars famous. Together, these humbuckers combine to create a tonal cocktail that's perfect for any aspiring southern rocker.
U-shaped neck plays perfectly
For the G6136T-RR's neck, Rich Robinson specified that the guitar receive a neck that suits his playing style. Gretsch obliged by delivering a comfortable U-shaped neck carved from maple. The neck is topped by an ebony fingerboard with a 12-inch radius and 22 medium jumbo frets for easy bending and soloing. "Hard to Handle" is the exact opposite of how we would describe the playability of Rich Robinson's signature Falcon.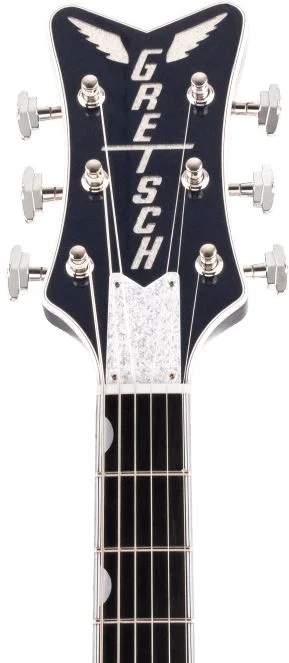 Gretsch G6136T-RR Rich Robinson Signature Falcon Hollowbody Electric Guitar Features:
Rich Robinson's Signature Gretsch axe

Trestle-braced hollowbody design increases sustain and fights feedback

Solid spruce top lends a punchy attach

Laminate maple back and sides add a touch of brightness

Broad'Tron BT-65 pickup creates a powerful tone with noticeable clarity

Filter'Tron Classic pickup delivers the classic Gretsch sparkle

U-shaped maple neck feels at home in your hand

Ebony fingerboard plays effortlessly

Bigsby B3 vibrato tailpiece adds expressive playing options