Headrush MX5 Amp Modeling Guitar Effect Processor
Description
By combining stellar-sounding amp models and cabs with an impressive collection of pedals and effects, the Headrush MX5 Amp Modeling Guitar Effect Processor gives you the functionality of a fully stocked rig with grab-and-go convenience. The MX5 is loaded with an optimized quad-core processor, with a wide variety of vintage and modern gear options at your disposal to create custom rigs. Its 4-inch touchscreen is bright and easy to navigate, making it a breeze to swap out models and switch between presets. When you're ready to hit the stage or use it in the studio, the MX5's I/O options supply you with all the connections needed to showcase your sound, doubling as an audio interface when used with a computer. Throw in expert-level additions like a dedicated onboard looper, an assignable expression pedal, and a global EQ, and the Headrush MX5 Amp Modeling Guitar Effect Processor bottles convenience and quality at a steal of a price.
Crystal-clear 4-inch touchscreen
Headrush boards and processors are known for their accessibility, and for good reason — their user-friendly designs ensure that players of all skill levels can quickly find and design studio-grade sounds with only a few presses. To achieve just that, the MX5 is outfitted with a highly responsive 4-inch touchscreen. Taps, swipes, and drags are pulled off with zero latency, letting you adjust tones in real time. This is an exciting feature for many gigging guitarists, which is made even better with an ultra-bright HD display that shines clearly on even the darkest stages.
Grab-and-go functionality with effortless portability
Much like its heftier, pricier siblings, the MX5 packs all of the amps and effects you crave into a fully stocked gigable board — this time more portable than ever! It's perfectly sized for backpacks and bags of all kinds; it weighs a mere 3.5 pounds yet it packs the power and fury of tube heads and cabs that typically tip the scales. Whether you're constantly hopping on planes or you're in need of an all-in-one solution for Sunday services, the MX5's extensive feature set and portable design solidify it as a first-choice modeler for the discerning player.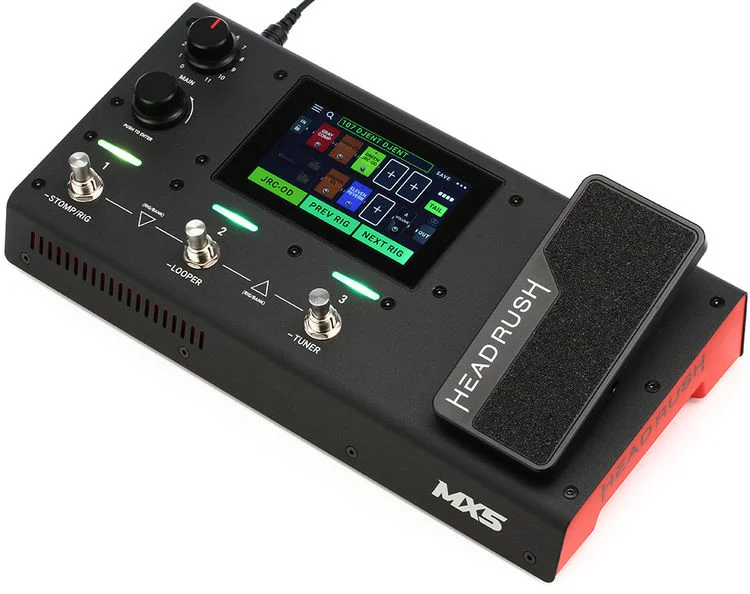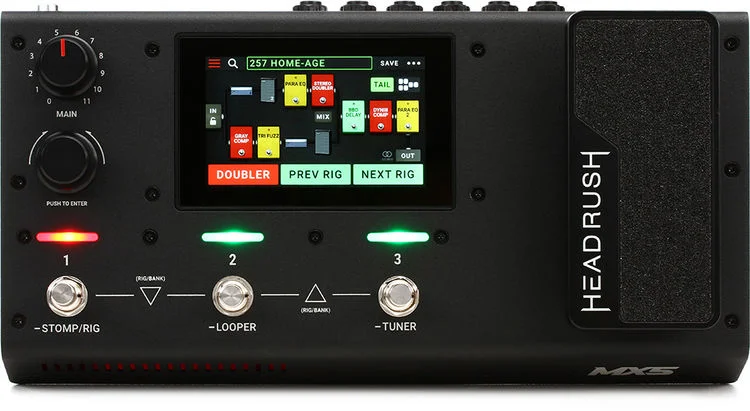 Mix and match amps and effects to tonal perfection
With 46 amplifiers, 15 cabs, 10 mic emulations, 300 IRs, and 63 professional-quality effects on board, the MX5 conjures seemingly endless sounds and textures pulled from beloved vintage and modern gear. By using the 4-inch touch display, crafting your own rigs is accomplished in seconds — just drag and drop amps and effects to your heart's content to nail whatever sound you seek, then save your rig as part of a Setlist for instant recall whenever you need it. Best of all, Headrush's consistent updates ensure new models will be added all of the time, with options for loading your own third-party IRs via USB to Mac or PC.
Easily access expert-level features
Aside from the MX5's incredible array of gear and rig-crafting capabilities, Headrush loaded it with even more versatility. Its trio of footswitches is capable of much more than meets the eye, tackling everything from toggling models and Scenes to swapping rigs and accessing Setlists. Want to give the hands-free mode a spin? Simply hold down footswitch 1 to access this mode, allowing you to select models to tweak, choose the parameter, and then use the built-in expression pedal to fine-tune your sound. You can even toggle multiple effects on and off from a single switch when in Scenes mode — this kind of instant access is critical when needing to swap rigs on the fly when playing live. And since the MX5 features gapless preset switching, reverb and delay tails will continue to ring out after switching presets. Appointments like this give the MX5 a boutique feel that belies its budget price.
Built-in looper for practice and performance settings
The MX5's built-in advanced looper handles up to 20 minutes of layered audio, with a maximum length of five minutes per loop to ensure it's perfectly suited to any playing situation. Singer/songwriters who frequent coffee shops and small venues will appreciate the looper's compatibility with MP3 and WAV files, allowing you to load in backing tracks or save your own loops for future projects and performances.
A processor and audio interface in one
In need of a simple solution for all of your performance and recording needs? The MX5 checks all the required boxes, serving as a high-quality 24-bit/96kHz audio interface when connected to a computer. It's perfectly compatible with all of your favorite DAWs, with an incredibly convenient Reamp option to color any audio with the MX5's amps and effects. When in Reamp mode, pre-recorded audio signals are sent through the MX5 and then recorded back into your DAW — this applies the tone of the MX5 to a previous take without needing to play parts over and over.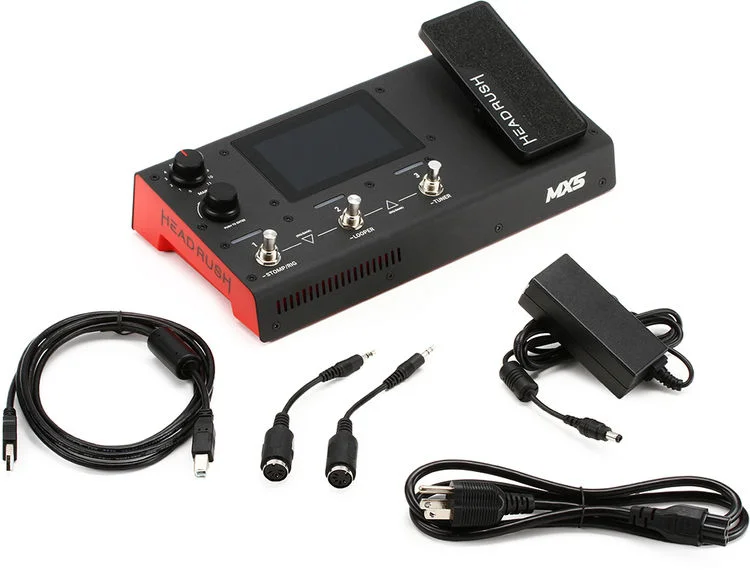 Extensive I/O for ample connectivity options
Headrush outfitted the MX5 with connectivity options that seamlessly integrate into any guitar setup. Labeled Guitar In and Right/Left output jacks let you connect your instrument and amps to the MX5 just like any other pedal or processor, with a built-in effects loop to throw external pedals into the signal chain at any point you choose. A 1/4-inch expression input lets you use your favorite expression pedals. You also get 1/8-inch headphone and aux jacks, as well as a pair of 1/8-inch-to-MIDI adapters for added functionality.
Headrush MX5 Amp Modeling Guitar Effect Processor Features:
Ultra-portable amp and effects processor with 4-inch touchscreen
Zero-latency touchscreen responds to taps, swipes, and drags
Ultra-bright HD display ensures you know exactly which rig you're running
Weighs only 3.5 lbs.; fits comfortably in backpacks and bags of all kinds
Comes stock with 46 amps, 15 cabinets, 10 mic emulations, 300 impulse responses, and 63 effects
Drag-and-drop models to craft your own rigs; cycle through a wide variety of presets to get started
Load your own third-party IRs with a Mac or PC over USB
3 footswitches toggle models and Scenes, swap Setlists, and more
Hands-free mode lets you choose and tweak amps and effects with your feet
Scenes mode lets you swap entire rigs on the fly
Gapless preset switching allows reverb and delay tails to continue after switching presets
Built-in looper layers up to 20 minutes of loops with 5 minutes for each layer
Can load in MP3 and WAV files for backtracks; save your own audio files for future projects and performances
Doubles as a 24-bit/96kHz audio interface when connected to a computer
Reamp mode colors audio files with MX5's amps and effects, and records them back to your DAW
Assignable expression pedal with Classic and Advanced Modes
Global EQ caters your sound to venues and spaces of all kinds
Extensive I/O options ensure compatibility with a wide variety of rigs