Heavy-hitting Signature 7-string Electric from Ibanez
The Ibanez Munky Signature APEX30 represents a close collaboration between a company dedicated to designing hard-hitting, impeccably playable electric guitars and one of the most important players in down-tuned nu-metal, James "Munky" Shaffer. As the lead guitarist for Korn, Shaffer has been playing Ibanez guitars for the majority of his career. The 7-string APEX30 has the features that Shaffer has tested over and over and honed to his tonal vision. With a nyatoh body and maple top, the APEX30 is light and resonant. The 3-piece maple Wizard II-7 neck and ebony fingerboard offer incredible response and feel — ideal for fast riffs and heavy power chords. And with a pair of DiMarzio Blaze humbuckers in the neck and bridge, the APEX30 is wired for heavy, expansive, and expressive tone.
EverTune bridge keeps you in tune
Heavy playing takes a toll on your tuning. The EverTune bridge on the APEX30 is an all-mechanical system that helps you stay in tune longer under any playing situation. Small springs keep constant tension on your strings, giving you long-lasting tuning stability and incredibly accurate intonation, too. You can even adjust it to control how much your pitch changes when you bend a string. Even if you're playing a long gig or recording session, your tuning will be more stable regardless of your playing style, temperature, or other variables.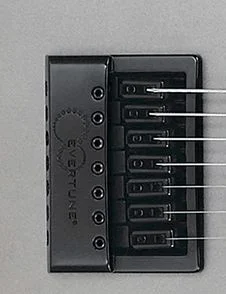 Humbuckers drive tone to great heights
The DiMarzio Blaze in the bridge position is a modern humbucker that scoops out the mids nicely, letting the bass and treble responses shine. This increased bass response really lets that 7th-string have its voice, cutting through the mix and setting that heavy foundation for your sound. This bridge humbucker is complemented beautifully by the neck-position Blaze that lets you tap into slightly cleaner tones while still handling plenty of push when you decide to drive it a little harder. And with a 3-way pickup selector and volume and tone controls, you have even more tone-shaping options at your fingertips.
Fast, comfortable feel and long-term reliability from the Wizard II-7 neck
The 3-piece maple Wizard II-7 neck on the APEX30 is a favorite here. Slim and super-comfortable, the Wizard II-7 is ideal for lightning-fast runs and arpeggios as well as churning out heavy-hitting power chords.
Ibanez Munky Signature APEX30 7-string Electric Guitar Features:
Signature 7-string solidbody electric delivers heavy-hitting tone and playability

Nyatoh body and maple top is light and resonant

EverTune bridge is an all-mechanical system that helps you stay in tune longer

Pair of DiMarzio Blaze humbuckers in the neck and bridge wired for heavy, expansive, and expressive tone

3-piece maple Wizard II-7 neck and ebony fingerboard offer incredible response and feel