Ibanez Prestige AZS2200 BK in Black
Description
Top-shelf Tone, Effortless Playability
If you're looking for top-shelf tone in a guitar that's made for today's player, the Ibanez Prestige AZS2200 is your instrument. Its balanced-sounding alder body boasts comfortable, shallow rear and larger forearm contours. Seymour Duncan pickups project clarity while boasting a vintage sound, and a dyna-MIX5 switching system provides an endless array of tones. As far as comfort and stability, the AZS2200's S-Tech wood-roasted maple neck and fingerboard are second to none. Plus, the Gotoh T1802 tremolo allows you to bend, twist, and dive-bomb with perfect intonation. The AZS2200 is topped off with 22 stainless steel frets for effortless playability.
Durable design with enhanced construction
To complement the AZS2200's vintage mojo, Ibanez constructed this axe with high-quality tonewoods and enhancements. At its core sits a solid alder body, a trademark wood with a full-bodied tone and great sustain. The AZS2200's fast-playing roasted maple neck has undergone Ibanez's S-Tech wood nitrogen-heating treatment, which increases its stability, durability, water resistance, and tolerance to temperature changes. The neck is then sealed with oil, resulting in a well-played feel. Plus, this guitar's AZ oval "C"-shaped neck fills your hand nicely at the lower frets, while providing a more modern feel when playing up high.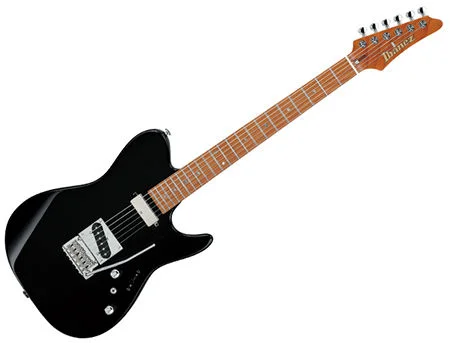 Balanced, clear tone courtesy of Seymour Duncan
With its classic single-coil/humbucker configuration, the AZS2200 is ideal for players looking for that balance of classic twang and modern bite. The Duncan Alnico II Pro Custom single-coil in the bridge is sweet and smooth, perfect for delivering rock and bluesy tones. In the neck sits a Magic Touch-mini humbucker, balanced across the full spectrum with crystal-clear articulation. Beyond that, Ibanez's dyna-MIX5 switching system provides several different pickup combinations via a mini toggle and 3-way lever switch. Whatever tone you're hearing in your head, the AZS2200 can achieve it.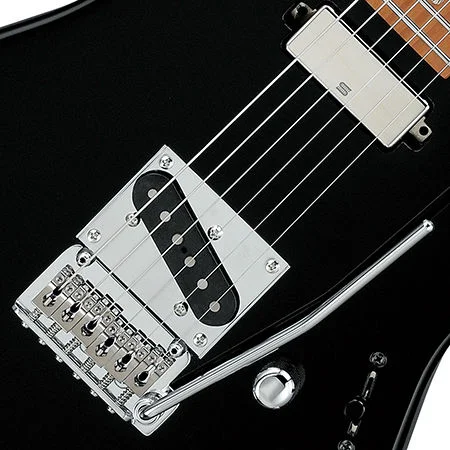 Gotoh T1802 tremolo provides excellent tuning stability
Developed in collaboration with Gotoh, the AZS2200's T1802 bridge features machined titanium saddles and a solid-steel tremolo block, ensuring quick response and amazing articulation. String skipping and hybrid picking are effortless thanks to narrow string spacing. Loading the guitar's tremolo arm is a breeze by virtue of the T1802's snap-and-hold socket; its arm torque adjuster allows for fine adjustments without any tools. The T1802's stud lock screws lock the stud bolts in place, enhancing the instrument's resonance and providing excellent tuning stability. Beyond that, the T1802's 2-point floating tremolo system achieves an astoundingly smooth tremolo motion in either direction.
Ibanez Prestige AZS2200 Electric Guitar Features:
Balanced-sounding alder body
Seymour Duncan Alnico II Pro Custom single-coil and Magic Touch-mini humbucker deliver versatile tone with exceptional clarity
dyna-MIX5 switching system provides several different pickup combinations
S-Tech wood-roasted maple neck and fingerboard offer stability and durability
AZ oval "C" neck profile fills your hand nicely down low while providing a more modern feel up high
22 stainless steel frets for extra durability
Gotoh T1802 tremolo provides excellent tuning stability