A Boundary-shattering Headless Axe from Ibanez
Part of Ibanez's boundary-pushing Quest series, the Q54 vaunts a headless design built from the ground up to maximize tone, performance, and playing comfort. While this solidbody electric guitar is extremely lightweight, its ergonomic nyatoh body resonates with rich, woody tones that belie its compact profile. Technically minded players will be blown away by the zero-drag feel of the Q54's Wizard "C" neck, and its heat-treated bird's-eye maple fingerboard is as playable as it is visually appealing. This headless guitar's made-to-measure pickups exude amazing levels of articulation and definition, and their flexible HSS configuration is further bolstered by Ibanez's acclaimed dyna-MIX9 switching system. Rock-solid hardware, including a custom string lock and innovative Mono Tune bridge, ensures easy string changes and ultra-reliable, stage-worthy performance. Jescar EVO gold frets round out the Q54's generous features. If you've been hunting for the perfect headless electric guitar — or even if you're considering your first headless instrument — the Ibanez Q54 is guaranteed to unlock unlimited creative possibilities.
Wizard "C" neck makes complex playing techniques easier
The Q54 was built for high-level, technical playing styles, evidenced by its Wizard "C" neck. Crafted from maple and bubinga, this ultra-stable 3-piece neck offers an extremely neutral feel that's tailor-made for high-performance fretwork. The Q54's heat-treated bird's-eye maple fingerboard not only turns heads, its 12-inch radius yields incredible playability in every position. This headless solidbody electric guitar also includes Jescar EVO gold frets, which ensure long-lasting durability and effortless note bending. The guitarists here have found the Q54 to be incredibly versatile — it offers a zero-drag playing experience for technical metal, jazz-rock fusion, and any experimental genre you throw at it. If your personal style involves complex playing techniques, the Q54 will permit you to play cleaner and faster than you ever thought possible.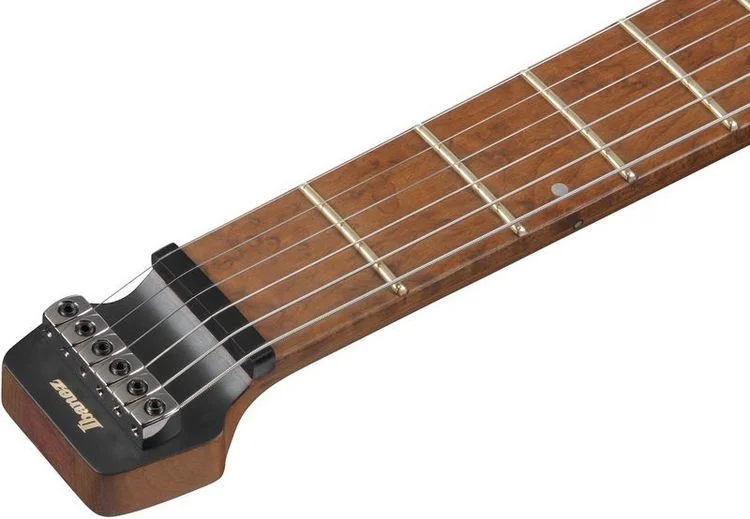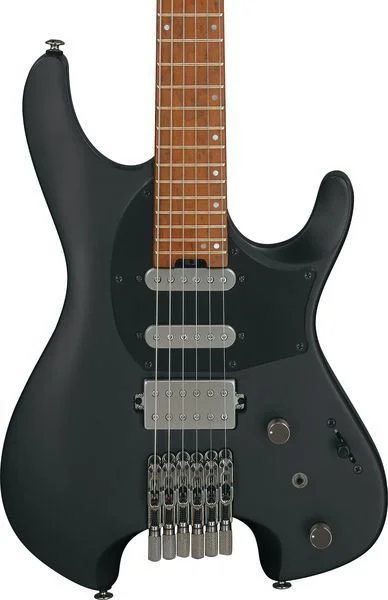 Made-to-measure pickups yield an endless array of tones
Designed especially for headless guitars, the Ibanez Q54's Q58 humbucker and R1 single-coil pickups churn out divine sonic textures with astonishing levels of articulation and definition — a must-have for elaborate riffing and intricate, rapid-fire leads. The tonal balance of these pickups is unprecedented throughout the instrument's entire range. Plug into your favorite amp, and you'll experience muscular lows that are completely devoid of muddiness and mix-piercing highs that eschew harshness for a sublime-sounding clarity that enables every note within a chord structure to be heard. These pickups exhibit little self-noise, even in high-gain applications, and they play nice with both digital and analog effects. The Q54 incudes dyna-MIX9 switching, which provides nine different pickup combinations via an Alter Switch and 5-way lever switch. No matter the genre, the Q54 can achieve the sound you're hearing in your head.
State-of-the-art hardware that can withstand aggressive playing styles
The Q54 is teeming with cutting-edge, near-bulletproof hardware. Its custom string lock boast a straightforward one-piece design that's not only highly durable, but it also requires little maintenance. String changes are a breeze, and because the Q54 doesn't require a proprietary set of strings, you can use whatever time-tested gauge and brand you'd like. You'll also appreciate the Mono Tune bridge. This expertly crafted bridge facilitates a wide intonation range, which makes down tuning a piece of cake. This headless guitar's Mono Tune bridge is also a cinch to adjust, and its streamlined saddle design lends a natural, organic character to every note you play.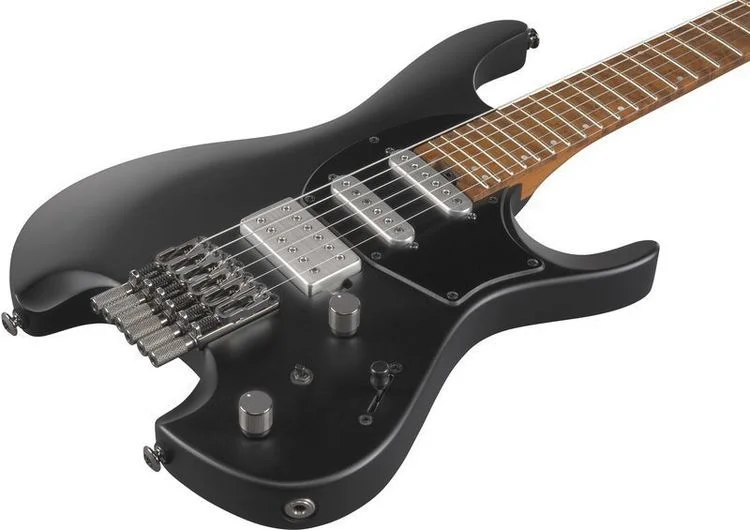 Ibanez Q54 Features:
Headless design built from the ground up to maximize tone, performance, and playing comfort
Compact, ergonomic nyatoh body resonates with rich, woody tones
Ultra-stable 3-piece maple/bubinga neck with heat-treated bird's-eye maple fingerboard
Wizard "C" neck profile is perfect for high-level, technical playing styles
Jescar EVO gold frets ensure long-lasting durability and effortless note bending
Q58/R1 pickups in a flexible HSS configuration yield astonishing levels of articulation and definition
dyna-MIX9 switching system provides 9 different pickup combinations
Custom string lock's straightforward 1-piece design is durable and requires little maintenance
No proprietary strings required — continue using your favorite gauge and brand
Mono Tune bridge provides easy adjustment and lends a natural, organic character to every note you play