Semi-hollow Artist Series Guitar
The Ibanez AR520 is built for players who love the look of an Ibanez solidbody but want to add a dash of semi-hollow character to their signal. This guitar has a chambered maple/okoume body with a carved maple top. Two Super 58 Custom humbuckers with Tri-sound electronics give the Ibanez AR520 undeniable tonal tenacity; the semi-hollow construction adds an airy quality, yielding a sound that guitarists here simply can't get enough of. The Ibanez AR520 also features a Gibraltar Performer bridge and Quik Change Ultra tailpiece, providing long sustain and tuning stability. Plus, the 3-piece maple neck and nearly non-existent neck heel offer supreme playing comfort.
Okoume and maple deliver standout tone
The right tonewoods will set the stage for how a guitar sounds when it's plugged in. And for the AR520, Ibanez used okoume and maple to great effect. The okoume's sustain and sonic complexity pairs perfectly with the figured maple's brisk high-end. The semi-hollow construction garnishes the rich sonic cocktail by adding an airy feel, resulting in a powerful sound that can serve up soulful licks or biting riffs when you match it up with the amplifier of your choice.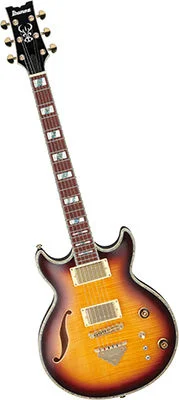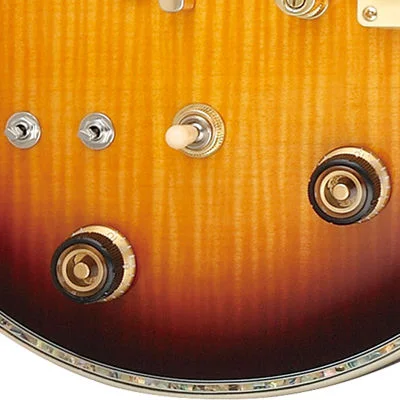 Sonic flexibility from Tri-sound electronics
The AR520 is equipped with a pair of Tri-sound switches to unlock three different "voices" per pickup. Each of the Super 58 humbuckers can be used in series, parallel, and single-coil operation, opening the door for you to explore new and unique sounds. There's a lot of tonal territory to cover here, and you'll love exploring how each configuration sounds through your favorite amplifier or modeler.
Ultra-playable 3-piece neck
The newest generations of Ibanez guitars have begun appearing with multi-ply necks, which is a massive improvement in the eyes of guitarists. Multi-ply necks are ultra-rigid, which means they need less maintenance and help transmit string energy to your guitar's body more efficiently. The 3-piece set maple neck on the AR520 adds clarity and detail to your performance, which balances nicely with the richness and depth of the body woods.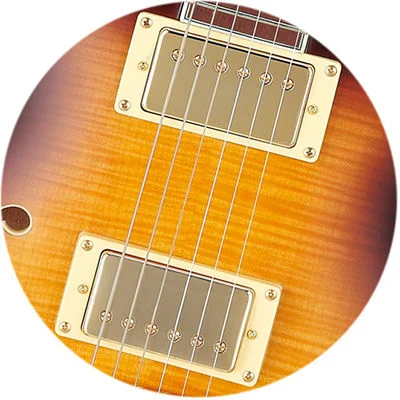 Ibanez AR520 Semi-hollowbody Electric Guitar Features:
Okoume body and maple top deliver a deep, rich tone
Semi-hollow construction adds extra resonance and sustain

Dual Super 58 Custom humbucking pickups with Alnico magnets have a smooth, wide-ranging output

Tri-sound electronics for each pickup give you series, parallel, and single-coil wiring options

3-piece maple neck plays fast and smooth, thanks to slim profile and smooth heel

Sure-Grip control knobs are easy to manipulate while you're performing

Gibraltar Performer bridge and Quik Change Ultra tailpiece contribute long sustain and tuning stability