Finely Tuned Metal Machine at a Great Value
With the Jackson X Series Dinky DKAF7 7-string multi-scale electric guitar, you'll enjoy all the speed-inducing design, full-throated tone, and focused-sounding lows of a multi-scale instrument in an affordable package. The guitar's warm-sounding mahogany arched body feels great and looks even better. A pair of hot Jackson humbuckers offers enough output to wring the most from your rig. And the bolt-on multi-scale neck begs for your fastest and most technical playing. If you love pushing your tone and playing to the extreme, grab a Jackson X Series Dinky DKAF7 7-string today.
Tailor-made for high-speed, down-tuned playing
Multi-scale necks are tailor-made for down-tuned and technical playing. Their scale length is longer on the bass side of the instrument and shorter on the treble side, yielding better intonation, consistent tension, and equal attack between strings. Many guitarists here have made the transition to multi-scale guitars. If you're into thunderous low-end chug and high-speed soloing, you owe it to yourself to try out one of these high-performance instruments.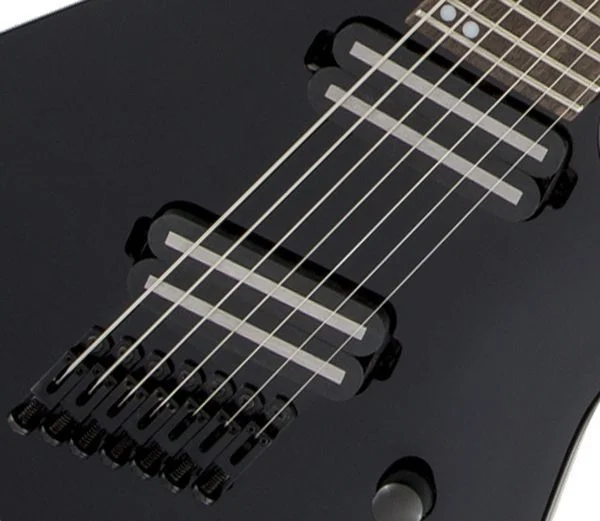 Aggressive Jackson humbuckers
To match the X Series DKAF7's amazing performance, Jackson installed a pair of their own high-output humbucking pickups. When it comes to modern rock and cutting-edge metal, you need the power of these pickups to punch the front end of your favorite high-gain amp or pedal. Take command of the deep, thunderous lows and brilliant highs you need to stand out in the mix. One second, you can hold down the rhythm with thick, chunky riffs, and the next, flip your Dinky DKAF7 into high gear and tear into a solo. Simply put, this is the sound you've been looking for.
Menacing tone and wicked good looks
From Phil Collen of Def Leppard and Jim Root of Slipknot to Lamb of God's Mark Morton (just to name a few), some of the most formidable axe slingers in rock have used Jackson guitars to generate their fretboard fireworks. Jackson guitars are designed from the ground up for monster tone, amazing playability, and rock-solid reliability every time they take the stage or hit the studio. Of course, it doesn't hurt to look good, either; if you're looking for a visually stunning instrument to impress your audience and show that you mean business, you want a Jackson.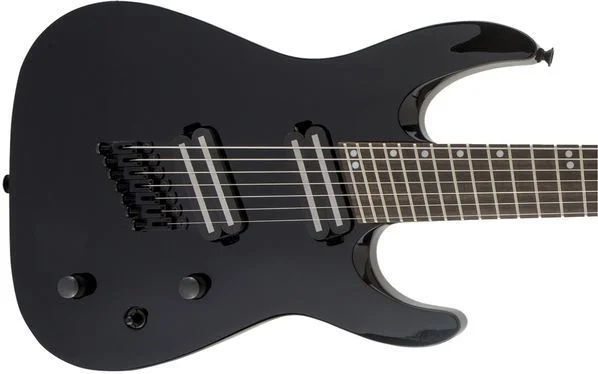 Jackson X Series Dinky DKAF7 7-string Solidbody Electric Guitar Features:
A performance-built 7-string electric guitar made for metal and rock

Attractive arched mahogany body

High-output Jackson humbuckers offer plenty of punch

Multi-scale 25.5"–27" scale length is tailor-made for down-tuned and technical playing

12"–16" compound-radius fingerboard yields ultra-fast playability

Staggered individual saddles ensure proper intonation

Black hardware for an

eye-catching

appearance