Flawless Combination of Playability and Aggression
The Jackson Pro Series Monarkh SCP solidbody electric guitar balances aggressive tone and eminent playability for modern guitarists. The playability is fast and smooth thanks to the Speed Neck profile and the compound-radius ebony fingerboard. The tone is both classic and menacing, delivered by a pair of Seymour Duncan JB and '59 humbucking pickups. Guitarists especially dig the set-neck with graphite reinforcement rods. Whether you're after an agile instrument for melodic playing or a high-output guitar for grinding rhythms, you'll be impressed with the Jackson Pro Series Monarkh SCP.
Legendary humbucking pickup combination
The Jackson Pro Series Monarkh SCP guitar is ready to turn practically any amplifier into an aggressive metal machine, thanks to a pair of Seymour Duncan's most popular humbucking pickups. The JB in the bridge pushes blistering output with a midrange focus that ensures it cuts through any mix. The '59 in the neck sings with the clarity and character of a vintage PAF. Anything with the Jackson logo on the headstock can do metal — with this pickup combination, the doors are open for so much more.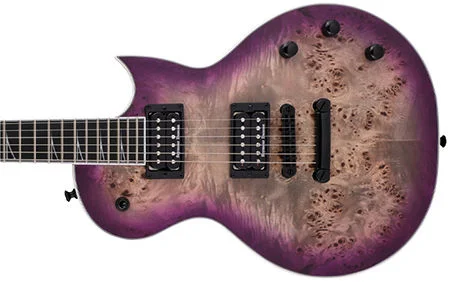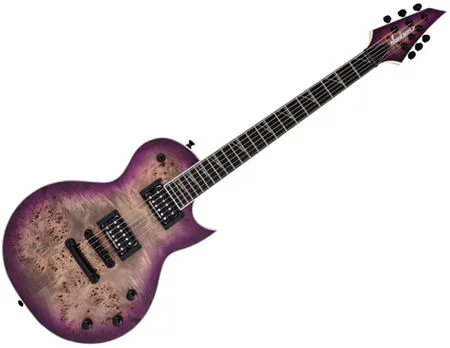 Plays fast across every fret
As your playing speeds up, the Jackson Pro Series Monarkh SCP won't get in your way. The compound-radius ebony fingerboard is rounder near the nut for easier chords, and it flattens out as you move up the neck for faster melodic playing. You'll experience comfort all the way up the frets, thanks to the contour cut heel which helps you transition to the highest registers on the fingerboard. We'd be remiss not to mention the attractive pearloid ghostfin inlay.
One of the best necks in the business
Your guitar's neck takes a lot of abuse between your playing and the constant string tension, and necks as thin and fast as the Jackson Pro Series Monarkh SCP's are especially susceptible. That's why Jackson outfitted this single-cutaway guitar with graphite-reinforcement throughout the maple neck. Designed to resist twisting and warping with environmental changes, you're able to go from a cold car to a hot club or hit the road without having to worry about adjusting your guitar every time you play.

Jackson Pro Series Monarkh SCP Electric Guitar Features:
Designed for aggressive tone and fast playability
Wide-ranging, high-output tone from Seymour Duncan JB and '59 humbucking pickups
Rigid maple neck is reinforced with graphite for long-term reliability
Set-in neck construction enhances sustain and note definition
Compound-radius ebony fretboard flattens out toward higher frets
Attractive pearloid ghostfin inlay
Comfortable contours for ultimate accessibility