Kramer The 84 Custom Graphics The Illusionist in 3D Black White Swirl
Description
The Kramer 84  is a lean, mean, shred machine. Inspired by the original Kramers of the '80s as used by guitar heroes Eddie Van Halen, Neil Schon and Ritchie Sambora, the Kramer 84 delivers all the power and attitude you would expect from the original Daddy of metal guitars, Kramer. Finished in an eye-catching 3D Black/White Swirl, this is a Kramer exclusive graphic design. Designed by artist Bo Pittman, who took inspiration from hot rod motorcycle graphics, the original hand-painted model was featured at the 2020 Winter NAMM Show Kramer exhibit and was so popular that they partnered with Bo to replicate it for Kramer fans everywhere. 
With an Alder body topped with the custom 3D Black/White Swirl graphic this 84 looks just as good as it sounds. It is extremely well weighted and feels brilliant against the body. 
A bolt on Maple neck provides a bright and snappy tone, perfect for cutting through in both the studio and live situations. Thanks to the Kramer K-Speed SlimTaper "C" Profile you can move around quickly a without any issues. The Maple fingerboard boasts a 12" Radius, 25.5" Scale Length, 22 Jumbo frets and a 1.626" Nut Width.
Vintage Kramer tones come curtosy of a Seymour Duncan JB bridge humbucker, it delivers crushing high gain tones whilst retaining brilliant clarity and dynamics, there is something really magical about single pickup guitars and this is certainly true for this Baretta. With a Floyd Rose 1000 Series bridge with EVH D-Tuna system you can dive bomb to your hearts content.


A Tribute to Kramer's Golden Age
The 84 from Kramer pays homage to one of the most influential solidbody electric guitars of all time. (Hint: it was covered with red, black, and white stripes). This built-for-performance axe centers around a Pacer-esque alder body, along with a hard rock maple neck and fast-playing 12-inch-radius fingerboard. Plug into your favorite high-gain stack, and you'll experience classic hot-rodded humbucker tones, courtesy of a Seymour Duncan JB bridge pickup. No self-respecting shred guitar would be complete without a double-locking tremolo, and The 84 includes the gold standard — a Floyd Rose — complete with an EVH D-Tuna for stress-free access to Drop D tuning. The 84 also features an easy-access truss rod, rock-solid die-cast tuners, and an eye-grabbing matching banana-style headstock.
Stripped-down, high-performance shred machine
Loosely based on Kramer's Pacer model, The 84 is a stripped-down, high-performance shred machine. Its lightweight alder body exhibits a classic, balanced-sounding tone that's ready to roar. Its hard rock maple neck features an easy-playing K-Speed SlimTaper "C" profile, while its lightning-fast 12-inch-radius fingerboard features a 25.5-inch scale and 22 medium-jumbo frets. The 84 sports an easy-access truss rod for quick neck adjustments and a matching banana-style headstock with a historic Kramer logo.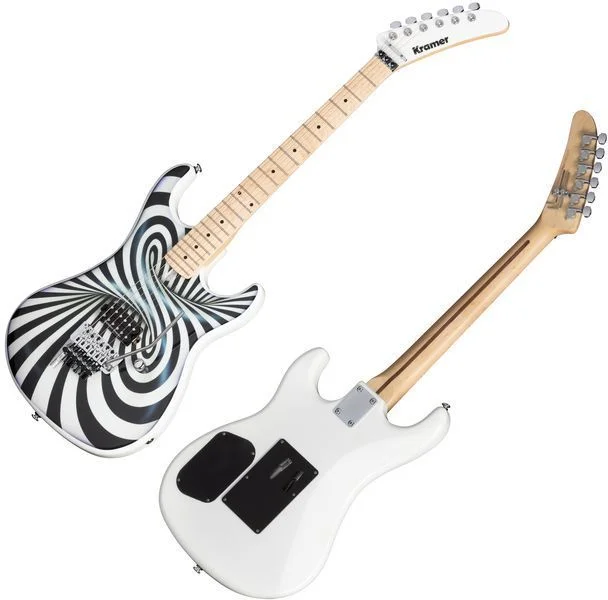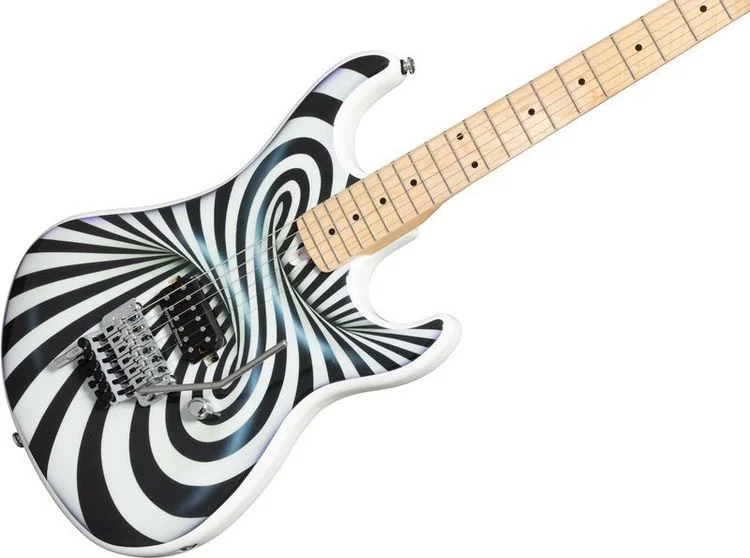 Seymour Duncan JB humbucker is built to rock hard
Kramer's The 84 was built for hard rock. And it rocks hard, thanks to its zebra-colored Seymour Duncan JB humbucker. This pickup is one of the most popular in the world, serving up the classic sound of a hot-rodded humbucker. You know, that sound — the one we've all loved for the last 30 years. This scorcher boasts plenty of output without sacrificing tone, and it adds harmonics, sustain, and the perfect amount of distortion to your playing. The 84 includes a single knurled volume knob with a push-pull for a series parallel tap.
Floyd Rose tremolo for twisting, bending, and dive-bombing
Do you dive-bomb? Shriek? Squeal? Flutter? Of course you do! Otherwise, you wouldn't be on Sweetwater.com looking at shred machines like The 84. Similar to other high-performance solidbody electric guitars, The 84 comes equipped with a rock-solid Floyd Rose double-locking trem. It can be used for subtle vibrato or full-blown dive-bombs — the choice is yours. Either way, you'll experience the same response and tuning stability that you'd expect from a Floyd Rose. On top of that, you can easily switch to Drop D tuning, courtesy of EVH's D-Tuna. You also get a Floyd Rose LRT-L40 Trem Stop to keep your trem in tune and in control.

Kramer The 84 Features:
An homage to one of the most influential electric guitars of all time with head-turning "The Illusionist" graphic
Lightweight alder body exhibits a classic, balanced-sounding tone that's ready to roar
Hard rock maple neck features an easy-playing K-Speed SlimTaper "C" profile
Lightning-fast 12-inch-radius fingerboard features a 25.5-inch scale and 22 medium-jumbo frets
Zebra-colored Seymour Duncan JB humbucker boasts plenty of output without sacrificing tone
Single knurled volume knob with a push/pull for a series parallel tap
Floyd Rose 1000 Series double-locking trem for dive-bombing, shrieking, squealing, and fluttering
EVH D-Tuna gives you instant Drop D tuning
Floyd Rose LRT-L40 Trem Stop keeps your trem in tune and in control
Easy-access truss rod for quick neck adjustments
Rock-solid mini die-cast machine heads with a 14:1 turning ratio
Eye-grabbing matching banana-style headstock with a historic Kramer logo