Marshall SV20C Studio Vintage 1x10 inch 20/5-watt 1959 Plexi Tube Combo Amp
Description
Plexi Tone in a 20-watt Combo
Ask any amp aficionado which amplifier led the rock revolution, and you'll get a near-unanimous response: the Marshall 1959 Super Lead. The Studio Vintage takes that legendary tone and packs it into a 20-watt combo. Plug in, and you'll experience saturated blues grit and biting leads — the iconic Plexi tone. The Studio Vintage has plenty of player-friendly features on tap, such as four separate inputs, high- and low-sensitivity loudness controls, a 3-band EQ with Presence control, an effects loop, and a DI output. Worried about disturbing your neighbors? Don't — the Studio Vintage's power reduction circuit takes its wattage down to a bedroom-friendly five watts. If you want cranked Plexi tones from a compact, studio-sized amp, Marshall's Studio Vintage absolutely nails it.


1959 Plexi — the amplifier that led the rock revolution
The Studio Vintage is a low-watt version of Marshall's 1959 Super Lead, a.k.a. the coveted Plexi. Townshend, Clapton, and Hendrix, to name a few, all played the 1959 Super Lead. This is the iconic amplifier that defined the sound of rock 'n' roll for generations of guitar players, and it can be seen on countless stages of yesterday and today, including Woodstock. If you want the tone that inspired generations of iconic guitarists, plug into a Studio Vintage — it delivers true-to-life Plexi tone!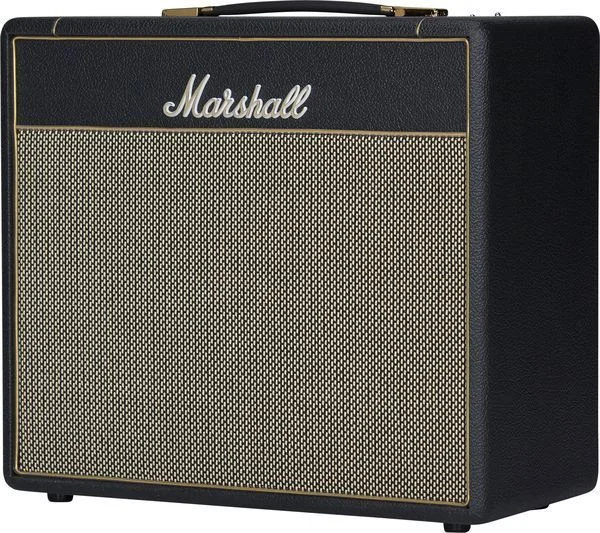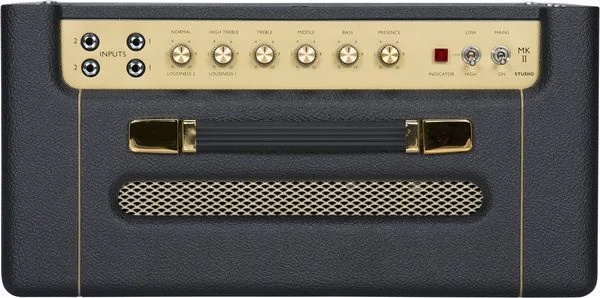 Loaded with all the player-friendly features you need
Consider yourself lucky, because the Marshall Studio Vintage sports features not found on the original 1959 Super Lead. An effects loop makes integrating your pedals and external processors a breeze. Attaining cranked tones at listenable volumes is a breeze thanks to a power reduction circuit. You also get a DI output for easy recording or routing to a PA. You'll value the Studio Vintage's modern flexibility almost as much as you appreciate its classic tone.
Celestion V-Type speaker delivers classic British tone
The Studio Vintage features a 10" Celestion V-Type speaker. The V-Type gives you classic British tone with a warm body and distinctive growl. It has a ceramic magnet that gives you warm and balanced tone. Its expressive low end, clear midrange, and chiming highs are perfect for rock, blues, and all other music styles. Guitarists at Sweetwater love how responsive and articulate this speaker is — it's an important part of the Studio Vintage's classic musicality.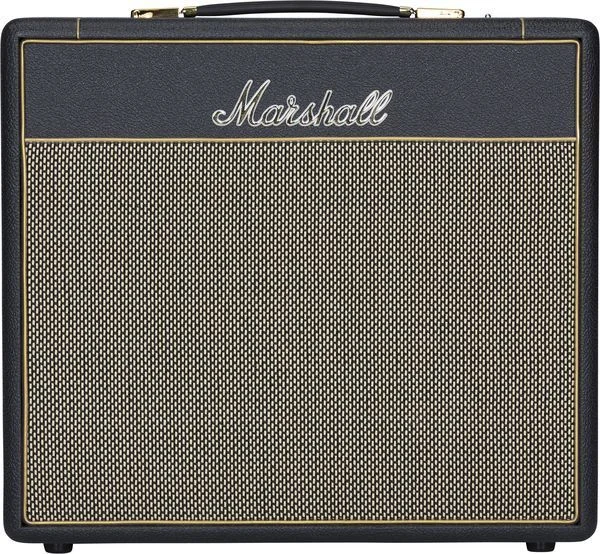 Marshall Studio Vintage Combo Amp Features:
Packs the legendary tone of a 1959 Super Lead into a 20-watt combo

10" Celestion V-Type speaker serves up classic British tone

Conjures up saturated blues grit and biting leads — the coveted Plexi sound

4 separate inputs for you to blend your sound, along with high- and low-sensitivity loudness knobs

3-band EQ with Presence control supplies flexible sound shaping

Effects loop makes integrating your effects pedals and processors easy

Power reduction circuit takes wattage down to a bedroom-friendly 5 watts

DI output for easy recording or routing to a PA