Neural DSP Quad Cortex Quad-Core Digital Effects Modeler/Profiling Floorboard
Description
The Quad Cortex floor processor from Neural DSP fuses high-precision studio guitar and bass tones with real-world gigging flexibility. This slim, self-contained floor processor is powered by Quad-Core SHARC DSP and Neural's proven sound-modeling technology to bring today's players the ultimate in grab-and-go session accessibility. Inside, more than 50 amps, 1,000 cabs, and 70 stomps serve as building blocks for crafting your favorite rigs, along with a built-in performance looper. Download presets from the cloud for instant genre/artist inspiration — no computer required — or use Quad Cortex's Neural Capture to bring your favorite studio tones on the road with you. The Quad Cortex's elegant layout is driven by a 7-inch full-color touchscreen and 11 rotary footswitches that twist and stomp to bridge hands-on amp tweaking and navigation with fuss-free foot control. Quad Cortex also gives you configurable inputs and outputs, which can be saved independently for each of its two user presets, along with MIDI and audio delivery over USB for producer-grade plug-and-play recorded tones. Believe it or not, Quad Cortex packs enough horsepower to serve multiple amp chains and even multiple players at once. So, whether you're touring or tracking, both you and a bandmate can leave your amps at home when you've got the Neural DSP Quad Cortex in tow. Factor in firmware updates and user backups over Wi-Fi (again, no laptop required), unlimited set lists, and three modes of operation to line up tones to go, and it's hard to overstate how dramatic an impact the Neural DSP Quad Cortex floor processor can have on your performance life.
Neural Capture digitizes your favorite amps, stomps, and cabs
Already have the world's best amps waiting for you at home? Digitize them and take them on the road using Neural DSP's powerful Neural Capture feature. Unlike traditional capture models, Neural Capture uses machine learning to replicate the sophisticated interaction between amp, cab, pedal, and player. Sag, saturation, breakup, compression — it's all carefully preserved from the sound source straight into the Quad Cortex for instant recall. Neural Capture's perception is based on the human ear, not on physics models, making it one of the most natural-sounding capture devices ever built.
Capture complete rigs or component parts
Neural Capture digitizes your favorite real-world amps, cabs, and pedals down to the building-block level. Let's say you've got a JCM Hot Mod you just can't gig without or a particularly smooth-sounding TS pedal you want to front-end other amps with. The Quad Cortex lets you capture the entire rig or save just the amp or pedal as blocks, which can then be used to build signal chains the same as any device from Neural's device list.
XLR mic preamps with 48-volt phantom power
You're not limited to just '57s when capturing amps from your Neural DSP Quad Cortex. Mic preamps with XLR combo inputs and onboard 48-volt phantom power mean you can really experiment with mic choice and placement.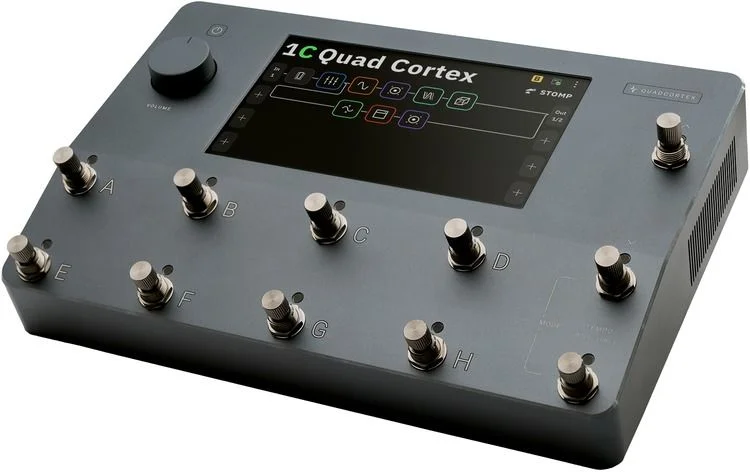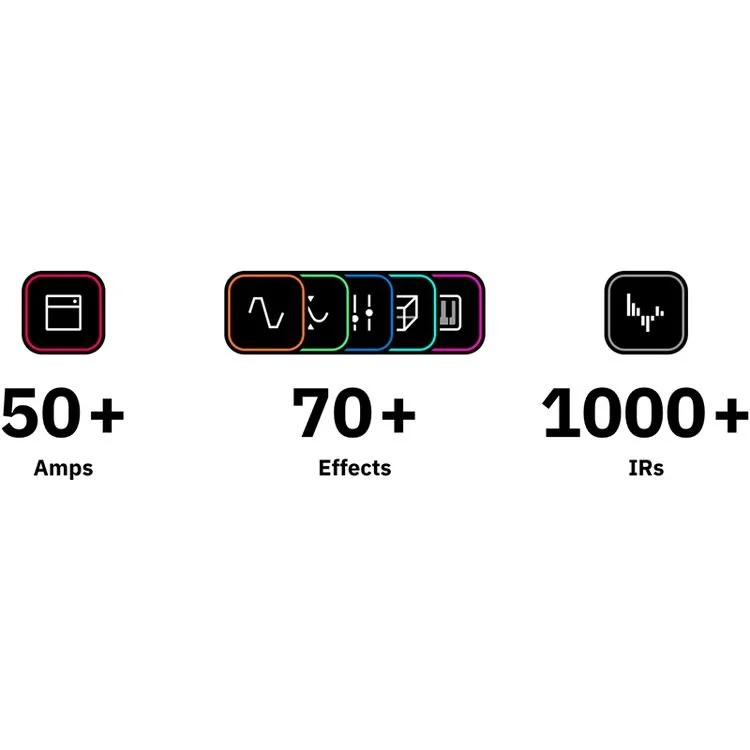 Preloaded with tons of great amps — with plenty more to come
Neural Capture isn't the only way you can get your hands on fire-breathing modern stacks and high-class vintage combos using the Quad Cortex. From the squeakiest Cory Wong cleans to the grindiest Tosin Abasi gains, the Quad Cortex comes loaded for bear straight out of the gate. Here's just a taste of what you get:
Double RVB Normal: Fender '65 Twin Reverb
Rols Jazz CH120: Roland JC-120
UK C30 Top Boost: Vox AC30 Top Boost
Vishnu: Bogner Shiva Clean Channel
Hiw103: Hiwatt DR103
British 2203: Marshall JCM800
PV-505 Lead: Peavey 6505 Lead
EV III Blue: EVH 5150 III
California Rectifier Orange: Mesa/Boogie Dual Rectifier Orange
Bass Super Valve: Ampeg SVT
Bass Flip-Top Ch 66: Ampeg B-15 – 1966 Channel
G400: Gallien-Krueger 400RB
Darkglass Microtubes B3K

Brit UBL Lead: Marshall Silver Jubilee

UK C15: Vox AC15

US Prince: Fender Blackface Princeton Reverb

US Tweed Basslad: Fender Bassman Tweed
7-inch multi-touch screen
A bright, responsive, full-color 7-inch touchscreen makes the Neural DSP Quad Cortex a breeze to navigate and a ton of fun to explore. Accessing settings and blocks is similar to using your mobile device: swipe up to show presets, swipe down to reveal amp parameters, touch and drag blocks to remove and reorder them in the chain, etc. Paired with the hands-on rotary switches, the Quad Cortex ensures you never get lost when you're cruising for tones.
11 dual-function rotary footswitches
In addition to its snappy touchscreen interface, the Quad Cortex gives you a half score of stainless steel 2-in-1 rotary footswitches. These dual-purpose footswitch encoders put an entire amp-face of controls at your fingers all at once. The encoders twist like real knobs in your hands, and the switches stomp every bit as quickly and reliably as traditional footswitches. This not only saves space on the Quad Cortex — it also safeguards you from accidentally stepping on any fragile knobs in the heat of a performance.
"When you have both knobs and footswitches, you need to have enough clearance between them, so you don't stomp on the knobs and break them. With the Quad Cortex, you not only save room, you're actually shielding the weakest part [knobs] with the strongest part [footswitches]. The footswitch itself isn't any less reliable, but the knob becomes as reliable as the switch. So you end up with a knob that doesn't break." — Doug Castro, Neural DSP/Darkglass Electronics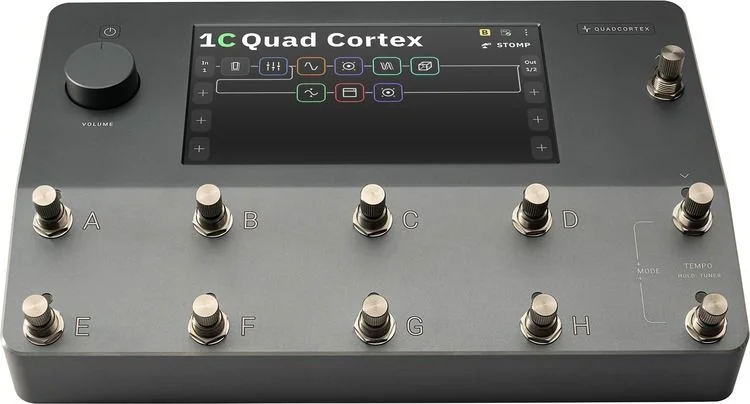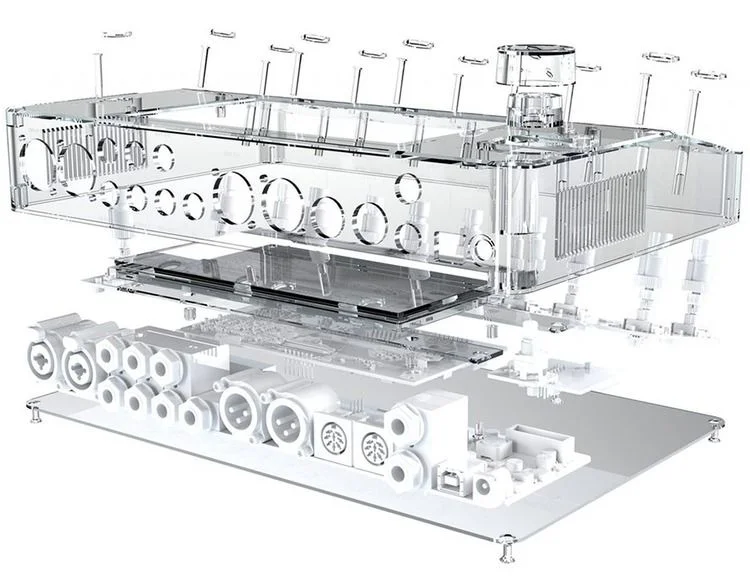 Bulletproof aluminum construction
The Neural DSP Quad Cortex comes in a rugged tour-grade anodized aluminum chassis for lasting looks and protection you can count on. This aluminum housing features laser-engraved graphics that, unlike printed graphics and stickers, won't fade with time or leave behind any sticky residue.
1.8mm glass display shield
Heavy foot? The touchscreen of your Quad Cortex is shielded by 1.8mm of high-strength protective glass. This means peace of mind when you're stomping away onstage or rushing to pack up after a show.
Ultra-flexible I/O
The Quad Cortex is one piece of gear that won't leave you high and dry at the gig. Not only do you get a head-scratching amount of inputs and outputs with long-lasting Neutrik connectors, but you can even customize routing on a patch-by-patch basis. Here's what's included:
Dual combo inputs: combination TS/TRS/XLR inputs with variable impedances, built-in microphone preamps, phantom power, and level controls
Dual effects loops: integrate mono/stereo outboard stomps into your Dual Cortex rigs, also supports 4CM (4-cable method) amp connections
1/4-inch output jacks: two mono balanced (TRS) output jacks, optimized for sound quality and noise
XLR output jacks: two mono balanced XLR output jacks
Headphone output: ideal for quiet practicing
MIDI in and out/thru: automate switching and control every parameter in the Quad Cortex over MIDI
Dual expression inputs: expression pedals can be assigned to control wah, volume, and pitch shifts
Built-in Performance Looper
Loopers have become a mainstay of modern music. Quad Cortex gives you access to this powerful creative tool with a built-in looper that boasts up to 4 minutes and 44 seconds of record time. The looper block can be placed anywhere on the grid for ultimate flexibility. In performance mode, you can control the looper with the footswitches, while parameter mode gives you total control over altering the looper's settings. Not only that, a handy quantize feature ensures your loop plays in sync with the Quad Cortex or external MIDI clock.
2GHz Quad-Core SHARC DSP
When Neural DSP refers to its Quad Cortex floorboard as the most powerful floor modeler on the planet, it's thanks in part to the cutting-edge Quad-Core SHARC architecture contained inside. These SHARC chips pack a dedicated 2GHz of processing power to handle complex signal chains and shave latency down to imperceptible levels. Want to run four amplifier chains at once? How about stereo reverbs and a plethora of other effects simultaneously? The Neural DSP Quad Cortex won't even break a sweat.
Supports multiple amps — or guitarists — at once!
Quad tracking — recording the same part four times and stacking the tracks — has become a common practice for capturing high-gain music. The Quad Cortex lets you approximate this practice in the live environment by giving you four independent signal paths complete with amps, stomps, cabs, and effects. Whether you're cascading a single part into different flavors of amp saturation or building the ultimate virtual wet-dry rig to end all wet-dry rigs, it's now possible from a single floorboard. Combine this with the Quad Cortex's assignable inputs, and you can even share your Neural DSP guitar and bass tones with a bandmate to conserve space on the road. Now that's cool!
Audio and MIDI over USB
You can capture stereo rigs straight into a recording session using the Quad Cortex's low-latency USB connection. No additional interface is required, and the USB playback headphone feed offers several options, including none, USB 1/2, USB 3/4, or both via the I/O settings screen, letting you choose how you listen when using the Quad Cortex as an audio interface. Cirrus Logic codecs secure your place in the front of a mix. You can also access MIDI control over USB for deeper dives.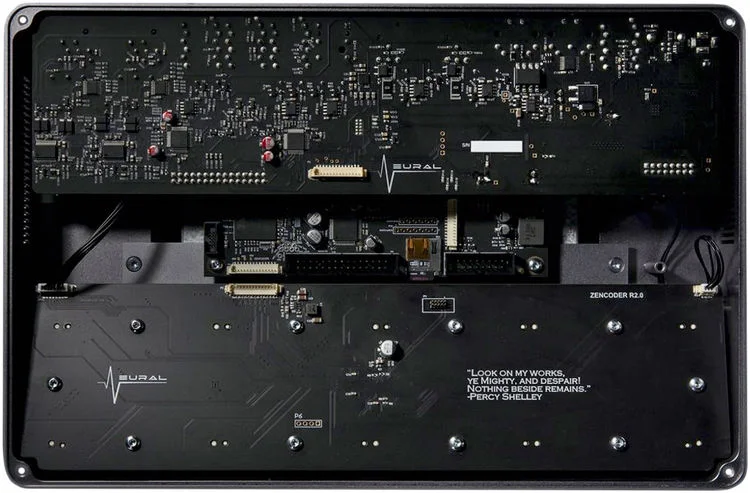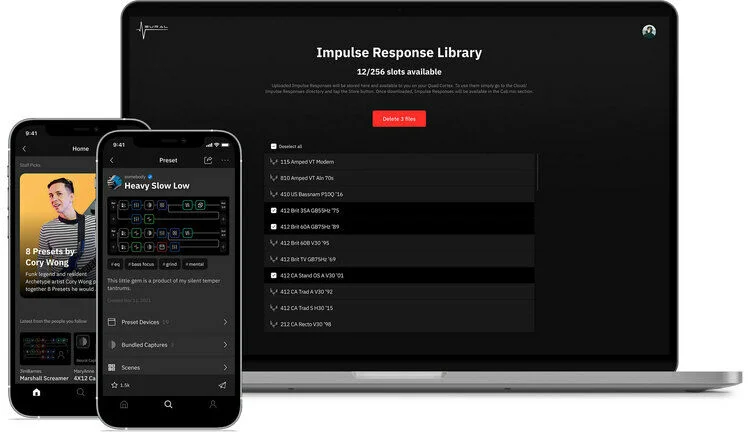 Built-in Wi-Fi module
Onboard Wi-Fi allows the Quad Cortex to communicate with phones and cloud servers wirelessly. Here's what that means for your browsing and backup life:
Access new sounds wirelessly
Hungry for fresh tones away from home? The Neural CNS Mobile app lets you download and share presets wirelessly from your smartphone. Whether you're after a particular amp, stomp, or artist preset, you can beam it straight to your Quad Cortex in real time for instant playback.
Update firmware from the cloud
Another benefit to the Quad Cortex's Wi-Fi module is over-the-air firmware updates. Now you don't even need to connect to a computer to ensure your operating system and tone database stay up to date.
Back up tones on the go
Find a new patch you can't live without? Back up your Quad Cortex instantly over Wi-Fi and ensure it makes it home. There are no cables to plug in or laptops to track down.
10 set lists, 256 presets per set list
The Neural DSP Quad Cortex lets you organize your user presets into 10 set lists with 256 presets per set list for 2560 total presets. Now you can organize by band, project, genre, or date, allowing you to step through patches sequentially without stopping the flow of creativity. Searchable user tags ("djent,""SRV," etc.) help you quickly locate the tones you're jonesing for — no more browsing and auditioning to locate that special rig.
Three modes of operation
A tap of the Active Mode soft button or a press of the two bottom-right footswitches cycles the Quad Cortex's three operation modes. Modes let you get the most out of your Quad Cortex's footswitch and patch customization.
Stomp Mode: transforms the Quad Cortex into an elegant analog-styled pedalboard. Here you can activate or disable any block in a rig just by assigning it to a dedicated switch and tapping.
Scene Mode: activate multiple blocks (overdrive and boost; reverb and delay) in a rig at once. Each preset has eight scenes recallable from switches A–H.
Preset Mode: keeps your eight favorite rigs accessible via switches. This mode is great for players who want their clean, lead, and rhythm tones neatly lined up for quick access.
Dedicated tuner/tap switch
Need to tune up before a set or tighten up a rhythmic delay? A dedicated footswitch at the bottom-right corner of the Quad Cortex ensures you never lose your place. Just hold to tune or tap in time to tempo coordinate. The ultra-fine resolution tuner displays values in cents. Plus, you have the option to engage or disengage the tap tempo LED via the tap tempo screen.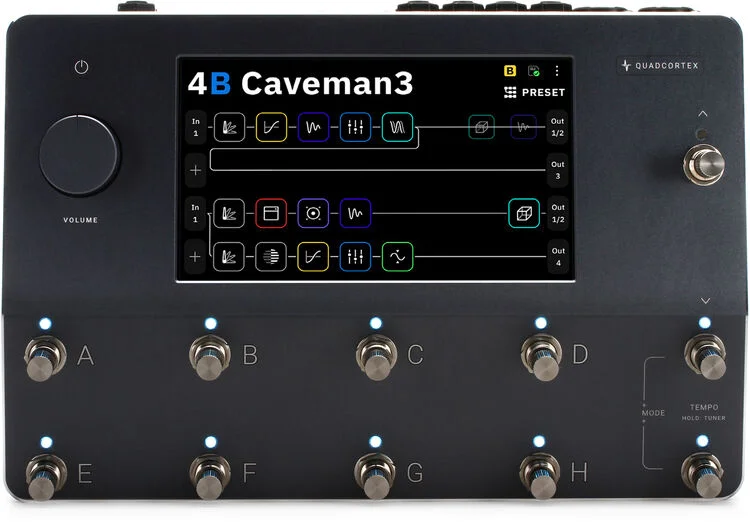 Neural DSP Quad Cortex Amp/Effects Modeling Floorboard Features:
Multi-touch guitar and bass modeler with capture technology
Bright 7-inch multi-touch color display
Quad-Core SHARC DSP delivers a whopping amount of processing power
Preloaded with over 50 amps, 70 effects, and 1,000 cabs
Built-in looper with up to 4 minutes and 44 seconds of record time
Neural Capture digitizes your favorite amps, stomps, and cabs down to the component level
Bulletproof anodized aluminum chassis with 1.8mm glass display shield
Ultra-versatile I/O with patch-by-patch configurable routing
Audio and MIDI over USB with multiple audio playback modes
Dual-function rotary switches supply footswitch and knob control
Onboard Wi-Fi for wireless tone access, firmware updates, and cloud backups