Positive Grid Spark Smart Combo Amplifier for Electric and Acoustic Guitar and Bass
Description
Positive Grid's Spark is a breakthrough new way to jam, track, practice, and learn songs. This powerful app-driven smart amp delivers a bedroom-filling 40 watts of 10,000+ classic BIAS amp/pedal/cab presets through its twin 4" ported hi-fi speakers, ready for direct injection into your DAW recording session or live PA via USB or 1/8-inch TRS headphone output. And impressive as that is, it's just scratching the surface of all the Spark can do for you. Voice control via the Spark App gives you Slash-worthy lead tones and solo-ready rock and blues backing tracks without lifting a finger. You can even feed Spark your own chord progressions and listen in amazement as a virtual session drummer and bassist accompany you in real time. A massive list of downloadable tone presets and an impressive library of virtual pedals and amps — which are easily navigable by style, artist, or genre — suit this one amp for every electric guitar, acoustic, and bass in your arsenal. And at a mere 11.5 pounds (slightly less than a bowling ball, slightly more than a gallon of paint), the Positive Grid Spark is transportable enough for day-to-day outings.
Delivers 40 watts through twin 4-inch speakers
Though it won't fill an arena, the Positive Grid Spark easily packs enough power for practices and jams around the house. Its stereo 4-inch hi-speakers are deceptively full sounding. So whether you're playing clean funk bass or drop-tuned metal guitar, you get a nice, round low end and great definition right out of the box. Of course, you've also got an auxiliary output and USB port for more direct modes of amplification. We at Sweetwater have found the stereo speakers even hold up favorably to close-miking, so even in a traditional club with a couple of mics onstage, the Spark is the only tool you're going to need.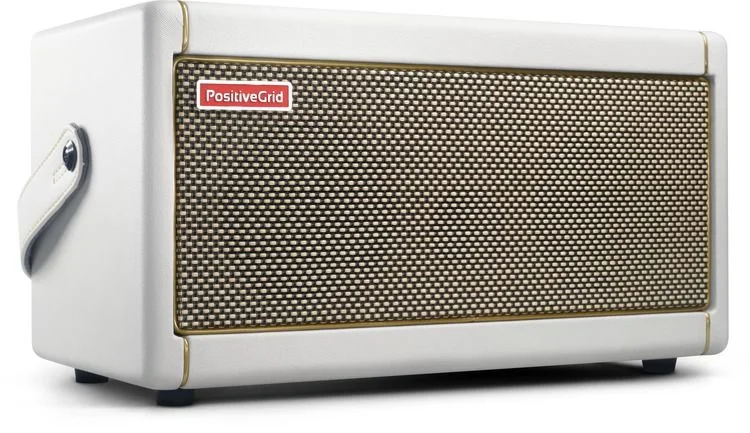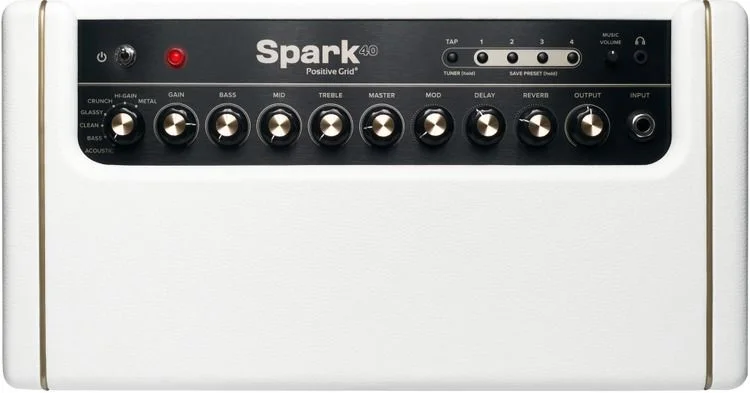 Loaded with over 10,000 presets
One of the Spark's most appealing features has to be its tone presets. In our tests, it was ultra-quick to dial just about any tone we were feeling, from compressed country cleans to fire-breathing metal gains. App-based browsing and voice control make it relatively easy to dial in the tone you're searching for — speaking commands like "Plexi," "Kerry King," or "blues" into your paired mobile device gets you a curated selection of tones to choose from — and in our experience, they provide a great launching point.
A breakthrough way to practice, track, and learn music
A powerful playback system and a vast library of sounds is just half of what sets the Positive Grid Spark apart. Through the app, you'll find countless ways to round out your music-making journey.
Live backing tracks: Crank out a chord progression, and the Spark app will automatically accompany you with a bass guitar and drums. You don't even need to set a key or tempo — just strum and go.
Multitrack recording: Got a riff you want to preserve or flesh out for further working? Connect the Spark amp to a computer via USB and fire up the included PreSonus Studio One Prime software, and you're all set to layer guitar and bass tracks by the dozen if you so desire.
Chord recognition: Import songs from your Apple Music library, YouTube, or Spotify, and the Spark app feeds you a chord chart on the fly. It's the ultimate fakebook!
Riff training: Having trouble tracking that "Spanish Fly" intro run at concert tempo? The Spark app lets you slow down songs and take them at your pace until you can work up to full speed.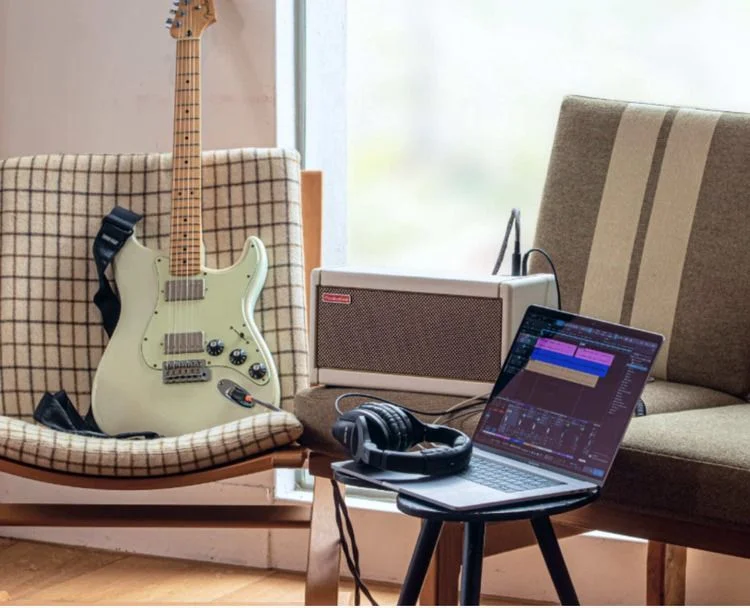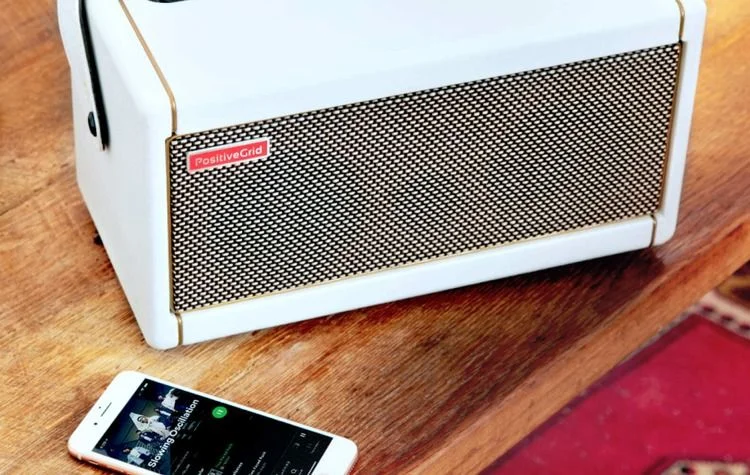 Positive Grid Spark 40W Combo Guitar Amplifier Features:
Limited-edition combo amp
A breakthrough way to jam, track, practice, and learn songs
Pairs to the powerful Spark App (iOS/Android) via Bluetooth for greater control
Over 10,000+ Tone Engine presets for electric guitar, acoustic guitar, and bass
Delivers a bedroom-filling 40 watts through twin 4-inch ported hi-fi speakers
Hands-on controls for traditional tone dialing
Voice commands: "play me a blues track" or "get me Slash's tone"
Intelligently tracks guitar progressions for live bass/drums accompaniment
Creates chord charts from songs imported via YouTube, Spotify, and your own Apple Music library
USB connection for direct recording — includes PreSonus Studio One Prime DAW
1/8-inch TRS headphone jack for silent practice or live output
1/8-inch auxiliary in for wiring in backing tracks from your phone