A High-performance 7-string with Floyd Rose and Sustainiac
The Schecter Banshee Elite-7 FR S is a high-performance 7-string electric guitar. Its swamp ash body delivers a musical blend of brightness, warmth, and mids, while its eye-catching flamed maple top adds extra bite and sustain. Experience extreme clarity, robust mids, and amp-punishing output, thanks to a SuperCharger Mach-7 bridge humbucker, while a Sustainiac neck pickup gives you unending sustain to feed your creativity. Enjoy supreme playability, courtesy of an Ultra Thin C-shaped neck with a fast-playing 12"–16" compound-radius ebony fingerboard. Benefit from maximum expressiveness and maximum stability, by virtue of Grover tuners and a Floyd Rose tremolo. The Banshee Elite-7 FR S includes glow-in-the-dark side dots and attractive black chrome hardware.
Built for supreme playability and tone
The Banshee Elite-7 FR S is, at its core, an extremely high-quality instrument. The SuperCharger Mach-7 bridge pickup covers your basics, easily jumping between chunky rhythm tones and fluid leads. The multi-ply Ultra Thin C-shaped neck and neck-through design deliver rock-solid reliability and sustain, and Schecter loaded the compound-radius fingerboard with 24 extra-jumbo stainless-steel frets for big bends and fast licks. Rounding out the features is a flamed maple top that is both gorgeous and adds a bit of snap to your sound.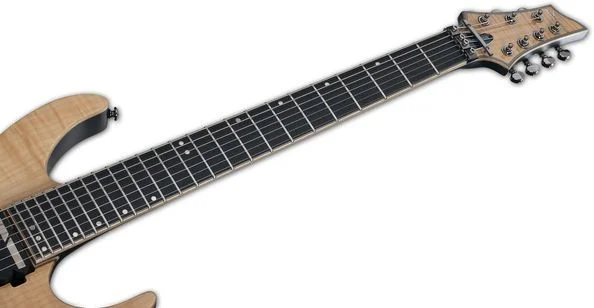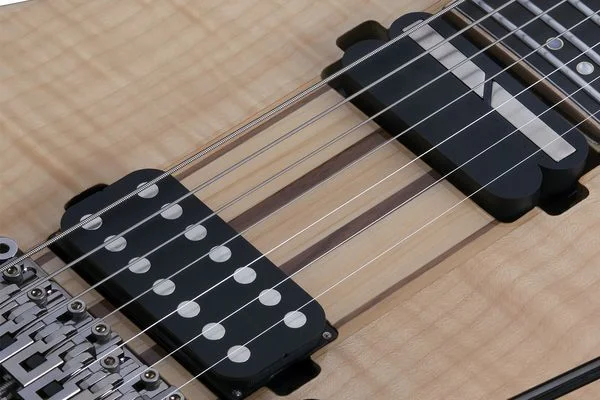 Sustainiac pickup holds notes as long as you want
Schecter put a Sustainiac pickup at the neck of the Banshee Elite-7 FR S, which gives you unending sustain and nearly infinite creative possibilities. The Sustainiac gives you the option to have a fundamental note hang on forever or coax harmonically rich feedback from your guitar. For the sonically adventurous, a 3-way switch toggles you between Fundamental, Mix, and Harmonic modes giving you access to a huge number of inspired sounds.
Custom Floyd Rose 1500 locking trem designed for Schecter
At Sweetwater, we've seen more than a few tremolos come through over the years, from Bigsbys to Floyd Roses. Schecter opted for the Floyd Rose 1500 trem. Its custom knife edge, stainless-steel construction, and classic Floyd Rose styling ensure you'll stay in tune even with the most vigorous trem work.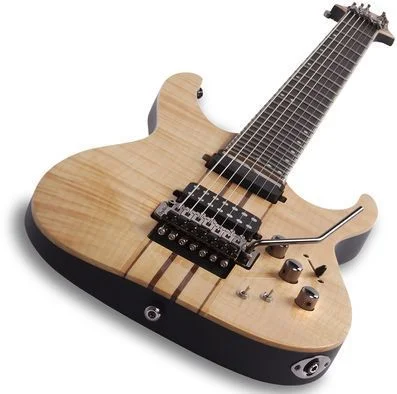 Schecter Banshee Elite-7 FR S Features:
Swamp ash body exhibits brightness, warmth, and midrange "pop"

Eye-catching flamed maple top adds extra bite and sustain

SuperCharger Mach-7 bridge humbucker yields extreme clarity, robust mids, and amp-punishing output

Sustainiac neck pickup allows for 3 modes of endless sustain

Ultra Thin C neck offers comfortable playability

Fast-playing 12"–16" compound-radius ebony fingerboard

Neck-through construction adds to the natural sustain of the body

Floyd Rose 1500 double-locking trem custom for Schecter

Glow-in-the-dark side dots are great on dark stages

Attractive black chrome hardware