Streamlined Modern Metal Electric from Schecter
Modern metal guitarists will find much to love in the C-1 FR-S Blackjack from Schecter. Like all Schecter guitars, the Blackjack features the same streamlined design and killer appointments that you'd expect from a tone-heavy workhorse. The Avenger Blackjack has a resonant mahogany offset body with a stunning black gloss finish complemented by a cream binding. A 3-piece mahogany set neck with ebony fingerboard offers incredibly smooth response for shredding fast leads and chunking heavy power chords. A pair of Lundgren M6 humbuckers deliver classic, gritty humbucking tone, but you can dial them into your specs given a variety of tone-shaping controls. And a Floyd Rose 1500 Series bridge supports amazing sustain — one of the reasons why it's a favorite bridge among the many modern metal player.
Turn heads with crisp, punchy tone
Lundgren M6 humbuckers have been turning a lot of heads and bending a lot of ears in the world of metal. The M6 in the bridge position of the C-1 is a dialed-in humbucker that keeps your tone clear and articulate even when driven at high gain. The M6 has a heavy midrange focus without getting bitey or harsh — ideal for modern metal tone. It delivers plenty of low end without becoming sloggy or washed out. Pair the M6 with the Sustaniac in the neck position and you have a match made in metal heaven. With just a flip of the switch, you can activate near-endless sustain via this amazing pickup.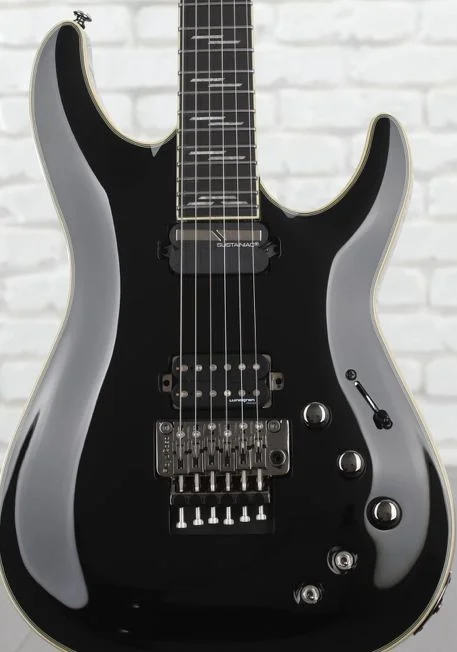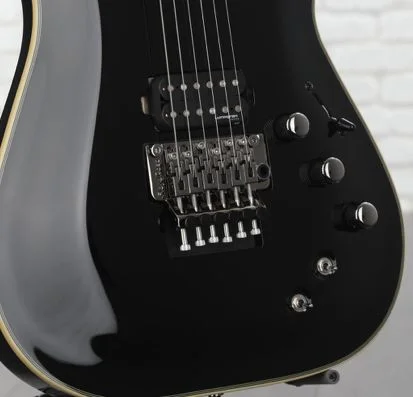 Dive-bomb with a Schecter-exclusive Floyd Rose 1500 tremolo
Schecter and Floyd Rose have partnered to bring you the Floyd Rose 1500 double-locking tremolo. Floyd Rose has long been one of the best double-locking tremolos, and the 1500 is a specialized take on their iconic design that you will only find on select Schecter guitars. This souped-up tremolo employs stainless-steel screws and retooled knife edges for maximum durability. What's more, it eschews the typical screw-in arm for a push-in one. Trust us, once you get used to the 1500's push-in arm, you'll want to retrofit all of your other Floyd-equipped guitars with one — it's awesome! With the C-1 Blackjack's Floyd Rose 1500 trem, you'll get both the rock-solid reliability and the tight response you need for precision playing, along with expressive vibrato and dive-bombing capability.
Shred-friendly neck
The stunning mahogany neck on the Blackjack has been cut to a player-friendly Thin "C" profile. Twenty-four jumbo stainless steel frets are easy on the fingers, making lead playing super comfortable and hard-hitting power chords effortless. The 25.5-inch scale length and compound radius neck are a killer combo for rapid-fire leads as well.
Schecter C-1 FR-S Blackjack Electric Guitar Features:
Modern tone-heavy electric delivers amazing playability and eye-catching looks

Resonant mahogany offset body with a stunning black gloss finish complemented by a cream binding

3-piece mahogany set neck with ebony fingerboard offers incredibly smooth response, from fast leads to heavy power chords

1 Lundgren M6 humbucker and 1 Sustaniac pickup for huge array of tone

Master Volume, Master Tone control, and 3-way toggle switch

24 jumbo stainless steel frets are easy on the fingers, making lead playing more comfortable and hard-hitting power chords effortless

Schecter locking tuners keep you in tune