Squier Affinity Series Jazzmaster - Lake Placid Blue with Laurel Fingerboard
Description
An Affordable Jazzmaster That's Built to Rock
For decades, having a Jazzmaster slung over a shoulder has been a requirement for some of the biggest heroes in indie, alternative, and underground rock. This Affinity Series Jazzmaster elicits that same air of effortless cool, thanks to its comfortable and balanced vintage-inspired contours. And with its duet of classic Jazzmaster single-coil pickups, this guitar has some extra muscle under the hood for when you need a thick, aggressive tone that's complete with musical lows, beefy mids, and growling highs. At this price, whether you're needing a great backup guitar, wanting an offset with a new attitude, or just starting out, the Affinity Series Jazzmaster makes adding a hot-rodded offset to your collection easier than ever.


King of the offset body designs
There's a certain aura that demands attention when you take the stage with a Jazzmaster. Its offset shape has been turning heads since its introduction in the 1960s. And this Affinity Series Jazzmaster boasts the same design that has made believers out of surf rock fans, shoe-gazing sonic explorers, and even metalheads. In fact, you've been able to find Jazzmasters in the hands of an array of players, such as Slipknot's Jim Root, punk pioneer Elvis Costello, and of course, Sweetwater can't forget Southern California's '60s heroes, the Beach Boys.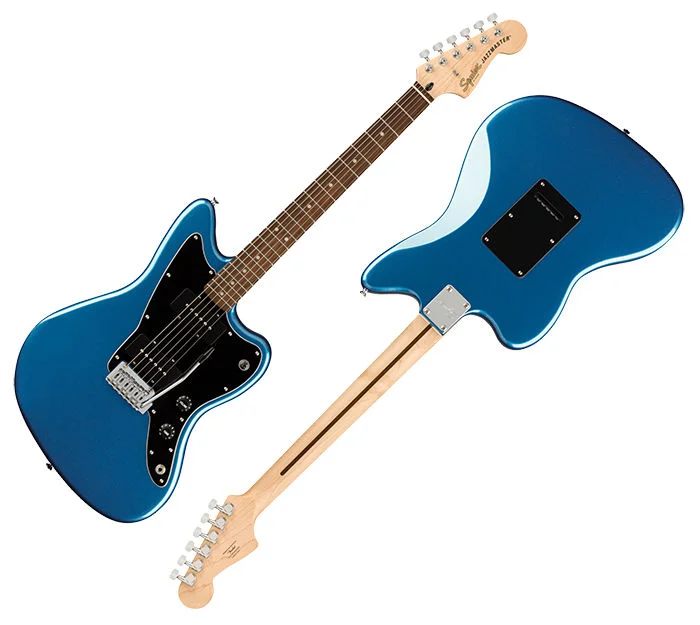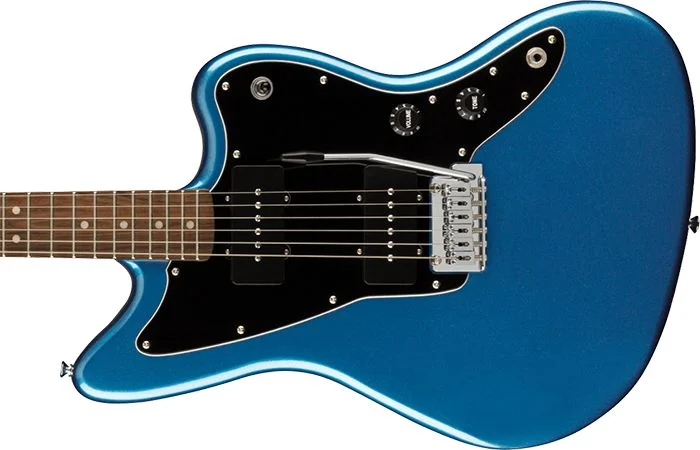 Powered by two Jazzmaster single-coils
Thanks to their seemingly endless versatility, Jazzmaster single-coils have been the go-to choice for gigging musicians of all genres and playing styles for decades. The Affinity Series Jazzmaster comes loaded with a pair of these ceramic fire breathers, which are capable of everything from chimey, crystal cleans to searing leads and full-force crunch. A 3-way toggle switch goes between both pickups with ease, with single volume and tone controls to tweak your sound to perfection.
2-point tremolo that's built like a tank
Jazzmaster tremolos deliver sonic and tactile peculiarities that give them their place on top of the offset heap. The Affinity Series Jazzmaster comes stock with a 2-point synchronized tremolo, offering exceptional tuning stability and everything needed for adding subtle warbles and textures to your playing. This is especially useful when finding your voice and making it uniquely yours, replete with all the nuances that make tremolos a mainstay on Jazzmasters everywhere.
Squier Affinity Series Jazzmaster Features:
Offset body style with a deep rock 'n' roll legacy
Balanced-sounding poplar body
A pair of Jazzmaster single-coil pickups serve up the full spectrum of rock-inspired tones
2-point synchronized bridge adds subtle warbles and textures to your playing
Familiar-feeling maple bolt-on neck with an Indian laurel fretboard
Streamlined electronics package is easy to use
Comfortable body contours