Squier Paranormal Cyclone in Candy Apple Red with Pearloid Pickguard
Description
Lean, Mean Tone Machine
The Squier Paranormal Cyclone combines design elements from several legendary Fender guitars to create a lean, mean tone machine that's greater than the sum of its parts. The Paranormal Cyclone features the Mustang's small offset body (with the addition of a comfortable torso contour), the Stratocaster's formidable trio of single-coil pickups and vintage-style vibrato, and the Jaguar's flexible control setup, plus a slinky 24.75-inch scale length and slender "C"-profile, gloss-finished neck for slick playability. It all adds up to a value-packed, easy-to-play solidbody electric guitar with amazing tonal versatility. The Squier Paranormal Series is a celebration of the greatest guitars that never were. Celebrate in style, with the Squier Paranormal Cyclone. It's all yours, for a song.


Versatile tone for any genre
The Squier Paranormal Cyclone is loaded with a trio of alnico single-coil pickups that deliver legendary Strat spank and sparkle. From chimey, glassy cleans to chunky grind to searing leads, these pickups serve up epic tone by the boatload. But instead of the usual Strat controls, the Paranormal Cyclone features the Fender Jaguar's impressively flexible switching arrangement, which allows you to engage any pickup combination you want. This gives you the tonal versatility to ace any gig or recording session.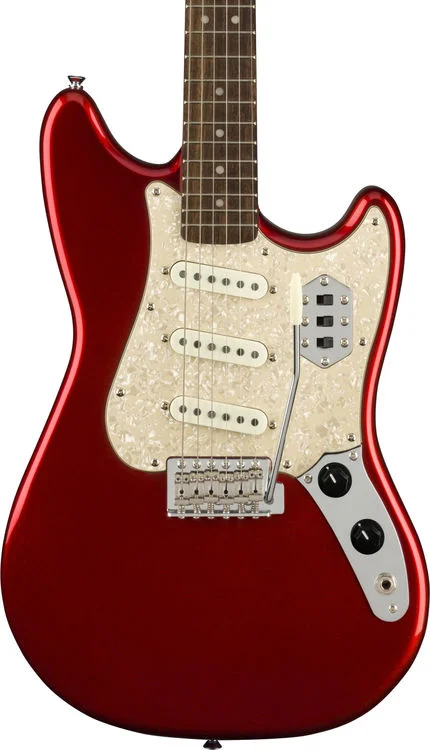 Slinky hand feel for easy playability
If you're like many of the guitarists here at Sweetwater who came up on a Strat or Tele, perhaps you've wondered what it would be like to play a shorter-scale guitar. The Squier Paranormal Cyclone gives you the best of both worlds: the sleek contours of a lightweight, comfortably balanced Fender double cutaway; plus a 24.75-inch scale length for a slinky, easy hand feel that makes string bending a cinch. In addition, you get user-friendly vintage-style tuners and a classic Strat vibrato bridge. Who could ask for more?
Guitars that never were, but should have been
When you pick up the Squier Paranormal Cyclone, you're holding in your hands one of the most original instruments Fender never made. Part of the fun and creative Paranormal Series, the Cyclone captures the spirit of the mid-'60s through the mid-'70s, back when Fender began experimenting with alternative designs. Many of these truly unique instruments somehow found their way out into the real world, in time becoming the kind of rare treasures you might be lucky enough to find squirreled away in the back of a pawn shop. The Paranormal Series celebrates those inspired creations that never were, but should have been.

Squier Paranormal Cyclone Electric Guitar Features:
Mustang body, Strat pickups and vibrato, Jaguar controls
24.75-inch scale length for slinky, easy hand feel
Lightweight poplar body with comfortable torso contour
Slim "C"-profile maple neck with gloss polyurethane finish
Indian laurel fingerboard with 22 narrow-tall frets and pearloid dot inlays
3 Fender-designed alnico single-coil pickups
Per-pickup on/off slide switches
Master Volume and Tone controls
6-saddle vintage-style Synchronized Tremolo vibrato bridge
Vintage-style tuning machines