Squier Paranormal Super-Sonic - Blue Sparkle with Pearloid Pickguard
Description
The Hot-rodded Reverse Offset is Back!
If you missed the boat on one of Fender's limited-run Pawn Shop Super-Sonics — affectionately named the Hendrix Jagmaster by some at Sweetwater — then the Squier Paranormal Super-Sonic is one guitar you don't want to sleep on. The Super-Sonic's reverse offset body and slinky 24-inch-scale reverse-headstock neck provide a look and feel that are unique among the entire Fender-Squier catalog. It's fueled by Squier's take on Fender's fire-breathing Atomic humbuckers, which pack the heat you need to be heard from anywhere onstage and a unique flavor to drive your amps and stomps in fresh ways. The Super-Sonic's independent volume knobs free you up to dial in each pickup to taste: dial back the neck humbucker for chunky rhythms and run the bridge full bore into your dirty channel, then toggle with the flip of a switch. These controls also free you up to execute Morello- and Buckethead-style stutter stops, which itself is a unique trick among the Squier universe. The Paranormal Super-Sonic also features a vintage-style tremolo bridge that's capable of expressive note bending and powerful sonic texturizing without a steep learning curve.


Distinctive alt-rock-leaning stylings
The Squier Paranormal Super-Sonic is a tasty twist on the timeless Fender Offset. Its sculpted curves and mirror-image design provide a unique way for players to approach the electric guitar as an instrument. Its 24-inch-scale maple neck remains ultra-slinky in the hand at standard tunings while providing a distinctive alt-leaning tonality that's great for exploring fresh styles of music — from surf rock to indie dream pop.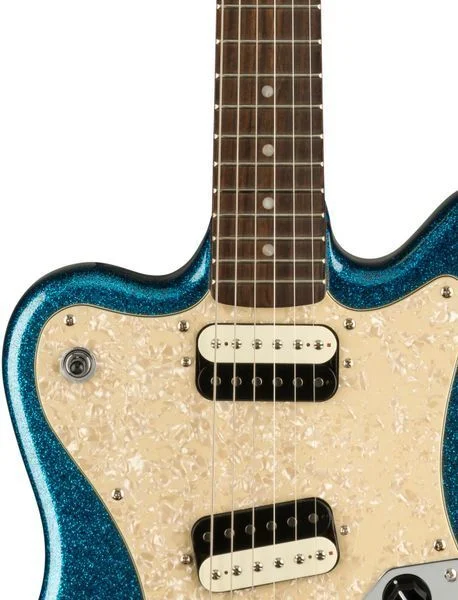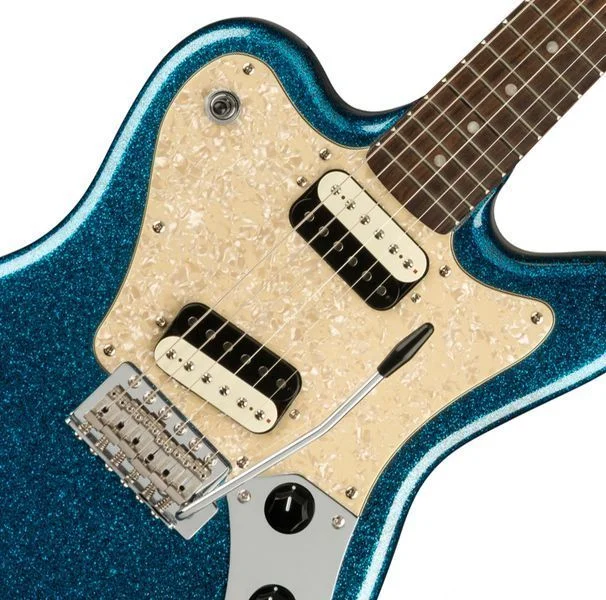 Twin Squier Atomic humbuckers
Like last decade's Super-Sonic, the Squier Paranormal packs a set of high-output Atomic humbuckers to strip the training wheels off your amps and dirt boxes. Yet for all their output, both pickups clean up well with the spin of their respective volume knobs.
Vintage-style trem
If you've been searching for an Offset with a classic-style trem, the Paranormal Super-Sonic has a familiar touch. Its tremolo bridge responds much more like a Strat than a Jag/Jazz in terms of throw and reach, which makes it an easy transition for traditional Fender and Squier players.
Brought to you by the Squier Paranormal series
To create the Paranormal series, the mad scientists at Squier broke down a selection of Fender's most popular designs to the atomic level and smashed them together, bringing to life some of the coolest aberrant axes we've ever seen. Flipped headstocks, Frankenstein electronics, necks on bodies to which they don't belong — these guitars and basses break all the rules! So, if you've ever desired to chuck a set of P-90s into a Cabronita, play a Mustang with the voice of a Strat, or own a J-Bass dressed up as a P-Bass, you'll love the Squier Paranormal series.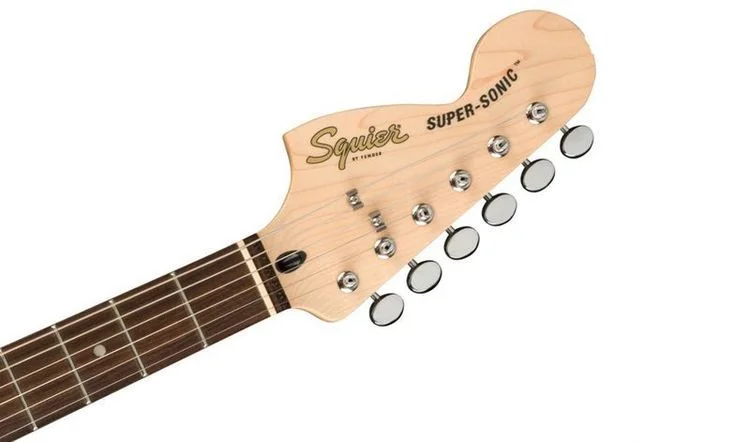 Squier Paranormal Super-Sonic Features:
A fan-favorite reverse Offset, reimagined by Squier
24-inch scale length supplies a unique touch and tone
High-output Atomic humbuckers have the heat you need to be heard from the stage
Slim "C" neck is fast in the hand
Independent volume controls (no tone) let you dial in each pickup to taste
Speedy 3-way toggle can do stutter stops
Vintage-style trem packs a familiar response