Taylor 317e Grand Pacific V-Class Acoustic Electric - Natural
Description
Taylor's Amazing 317e Grand Pacific
With its unique round-shoulder dreadnought silhouette, revolutionary V-class bracing, and dramatically different tonal personality, Taylor's 317e Grand Pacific blazes new ground for Taylor. Featuring solid sapele back and sides and a solid Sitka spruce top, this alluring acoustic-electric guitar delivers a seductively bold and versatile tonal profile that is perfectly amplified by the onboard ES2 electronics. Boasting the understated elegance of Taylor's 3 Series, the 317e Grand Pacific is graced by a curvaceous black pickguard and beautiful Italian acrylic gemstone fingerboard inlays. Its tropical mahogany neck and ebony fingerboard play flawlessly. The 317e Grand Pacific is an amazing guitar and an incredible value.


Grand Pacific: innovation and evolution
With the Grand Pacific, Taylor master luthier Andy Powers has fulfilled the potential of V-class bracing as a robust tone-shaping platform. The Grand Pacific demonstrates proof of concept that V-class architecture is an ideal cornerstone for guitars with a versatile range of musical personalities that will appeal to a broad swath of players cross-genre. Inspired by the diverse acoustic guitar sounds on the records he heard while growing up in Southern California, Andy set out to diversify Taylor's tonal palette by designing a guitar with a different sound profile.
A bold new round-shoulder guitar from Taylor
Although V-class bracing gave Andy more ways to control a guitar's tonal character, Andy also knew a new body shape would be required, something with roughly the dimensions of a dreadnought. With V-class, he could eliminate the undesirable sonic characteristics generally ascribed to dreadnoughts. All this led to the round-shoulder dreadnought design Taylor calls the Grand Pacific. The Grand Pacific's overall sound is warm and seasoned, producing notes that overlap more to create a smooth, blended sound. Its wider waist delivers more low-frequency power, the problematic low-end woodiness often associated with dreadnoughts being eliminated by the V-class bracing.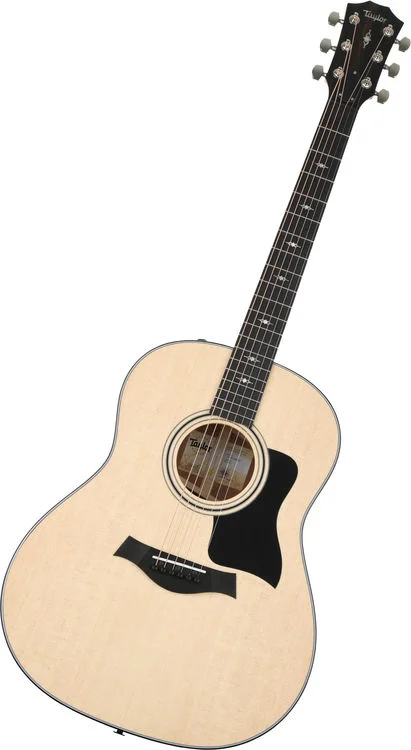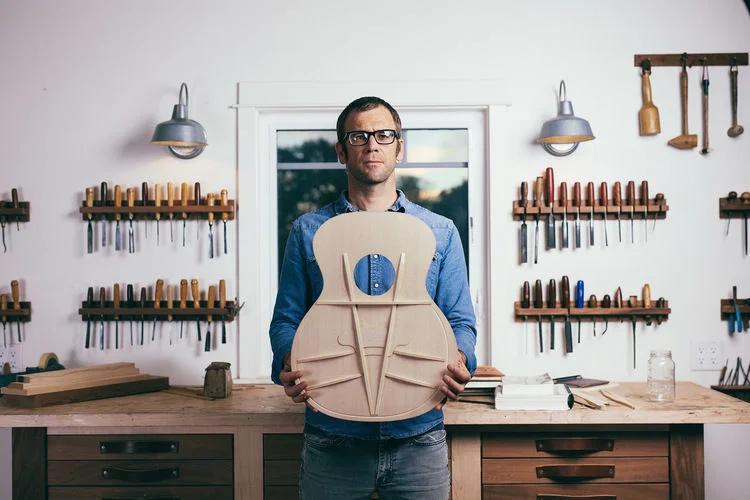 V-class bracing: a sonic revelation
Bracing is the internal framework of an acoustic guitar that helps shape its sound. Although X-bracing has been standard in acoustic guitars for over a century, it creates an innate conflict between two key elements of a guitar's sound: volume and sustain. The guitar's top (its soundboard) contributes to both. The flexibility of the top generates volume (projection), while its stiffness generates sustain. And with X-braced guitar tops, here's where the trade-off comes in: when something is made stiffer, its flexibility is reduced (and vice versa).
V-class bracing changes all that. With Taylor's V-class bracing, an acoustic guitar top can be both stiff and flexible — for more volume and sustain. V-class bracing provides stiffness parallel to the strings for more rigidity and hence sustain. Flexibility on either side generates the air movement necessary for robust projection. It's the best of both worlds. This groundbreaking innovation also improves intonation: producing notes that are not only louder and with longer sustain but also more in tune with each other. Guitarists at Sweetwater are gobsmacked. But don't take our word for it — pick up the superb Taylor 317e Grand Pacific and experience it for yourself!
Exceptional tonewoods deliver timeless tone
As a top tonewood, Sitka spruce offers a combination of strength and elasticity that delivers a broad dynamic range with crisp articulation that's ideal for a wide range of playing styles, from delicate fingerpicking to aggressive flatpicked strumming. Sapele, used for the back and sides of the 317e Grand Pacific, is tonally similar to mahogany, but its higher density tends to produce a slightly brighter sound with more high-end shimmer. The characteristic sapele sound is consistently balanced across the tonal spectrum, which makes it, again, suitable to a broad range of playing styles.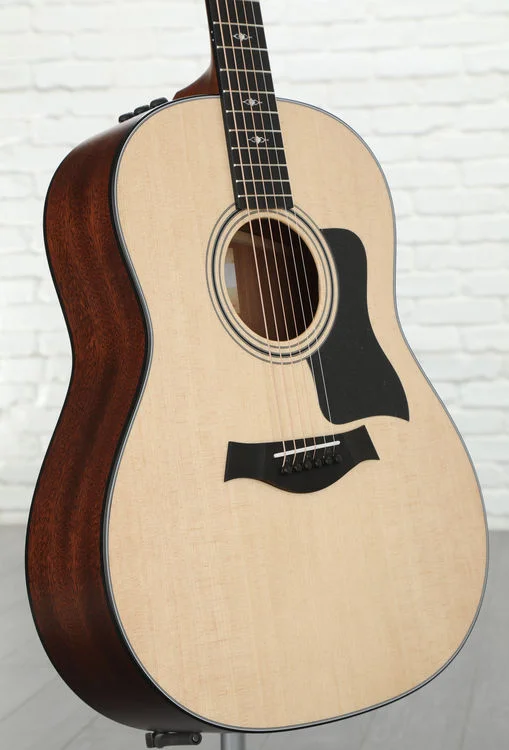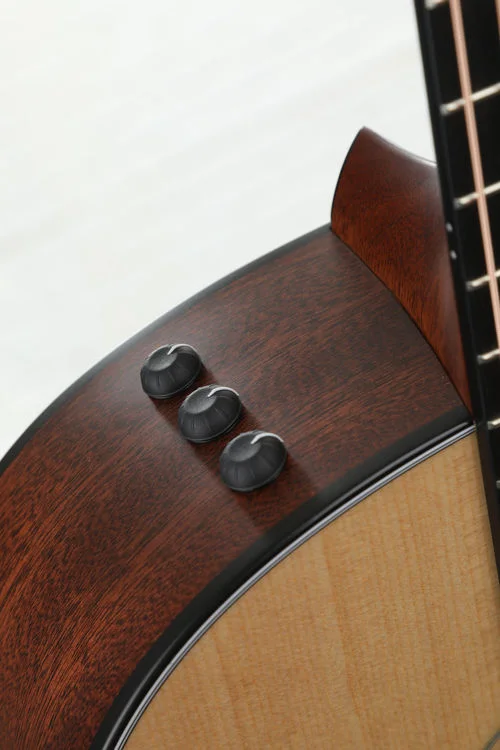 Cutting-edge Taylor Expression System 2 electronics
If you play plugged in, then you're going to love the Taylor Expression System 2 (ES2) electronics built into your 317e Grand Pacific. The key to this fantastic system is the 3-section proprietary pickup located behind the saddle. Because of where it's positioned and how it's integrated into the guitar's saddle, the ES2 pickup provides you with remarkably clear and accurate sound. In addition to a master volume control, a pair of tone controls lets you tweak your highs and lows to get the sound you need, and a discreet phase switch offers vital onboard feedback suppression.
Taylor 317e Grand Pacific Acoustic-electric Guitar Features:
Sapele body with satin finish
Sitka spruce top with V-class bracing, gloss top, 3-ring rosette
Standard Carve tropical mahogany neck with satin finish
15"-radius West African ebony fingerboard with 20 frets, Italian acrylic gemstone inlays, black binding
25.5" scale length
West African ebony bridge, pins; Micarta saddle
Taylor ES2 electronics
1.75" black graphite nut
Taylor nickel tuners
Dual-action truss rod, headstock access