Great Tone, Easy Playability, and Ecological Accountability
The Taylor 326ce is a Grand Symphony–sized A/E built with great tone, easy playability, and ecological accountability in mind. The 326ce's responsibly sourced urban ash back and sides deliver a tonal response that mimics high-quality Honduran mahogany, while its neo-tropical mahogany top yields a direct, fundamental-heavy sound that demands attention, all enhanced by Taylor's revolutionary V-Class bracing. This acoustic-electric guitar's scooped, treble-side soundport cutaway not only gives access to the instrument's upper frets, it also enhances its warmth and tonal balance. Cutting-edge Taylor Expression System 2 electronics provide a clear and accurate amplified sound along with feedback control for an ideal gigging instrument. Complete with head-turning satin black tuners, a 3-ring rosette, black binding, and gemstone inlays, Taylor's 326ce is a feast for the senses.
V-Class bracing: a sonic revelation
Bracing is the internal framework of an acoustic guitar that helps shape its sound. Although X-bracing has been standard in acoustic guitars for over a century, it creates an innate conflict between two key elements of a guitar's sound: volume and sustain. The guitar's top (its soundboard) contributes to both. The flexibility of the top generates volume (projection), while its stiffness generates sustain. And with X-braced guitar tops, here's where the trade-off comes in: when something is made stiffer, its flexibility is reduced (and vice versa).
V-Class bracing changes all that. With Taylor's V-Class bracing, an acoustic guitar top can be both stiff and flexible — for more volume and sustain. V-Class bracing provides stiffness parallel to the strings for more rigidity and, hence, sustain. Flexibility on either side generates the air movement necessary for robust projection. It's the best of both worlds. This groundbreaking innovation also improves intonation — not only producing notes that are louder and with longer sustain, but are also more in tune with each other. Guitarists are impressed. But don't take our word for it — pick up the superb Taylor 326ce and experience it for yourself!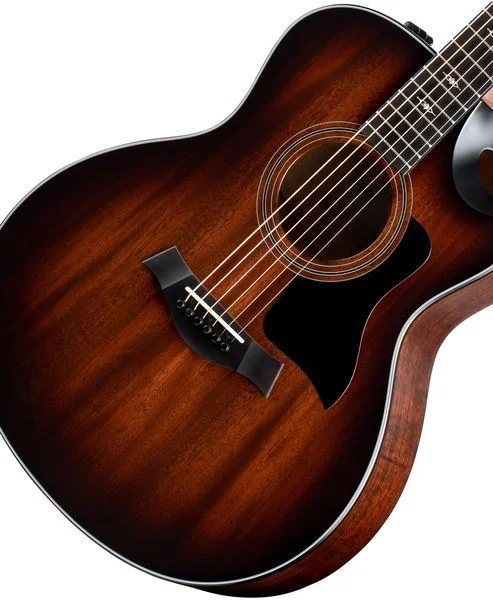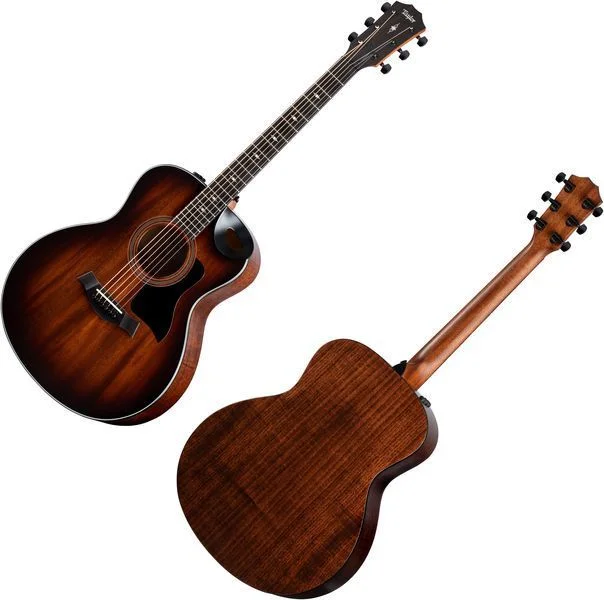 Grand Symphony body style: huge, balanced tone with articulation
Bob Taylor developed the Grand Symphony body style to push the sonic envelope (yet again). Deeper, fuller, and louder than a Grand Auditorium — or a dreadnought, for that matter — the Taylor 326ce serves up sonorous, piano-esque lows, solid midrange, and confident treble. Whether strumming big chords or flatpicking intricate runs, this instrument gives your notes articulation — even with a light attack. The Grand Symphony is a guitar to be reckoned with.
Cutting-edge Taylor Expression System 2 electronics
If you play plugged in, then you're going to love the Taylor Expression System 2 (ES2) electronics built into the 326ce. The key to this fantastic system is the 3-section proprietary pickup located behind the saddle. Because of where it's positioned and how it's integrated into the 326ce's saddle, the ES2 pickup provides you with remarkably clear and accurate sound. In addition to a master volume control, a pair of tone controls lets you tweak your highs and lows to get the sound you need, and a discreet phase switch offers vital onboard feedback suppression.
Taylor 326ce Acoustic-electric Guitar Features:
Grand Symphony body style gives you balanced sound and incredible projection
Back and sides crafted from responsibly sourced urban ash
Neo-tropical mahogany top with V-class bracing yields amazingly rich tonality with impressive projection
Innovative soundport cutaway gives access to the upper frets while enhancing tone
Taylor ES2 Expression System electronics deliver superior plugged-in tone
Head-turning satin black tuners, 3-ring rosette, black binding, and gemstone fingerboard/headstock inlays in Italian acrylic