Superb Taylor Grand Auditorium Hog with V-Class Bracing
There's just something about an all-mahogany guitar. As a back and side tonewood, mahogany generally serves up a focused sound with a full midrange. A mahogany top adds a natural compression that helps produce beautifully balanced articulation across the tonal range. "Hogs" typically respond with composure to energetic strumming and tend to sit pretty in a thick arrangement without needing to be shoehorned into the track through extensive processing. In the 524ce, the traditional hog attributes are married to Taylor's revolutionary V-Class bracing, which boosts volume evenly across the tonal spectrum, increases sustain, and improves the natural intonation of the instrument by creating a more synergistic response from the soundboard. This fosters a more harmonious relationship between the notes you play, helping chords to ring out in cohesive splendor. Spec'd out with ES2 electronics, tasteful, understated appointments, and a gorgeous finish, the Taylor 524ce is a superb acoustic-electric guitar you'll find hard to put down.
V-Class bracing: a sonic revelation
Bracing is the internal framework of an acoustic guitar that helps shape its sound. Although X-bracing has been standard in acoustic guitars for over a century, it creates an innate conflict between two key elements of a guitar's sound: volume and sustain. The guitar's top (its soundboard) contributes to both. The flexibility of the top generates volume (projection), while its stiffness generates sustain. And with X-braced guitar tops, here's where the trade-off comes in: when something is made stiffer, its flexibility is reduced (and vice versa).
V-Class bracing changes all that. With Taylor's V-Class bracing, an acoustic guitar top can be both stiff and flexible — for more volume and sustain. V-Class bracing provides stiffness parallel to the strings for more rigidity and, hence, sustain. Flexibility on either side generates the air movement necessary for robust projection. It's the best of both worlds. This groundbreaking innovation also improves intonation — not only producing notes that are louder and with longer sustain, but are also more in tune with each other. Guitarists are gobsmacked. But don't take our word for it — pick up the superb Taylor 524ce and experience it for yourself!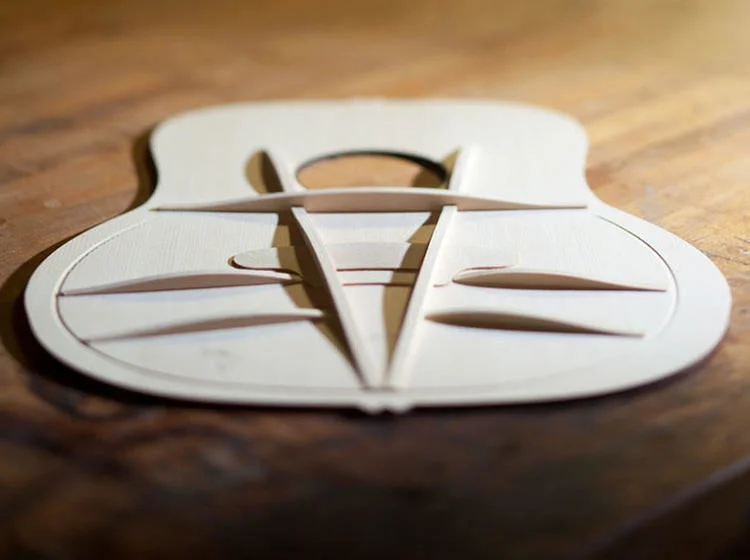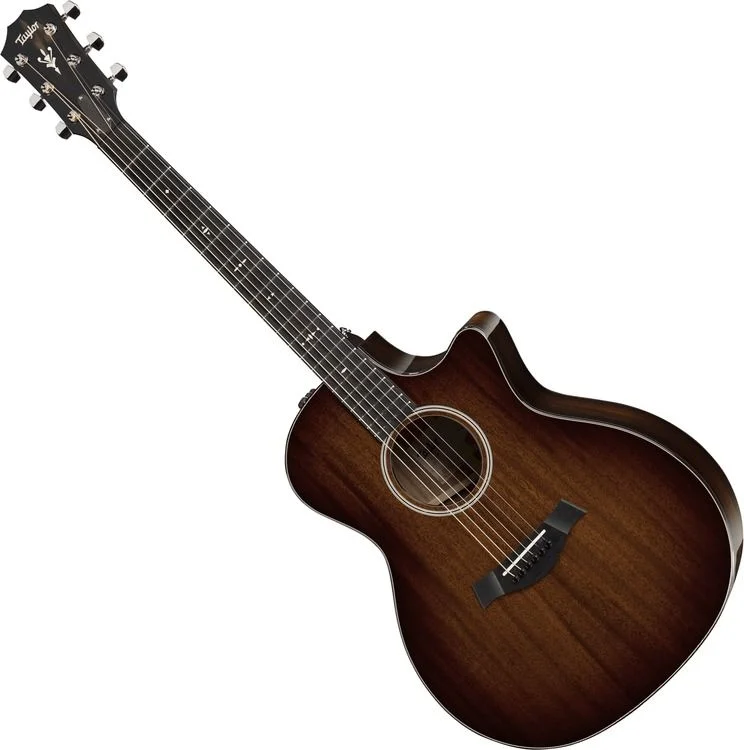 Grand Auditorium body style delivers exceptional presence
Taylor's beloved Grand Auditorium body style, featured on the 524ce, employs the width and depth of a dreadnought. However, its waist is narrower, which gives Grand Auditorium guitars a sleeker look and more treble zing. The Grand Auditorium body style also helps to focus and sharpen the definition of each note — a quality desirable in any musical style. You'll also find your Grand Auditorium guitar to be incredibly comfortable whether you're playing seated or standing.
Cutting-edge Taylor Expression System 2 electronics
If you play plugged in, then you're going to love the Taylor Expression System 2 (ES2) electronics built into your 524ce. The key to this fantastic system is the 3-section proprietary pickup located behind the saddle. Because of where it's positioned and how it's integrated into the 524ce's saddle, the ES2 pickup provides you with remarkably clear and accurate sound. In addition to a master volume control, a pair of tone controls lets you tweak your highs and lows to get the sound you need, and a discreet phase switch offers vital onboard feedback suppression.
Taylor 524ce Acoustic-electric Guitar Features:
Tropical mahogany top, back, and sides
Bracing: V-Class with Relief Rout
Venetian cutaway
Tortoise binding
Grained ivoroid/tortoise/grained ivoroid rosette
Tropical mahogany neck with satin finish
Ebony fingerboard with ebony binding
Century fingerboard inlay
Ebony headstock overlay
Black graphite nut, Micarta saddle
Scale length: 25.5"
Ebony bridge pins
Taylor nickel tuning machines
Gloss top, sides, and back finish