Taylor American Dream AD17e Acoustic Electric - Natural
Description
A New Chapter in Taylor Value and Performance
With the American Dream series of US-built acoustic guitars, Bob Taylor and Andy Powers have opened a new chapter in Taylor value and performance. Never before has it been this affordable to own an American-made Taylor guitar with class-leading features. The Grand Pacific AD17e slope-shoulder dreadnought is built from solid Taylor tonewoods (spruce, ovangkol, and mahogany), each with minor cosmetic imperfections to honor the mature sound and workhorse aesthetic these early guitars are known for. Taylor's V-Class Bracing gives the AD17e impressive sustain and a clean, pure tone that stands up to even the scrutiny of the studio. All in all, the American Dream Taylor AD17e is a professional instrument that comes in at a price that will ensure you're not afraid to take it on the road. Onboard Taylor ES2 electronics — a hallmark of all top-tier Taylors — make the AD17e a fantastic option for plug-and-play gigging and recording.


Taylor's American-made legacy
In 1974, a young Bob Taylor cut his teeth building custom acoustics out of San Diego's American Dream guitar factory. The American Dream series pays tribute to this time in Taylor's history with its working-class, American-made pro instruments, built with the same values and American spirit that have driven the Taylor name for the past 45+ years.
Woods with character
Have you ever owned a guitar that was too pretty to play out? With the American Dream AD17e, you can lay your fears to rest. The woods on this guitar are chosen specifically for their sonic properties and minor cosmetic imperfections. The result is a great-sounding, well-priced guitar that you can haul from gig to gig without any compunction. An included Taylor AeroCase delivers rugged protection around town without adding much carry weight to the equation.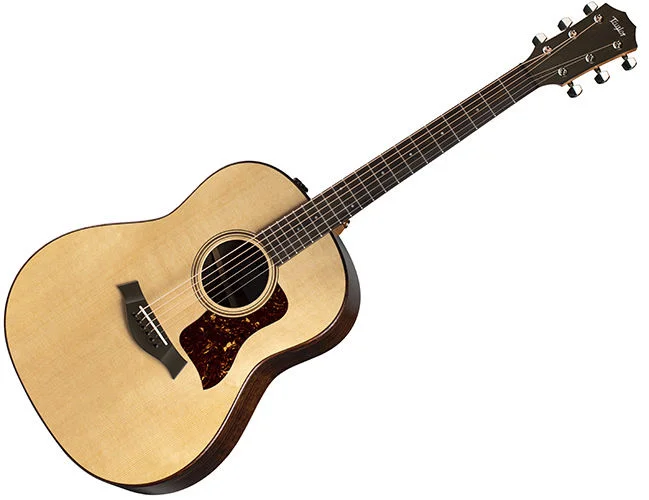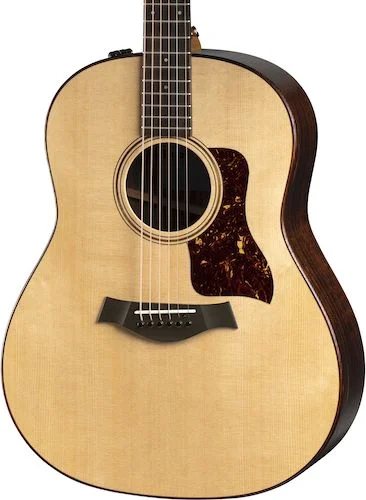 Spruce, ovangkol, and mahogany
The Taylor American Dream AD17e features a solid Sitka spruce top on back and sides made from solid ovangkol. Ovangkol is a rosewood relative that hails from the tropics of West Africa. It shares many sonic similarities with rosewood but delivers a punchier, more articulate midrange and a little less sparkle in the upper partials. Paired with the spruce top — a Taylor standard — and great-playing mahogany neck, it's a recipe for rich tone and unmistakable Taylor playability.
Grand Pacific dreadnought design
The AD17e's slope-shoulder Grand Pacific design is inspired by the Laurel Canyon acoustic scene that Andy grew up with in the Southern Californian '60s and '70s. Its smooth top end and full, balanced bass go naturally with the human voice. The enlarged lower bout supplies a good platform for recording and acoustic gigging of any kind. It's the evolution of the traditional dreadnought sound. And paired with Taylor's V-Class Bracing, the Grand Pacific is better than ever.
V-Class Bracing
Taylor's V-Class Bracing proves that a guitar top can be stiff and flexible at the same time. Stiffness parallel to the strings enhances rigidity for greater sustain. While flexibility on the sides generates the air movement necessary for that robust dreadnought projection. It's the best of all worlds — tone and resonance, output and sustain. V-Class Bracing also reduces harmonic distortion between the strings and top for chords that sound more in-tune. This premium feature is normally reserved for the cream of Taylor's guitar crop. But incredibly, it comes as a standard feature on your American Dream AD17e.
Expression System 2 electronics
If you play plugged-in, you're going to love Taylor's Expression System 2 (ES2) electronics on your American Dream AD17e. This system features a 3-sensor pickup located behind the guitar's saddle for clear and accurate sound reproduction. A master volume control and a pair of tone controls let you tweak your sound and output from the stage. Meanwhile, a discreet phase switch offers vital onboard feedback suppression.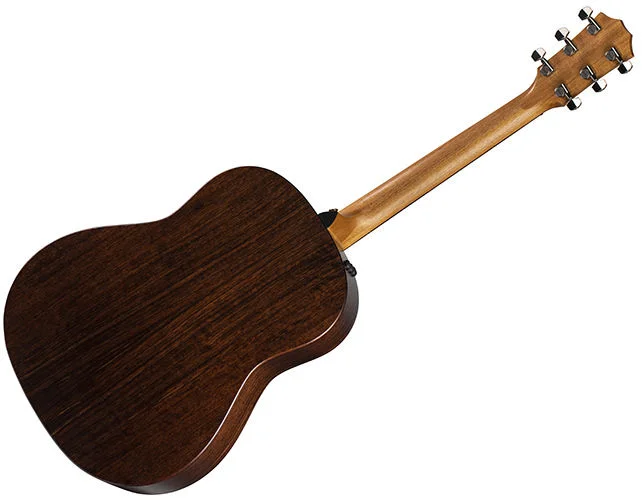 Taylor American Dream AD17e Acoustic-electric Guitar Features:
A pro guitar with character
Proudly built in the USA
Woods chosen for their mature sound and workhorse aesthetic
Grand Pacific slope-shoulder dreadnought body honors the Southern California '60s music scene
Solid spruce top — a longstanding acoustic guitar standard
Solid ovangkol back & sides — sonic properties similar to rosewood
Easy-playing mahogany neck and eucalyptus fingerboard supply sought-after Taylor playability
V-Class Bracing increases output, enhances sustain, and reduces harmonic distortion for a more in-tune sound
Three-sensor ES2 electronics deliver a sophisticated plugged-in tone, without the quack common to undersaddle systems