Tech 21 Fly Rig 5 v2 Multi-effects Pedal
Description
The Tech 21 Fly Rig 5 v2 offers a complete pedalboard's worth of stompbox power along with extreme grab-and-go convenience. This killer multi-effects pedal is front-loaded with your choice of Plexi or Cali-style overdrive. Kick your solos into saturation with 12dB of clean boost. Benefit from all-analog amp emulation courtesy of integrated SansAmp technology. Add dimension to your playing with two flavors of reverb. You also get an analog delay with tap tempo, plus an effects loop and a chromatic tuner. The Fly Rig 5 v2 is brimming with features — it can easily take the place of your entire pedalboard.
Dual-voiced overdrive adds spine-tingling grit to your tone
The Fly Rig 5 v2 is front-loaded with a dual-voiced overdrive. Harness the muscular crunch, articulate midrange, and punchy lows of a Plexi, or inject your playing with a chunky high-gain tone inspired by a well-known West Coast amp manufacturer. Whichever voice you choose, you get Level, Tone, and Drive controls to shape your sound. You also get a footswitchable 12dB boost with a Pre/Post button that enables you to beef up your drive and distortion or to increase your overall volume, thereby thrusting your solos to the forefront. Whether you're chasing roaring classic rock tones or searing high-gain sounds, the Fly Rig 5 v2 will serve you well.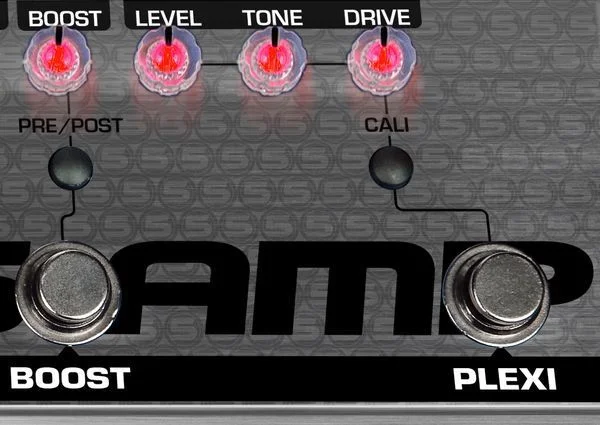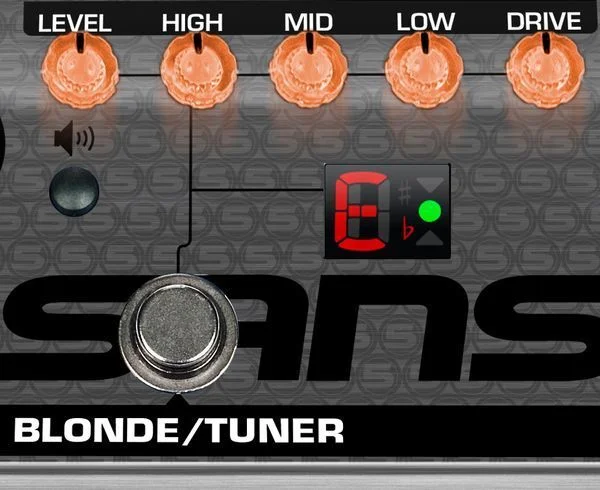 SansAmp supplies all-analog amp emulation
Among all the awesome guitar pedals and processors you'll find, the SansAmp lineage is one of the most universally respected names in amp modeling. That's why we were absolutely thrilled when Tech 21 put a classic SansAmp analog preamp at the heart of the Fly Rig 5 v2. Voiced with the same tonality as Tech 21's Character Series Blonde overdrive pedal, the SansAmp includes a 3-band active EQ, Level, and Drive knobs. With these straightforward controls, you can dial in everything from sparkling clean to punchy to dynamic overdrive to sizzling lead. But that's just the beginning! You can goose the SansAmp with the Fly Rig 5 v2's Boost and/or Plexi/Cali overdrive, or — if you're in a decidedly brutal mood — stack all three together! What's more, the Fly Rig 5 v2's integrated SansAmp technology enables you to run your signal directly into a recording desk or PA without sacrificing tone. It's also an effective way to augment your existing amp.
A smorgasbord of ambient effects to add spice to your playing
A touch of delay is the perfect dash of sonic seasoning to kick up your guitar tone, and the Fly Rig 5 v2 more than delivers. The Fly Rig 5 v2's Delay section serves up slap delays, long trailing ambiences, and everything in between. The 8th button shifts your delay's timing from quarter notes to dotted eighths, while the Drift control adds a dose of random modulation to enhance your sound. There's also a dedicated tap tempo switch onboard, which makes it easy to adjust your delay timing on the fly. You also get an Independent footswitchable reverb with your choice of large and small room sizes.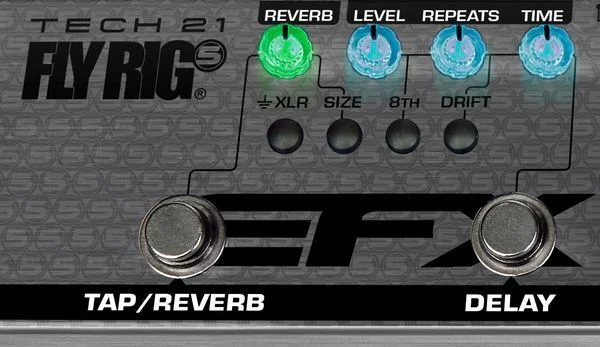 Tech 21 Fly Rig 5 v2 Multi-effects Pedal Features:
Multi-effects pedal for electric guitar

Front-loaded with your choice of Plexi or Cali-style overdrive

SansAmp amplifier emulation section offers you a massive range of amp tone

12dB of clean boost is perfect for kicking your solos into saturated overdrive

Delay section serves up slap delays, long trailing ambiences, and everything in between

Dedicated tap tempo switch makes it easy to adjust your delay timing on the fly

Reverb with large and small room sizes

Entire pedal packs comfortably in your case or gig bag — no more clunky pedalboards!

All-analog signal path ensures high-quality sound that responds smoothly to your playing

Built-in effects loop and chromatic tuner