Vox Mini Go 3 - 3-watt Portable Modeling Amp
Description
3-watt Modeling Amp with Optional USB Battery Power
The Vox Mini Go 3 portable practice amp gives you three watts of bedroom-friendly output and more tones than you can shake a stick at. In addition to some pretty spot-on models of the Normal and Top Boost channels of a cranked AC30, the Mini Go 3 puts a backline of iconic British and American amps and immersive studio effects right at your fingertips. Mic and instrument inputs make this amp a convenient practice option for guitarists and singer/songwriters. You also get an 1/8-inch auxiliary input and a flat-EQ Line setting for enjoying your music library between jam sessions. Solo session? Flip a dial, and the Vox Mini Go 3 will give you 33 different rhythm tracks and a tap-tempo feature to zero in on the right grooves for your songs. Want to take your music on the road? Connect the Mini Go 3 to a compatible USB power bank*, and you've got unlimited running time from the beach to the stage. Take it from us : if it's great on-the-go tone you're after, the Vox Mini Go 3 is one practice amp that literally goes the distance.


Great tone — to go!
The Vox Mini Go 3's inspiring tones and compact size make it the ultimate busking and travel platform. Whether you're learning songs, woodshedding, or capturing ideas at home, the Mini Go 3 is portable, capable, and packed with inspiration.
Wall or battery powered
In addition to accepting wall power via the included power supply, the Vox Mini Go 3 can also be powered from a wide range of third-party USB power banks. This takes the portability and runtime of the Mini Go 3 to unseen heights. Camping, vacationing, location filming with the ultra-portable Vox Mini Go 3 — great tone is just a stone's throw away.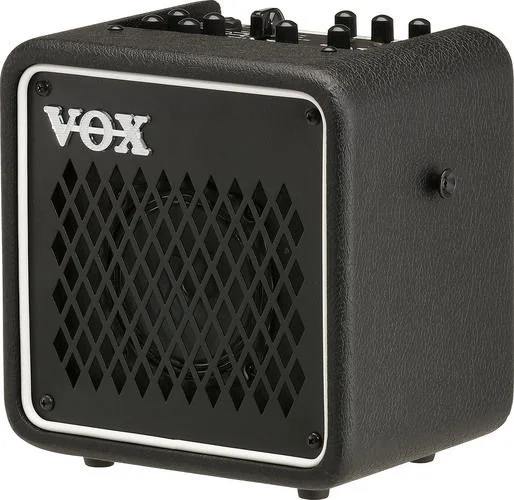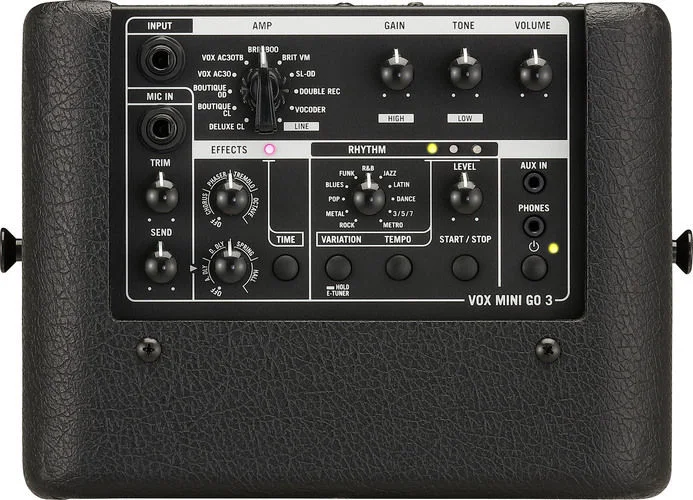 VET modeling technology
The Mini Go 3 is powered by Vox's groundbreaking Virtual Element Technology (VET). VET models guitar amplifiers and effects circuits down to their component levels. This gives you an experience like that of playing through a pedal-stacked mini tube amp anywhere you jam — at home, at the office, on vacation, or busking around town. With the Vox Mini Go 3, you can enjoy the sag, punch, chime, and grind of all your favorite American and British amplifier designs anywhere the inspiration strikes.
Nine amps, eight effects models
The Mini Go 3 is the ultimate jam and practice solution. Its nine VET amp models include Vox's own AC30 Normal and Top Boost channels, brawny Brit 800 and Double Rec models, and a scooped-mids clean Deluxe CL. But the tone journey doesn't stop there. Along with the amp models, you get to fine-tune your sound with eight VET effects models (two simultaneous). You'll have instant access to chorus, phaser, tremolo, and octave effects, in addition to two flavors each of reverb and delay — all without plugging in a single stomp. There's even a vocoder effect for creative tone dabbling, as well as an 1/8-inch aux input and flat-EQ Line setting for enjoying music from your phone or tablet.
Mic and instrument inputs
Whenever a singalong or karaoke party breaks out, the Vox Mini Go 3 has you covered. Plug in a mic and a guitar, and you're ready to channel Gordon Lightfoot. Or connect your phone or laptop via the 1/8-inch aux in jack and access endless karaoke tracks from your music library or preferred streaming service.
Onboard rhythm section
No band in sight? No problem! The Mini Go 3 has 33 rhythm patterns and a tap-tempo feature that will ensure you'll find the right groove to your song.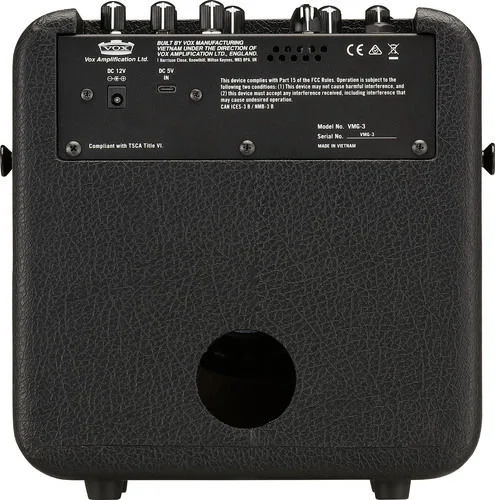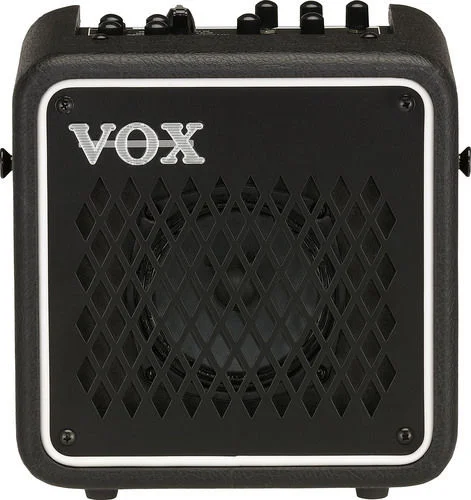 Vox Mini Go 3 3-watt Portable Guitar Amplifier Features:
3-watt modeling amp with optional USB power
Powered by Vox's groundbreaking VET technology
Mic and instrument inputs for singer/songwriters
9 amp and 8 effects models plus vocoder
Powered by wall supply or optional 1.5A USB power bank (not included)
33 onboard rhythms and tap tempo let you quickly find the right groove for your song
1/8-inch aux input with Line playback setting for neutral music playback
1/8-inch headphone output facilitates silent jam sessions