Squier Paranormal Baritone Cabronita Telecaster in 3 Color Sunburst
Description
27-inch-scale Baritone Tele with Soapbar Pickups
Ever tried to convert a traditional Tele to a baritone? It's no easy feat. There's the neck replacement, the heel fitment, the strings and setup, and then of course, the electronics. The hybrid Squier Paranormal Baritone Cabronita Telecaster does all the heavy lifting for you, so you can start delving into those countersunk country countermelodies and down-tuned metal riffs the moment it hits your door. The Paranormal Baritone Cabronita Tele includes a set of Fender-designed alnico soapbars. These pickups do a respectable job of capturing the low-end breadth and top-end fizz of this Tele's baritone tuning, as well as supplying a perfect starting point for Sabbath-inspired woolen fuzz and blackgazen open drones. Its body carve and string-through design are classic Tele, which makes this Cabronita an easy transition from your other axes. And thanks to its Slim "C" neck profile and standard 1.65-inch nut width, you won't even notice the extended 27-inch scale under normal gigging conditions. Looking for a bari electric that doesn't come with a learning curve? Check out the Squier Paranormal Baritone Cabronita Telecaster
Versatile baritone electric
The Squier Baritone Cabronita Telecaster is the type of guitar you want in a studio or production space. (And trust us, it just might end up as your main axe.) Wrote a song but can't get the hook to work? Don't capo up — try it down a perfect fourth! Can't get a traditional bass or electric to sit in a mix? Plug in the Baritone Cabronita.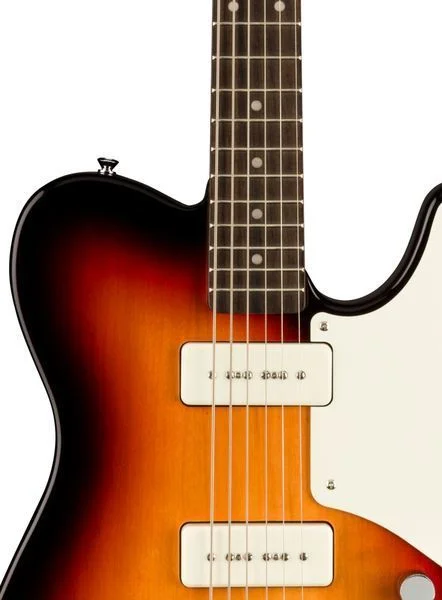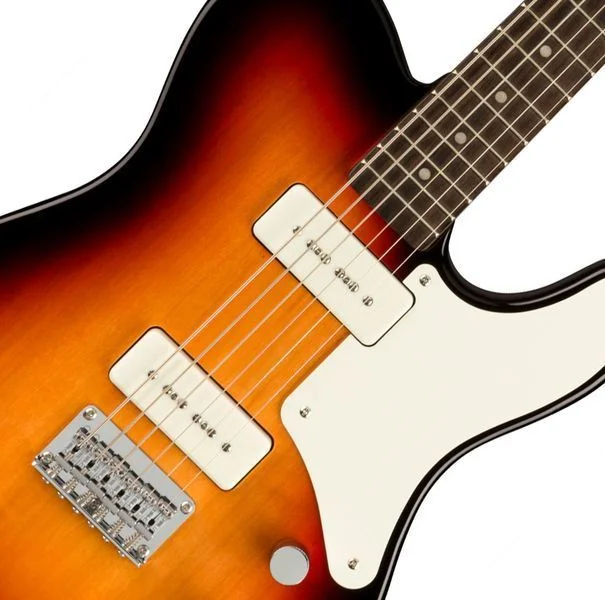 Classic Tele design
A traditional Telecaster design eliminates any obstacles standing between you and all the Squier Paranormal Baritone Cabronita has to offer. Its solid poplar body is light in the hands and comfortable slung over the shoulder. And its Slim "C" maple neck makes a versatile platform for fingerboard pyrotechnics to traditional styles of chording. Together with its soapbar single-coils, it's a recipe for a good time in virtually any practice or performance setting.
Fender-designed soapbar pickups
The select alnico pickups in the Paranormal Baritone Cabronita set a new standard for Telecaster excellence. Cleaned up, they're punchy and sweet and sparkle like a shiny new dime. But crank up the gain, and these soapbars spring to life with a compressed midrange and a fizzy presence that beckon the fingers toward fuzz-drenched power chords and detuned metal chugging.
The Squier Paranormal Series
To create the Paranormal series, the mad scientists at Squier broke down a selection of Fender's most popular designs to the atomic level and smashed them together, bringing to life some of the coolest aberrant axes we've ever seen. Flipped headstocks, Frankenstein electronics, necks on bodies to which they don't belong — these guitars and basses break all the rules! So, if you've ever desired to chuck a set of P-90s into a Cabronita, play a Mustang with the voice of a Strat, or own a J-Bass dressed up as a P-Bass, you'll love the Squier Paranormal series.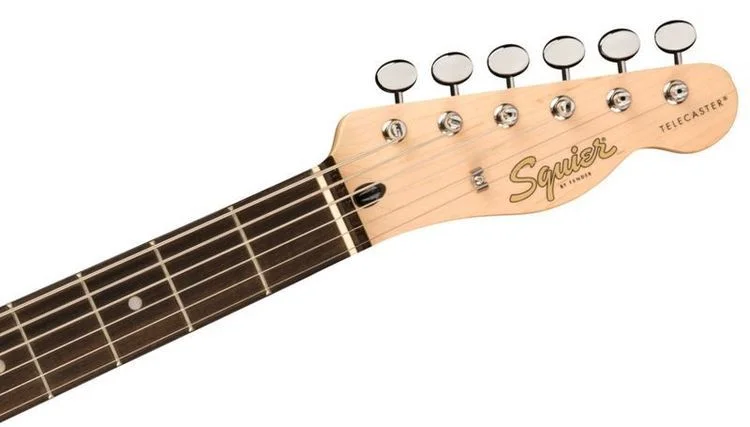 Squier Paranormal Baritone Cabronita Telecaster Features:
Part of Squier's otherworldly Paranormal series
Traditional Tele design makes this bari an easy transition axe
Solid poplar body is comfortable in the hands and light on the shoulder
String-through hardtail bridge maximizes resonance and sustain
Slim "C"-profile maple neck supports technical and traditional forms of playing
Fender-design alnico soapbar pickups are punchy, present, and love gain
Master volume, master tone, 3-way toggle