Zoom G6 Multi-effects Processor
Description
Endless Sonic Textures Right at Your Feet
The Zoom G6 multi-effects modeling floorboard brings you six custom-crafted amp models and three decades' worth of modulations, drives, delays, and reverbs, in a backpack-friendly floor unit. Amps, stomps, cabs, loops, backing tracks — with the G6, everything you need for a real-world gig setting is right at your feet. There's plenty of DSP on tap, enabling you to chain up to nine effects along with amplifier emulation. The G6's 70 preloaded cab IRs are spot on, while 120 user IR slots accommodate your third-party impulse responses. Navigating the G6 is a breeze, thanks to its customizable workflow and smartphone-class 4.3-inch touchscreen. Cycling Modes via the selector switch reassigns each of the four lower switches and their labels to your new workflow. This makes it extremely easy to bounce between looper, user presets, and pedalboard modes. There's even a configurable expression/volume pedal on the right side to give you real-time manipulation of your effects and output. Other player-essential features you'll find in the Zoom G6 include a 45-second looper (expandable via optional SD card), 68 built-in rhythm patterns for solo performances, effects loops for peerless amp and stomp integration, and an integrated 2-in/2-out USB audio interface for direct recording straight into your DAW.


Six custom-crafted amp models
The G6 boasts six custom-crafted amp models, putting exciting, ear-tickling sonic textures within your reach at the tap of a button. Zoom designed these models to evoke the best tonal qualities of the greatest guitar amplifiers in history, then combined them to give you a variety of tonal palettes to experiment with.
Krampus combines the brightness of an '80s British amp with the extended lows of a modern high-gain amplifier.
Redloom merges the tone of an early guitar amp with the rich overtones of a '60s tube amp — ideal for sweet-sounding rhythms.
Velvet is aptly named — its smooth character balances the dynamic response between your wound and plain strings. If you play Hendrix-inspired lead/rhythm phrases, this is the model to use.
Muddy (as in Waters) is a vintage amp sound that's perfect for gritty blues leads.
7 Heaven was tailor-made for 7- and 8-string guitars, combining tight lows with an expanded dynamic response.
Pollex was built for extreme drop tuning. If you slap or djent, use this one.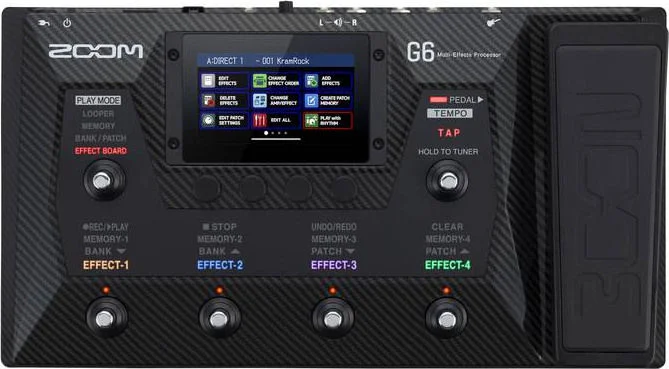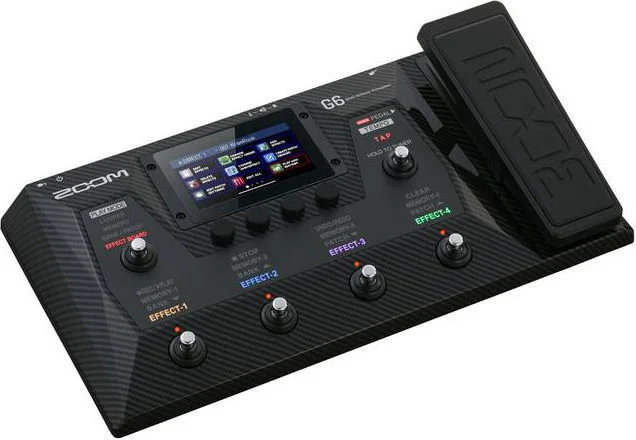 Electrifying distortion and modulation effects
The G6 is jam-packed with classic Zoom effects like dynamics, modulation, delays, reverbs, and more — the same killer sounds we've enjoyed for decades. In addition, this multi-effects pedal includes electrifying distortion and modulation effects that unlock endless worlds of tonal possibilities.
Razor Drive delivers novel distortion textures, employing comb filtering to control saturation by boosting the filter, and consequently distortion, at each frequency point of resonance.
Wave Shaper yields a harmonic-laden sound by applying a cutting-edge algorithm to shape your waveform.
PolyShift is a modern pitch-shifting effect that adds subtle sound variances over a 2-octave range.
Geminos is a real-time doubling effect that adds thickness and width by triple overdubbing your dry signal. This produces huge-sounding chords and sustaining solos.
SwellVibe isn't your run-of-the-mill vibrato. Instead of modulating your signal from the start, this inimitable effect applies pitch modulation with a time lag affecting only the sustain of your sound. It will completely transform your ambient pads.
22 high-resolution cabinet emulations
The G6 is jam-packed with 22 cabinet emulations to complement its amp models, along with 70 preloaded impulse responses that were captured by placing the microphone in three different positions. Each cabinet includes an impulse where the mic was placed 1 inch away, one where the mic was placed 12 inches away, and one where the mic was placed in the room. This ensures that you have a wide arsenal of cabinets to choose from. A lot of the guitarists here at Sweetwater have our own third-party IRs — after all, we're tone fiends! But that's not a problem with the G6. Thanks to its 50 user IR slots, you're covered.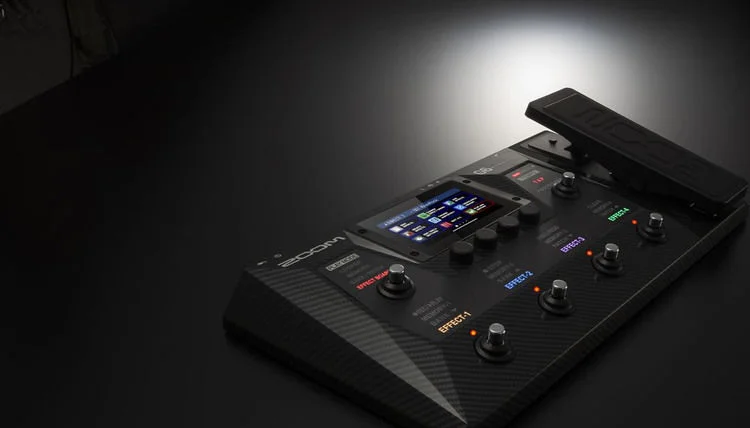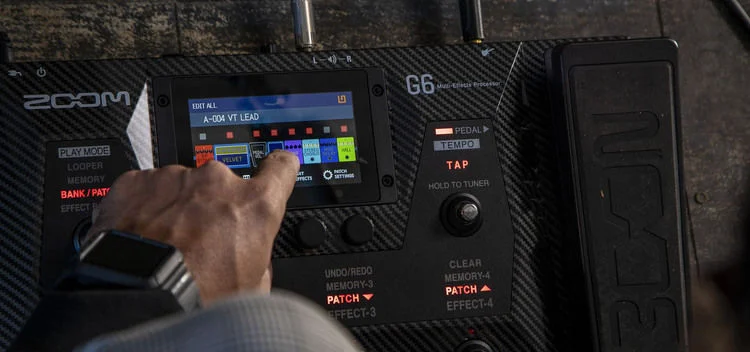 4.3-inch touchscreen
No matter how complex your effects chains are, the Zoom G6's easy-to-use, application-driven technology makes navigating them a breeze. A 4.3-inch color touchscreen enables you to drag, drop, and swipe your way to new sounds. If you can use a smartphone, you can navigate the G6.
Onboard looper, effects loops, and audio interface
The G6 packs a myriad of player-essential features. Add layers to your solo performances with a 45-second looper (expandable via optional SD card). Choose your groove from 68 built-in rhythm patterns that run the full gamut of genres and time signatures. Integrate your stompboxes and external effects using the rear effects loops. You can also use the G6 as a full-blown 2-in/2-out USB 2.0 audio interface, empowering you to record directly to your Mac or PC.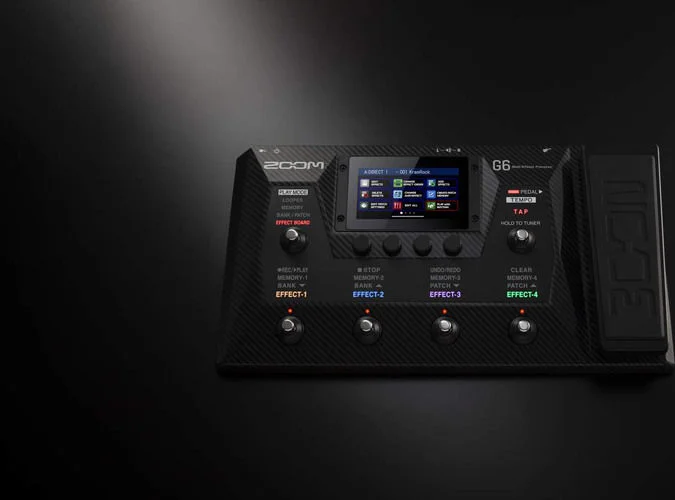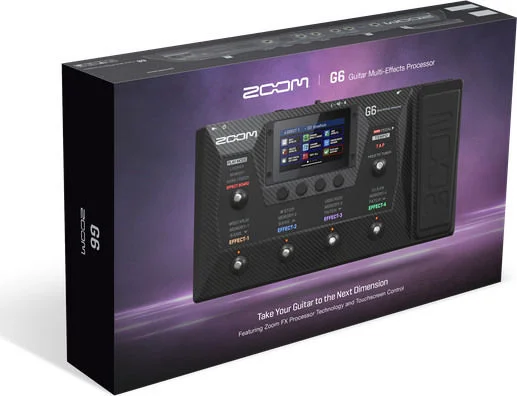 Zoom G6 Multi-effects Processor Features:
6 custom-crafted amp models put exciting, ear-tickling sonic textures right under your feet
Jam-packed with 30 years of Zoom effects: drives, modulation, delays, reverbs, and more
Chain up to 9 effects along with an amplifier emulation
70 preloaded cabinet impulse responses with various microphones and mic positions
50 user IR slots accommodate your third-party impulse responses
4.3-inch color touchscreen enables you to drag, drop, and swipe your way to new sounds
6 stompbox footswitches supply you with familiar pedal-style effects switching
Expression/volume pedal offers real-time manipulation of effect parameters
45-second looper (expandable via optional SD card) for adding layers to your solo performances
68 built-in rhythm patterns run the full gamut of genres and time signatures
Rear effects loops for integrating your stompboxes, amp, and external effects
Integrated 2-in/2-out USB 2.0 audio interface for direct-to-computer recording
Remote iOS connection for using Guitar Lab via Bluetooth adapter (sold separately)
Download additional effects with Zoom Guitar Lab